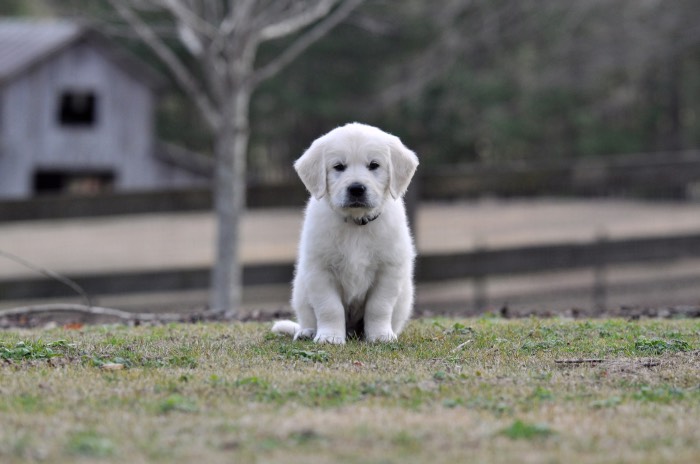 If you are willing to wait for one of our English Golden Retriever puppies, we don't think you will be disappointed. We appreciate and strive for beauty and good conformation. However, our primary goal is producing the best of temperaments along with good health.
The parents of our puppies have titles to prove their worth in both the conformation ring as well as the obedience ring. Health test results are excellent to good. We don't breed "fair" dogs. See the Our Dogs page for more information, pictures, and proofs of health testing.
Then, the icing on the Summer Brook cake is our Focused Puppy Training program. See our 10 Week Training videos page to truly appreciate it.
Available English Golden Retriever Puppies
We do not currently have any English Golden Retriever puppies. However, we have three planned litters between now and the end of the year.
Future Litters
The first litter will be ready for new homes in September. The second and third litters are due to come in season any time and will probably be ready for new homes in November or December. (The second and third litters have not been bred yet and so these are only guesses.) The first has been confirmed pregnant by ultrasound with at least 7 puppies.
Prior to ultrasounds confirming pregnancies, we will reserve three puppies per sex for each litter (the average sized litter for Golden Retrievers is 7-8 puppies). We have currently (as of June 28) reserved 17 puppies total for all three litters. We currently have one reservation open for a female (or someone flexible about the sex) from our Eva/Flynn litter. If there are extra puppies from either Piper's litter or Molly's litters, these will be offered to those on other lists. See our page on How Our List Works for more information. Details for each litter are below.
If someone were flexible about the litter and the sex, it is highly likely that we will have something available beyond the 6 we normally reserve per litter. Some people on our list want only one sex or the other and therefore might drop off the list. Therefore, we will accept two extra deposits beyond the six puppies per litter only from those flexible about the sex and the litter. At that point, we will close our list and take our questionnaire off of the website until we know more.
Piper/Luke Litter
Piper has been bred to Luke for puppies due in mid July and ready for new homes late September to early October (depending on how much training is wanted). This will be Piper's last litter. We have already received 6 deposits for puppies from this litter which is our max before birth of the litter. If interested in a puppy from us, we still have availability on Eva's and Molly's litters. Also, if Piper should have more than 3 males or 3 females, we will offer those puppies to those on other lists or those flexible about the sex. We will not keep a back-up list for Piper's litter only.
Video of Past Piper Puppies
The video below demonstrates the training of each of the seven puppies in a past Piper litter. The training for the seven puppies in the video below was accelerated. This degree of training is exceptional. However, it is not our norm for puppies at barely 9 weeks of age. This video exemplifies the training at 10-11 weeks of age. Still, this video demonstrates the drive to work and the intelligent of typical Piper puppies. Piper herself has an extremely high desire to please and is very focused and smart. She certainly passed these qualities along to all seven puppies in this litter.
Eva/Flynn Litter
We expect Eva to come in season any day now. Our best guess is that her puppies will be ready for new homes in October. (However, heat cycles can be unpredictable so it is possible it could be later.) See our page on After Puppy Pick Up where there are a couple of videos of past Eva/Flynn puppies helping me to demonstrate how to continue the training that we start. Eva and Flynn produced some beautiful puppies with super temperaments in their last litter. Currently, we have received 3 deposits from those preferring boys and 3 from those preferring girls.
If Eva should have more than 3 puppies of a sex, those puppies will be offered first to those on other lists. We will not be keeping a back up list for her litter specifically.
Molly/Luke Litter
Molly will likely come in season in another month or so. Our best guess is that Molly's puppies will be ready for new homes in November. Molly has had some beautiful, sweet puppies and we expect the same again. This will be Molly's last litter. Currently, we have received 3 deposits for puppies from this litter and have availability for one more male and two more females before birth of the litter.
Video of Our 2019 Molly/Luke Litter
See a video of the 4 English Golden Retriever puppies that were in training from our last Molly/Luke litter below. They are only 8 weeks 4 days in this video and just getting started in training.
How Our English Golden Retriever Puppies are Raised
Our puppies are raised inside our home with a very well thought out plan. Our plan builds on the genetics that our puppies are born with. Every detail at every age has been planned and scheduled. See our How We Raise Our Puppies page for more details.
English Golden Retriever Puppies Training Program
See our Focused Puppies Training Program if interested in a start in training for your puppy. You must see the videos to appreciate what we do with these very young puppies. Our training goals go beyond training behaviors. We train puppies to WANT to engage and work with a person. Therefore, training focus and a good work ethic is first.
For the past two years, over 90% of families getting puppies from us have chosen to get our training program. Many of these initially planned on picking up their puppy at 7 1/2 weeks and then decided to leave their puppy for the training after looking more into it. For this reason and more importantly because we believe it is in every puppy's best interest to stay with us until at least 10 weeks, all Summer Brook English Golden Retriever puppies starting with our fall 2020 litters will leave us with a start in training. Families love our program and so do our puppies.
For more information, see first of all our Raising Puppies, Trained Puppies, and Trained Puppies Expectations pages for how we raise and train our puppies. Then, go to our About Us page gives information on our family and who will be working with the puppies. Also see our After Puppy Pick Up page for additional videos and how to continue the training that we start.
Our Trainer's Accomplishments
Karen (Darrell's wife and the primary trainer at Summer Brook) is a very competitive trainer in the AKC obedience ring. In fact, in the three short months that we were without puppies in 2019, she trained both Piper and Tara to the AKC Utility level, earned the Utility title on both dogs, and then went on to put 19 OTCH points on Tara in just a couple of weekends.
Tara and Karen had a hugely successful weekend during their last trial before winding down for breeding and having puppies again. Tara got HIT (High in Trial) AND received Combined High in trial, not only once, but BOTH DAYS of the trial. HIT is awarded to the dog and handler with the highest score in the trial. Combined High in trial is awarded to the dog and handler with the highest combined score from the Utility B and Open B classes (the two classes for those dogs who have completed the Utility title; these are the only classes where dogs earn OTCH or Obedience Trial Champion points). (Piper is equally smart and capable! However, her training time has been divided between obedience and agility.)
We discuss more about Karen's accomplishments and skill on our training page. There is also a link to a video of her at an AKC obedience trial in the Open obedience ring as well as the Utility Obedience Ring. These videos demonstrate Karen and our now retired Jack doing the most advanced AKC obedience exercises.
Puppy and Training Prices
See our puppy questionnaire for details of puppy and training prices.
How to Reserve
Click on our How to Reserve page if you are ready to reserve one of our puppies. This page will guide you through the process.