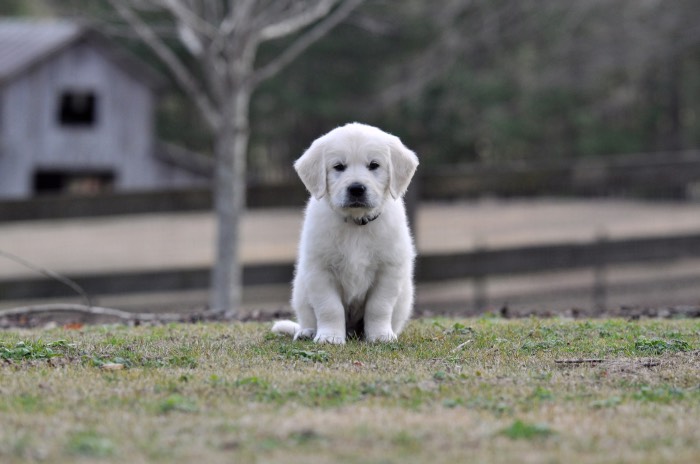 If you are interested in one of our English Golden Retriever puppies (sometimes referred to as English Cream Golden Retriever puppies), we don't think you will be disappointed. We appreciate and strive for beauty and good conformation. However, our primary goal as Golden Retriever breeders is producing the best of temperaments along with good health.
The parents of our Golden Retrievers have titles to prove their worth in both the conformation ring as well as the obedience ring. All breeding dogs have excellent health clearances including cardiac clearances with a cardiologist, yearly eye clearances, excellent elbows, and very tight hips that are either rated good or excellent. See the Our Dogs page for more information, pictures, and proofs of health testing.
Then, the icing on the Summer Brook cake is our Focused Puppy Training program. See the many videos linked below to truly appreciate it.
Upcoming Plans
Paisley is due to come in season any day now and we have decided last minute to breed her to Jake! We have opened our reservation list and currently have reserved 6 puppies (3 boys and 3 girls). Because Paisley's last litter was large, we expect there will be a few extra puppies. Therefore, we are willing to accept deposits from two more families who are flexible about the sex. (If your heart is set on a boy only or girl only, this litter is too uncertain. Though there will probably be extra puppies, we can't determine until after birth what sexes we will have.)
We have trained all of our litters for the past several years and though the training is very popular, the lifting of big puppies over 8 weeks old is starting to take it's toll on my back and wrists. Most likely, we will have two or three more litters of untrained puppies before we retire from breeding altogether by the end of 2024.
We will, of course, remain available for those getting our puppies and we plan on continuing to support those getting golden retriever puppies by expanding our website with more educational articles on raising a golden retriever puppy. To remain informed with our blog posts, click the subscribe button on the right.
Details on Our Jake and Paisley Litter
Our Paisley/Jake litter will most likely be bred sometime in June with puppies due in August and ready for new homes in October or November.
The Parent's of Our Puppies
All of our girls and our Jake have OFA excellent hips (final scores, not prelims and genuine OFA scores, not FCI tests done on puppies). Flynns' hips are an OFA "good". For more detail on what is becoming quite a big trend with breeders of imported golden retrievers, see out page entitled FCI Hip Tested Golden Retrievers in the United States.
We do eye tests within a year prior to every breeding (as is recommended by the Golden Retriever Club of America).
We have our dog's hearts examined by a board certified cardiologist. In our opinion, practitioner heart clearances are not good enough. Veterinarians that aren't board certified cardiologist will miss things!
Summer Brook also does genetic testing. All details including links to proofs are on our individual dogs' pages which you can get to through the Our Dogs Page.
In addition to good health, all of the parents of our puppies have stellar temperaments and are gorgeous to boot!
Beauty, Conformation, Temperament, Health
Summer Brook's Hip History
We retired over half of the dogs that we imported initially because the health did not meet our very high standard. It is our commitment to health as a first priority that has enabled us to now be in a position to have lines with truly good health. In addition, and most importantly, to date, in the almost 12 years that we've been breeding, we have yet to have anyone report that a dog bred by us has hip dysplasia.
How We Raise Our Puppies
There are always three experienced adults working full time raising our puppies (a husband, wife, and adult daughter). If we should have more than two litters that overlap, our other adult daughter will also help. When puppies are here, they are our priority. Everything else in our lives takes a back seat to the puppies so we can working full time (around the clock) doing puppy work.
Our home is large enough for all puppies to be raised inside our home. We have five doggy doors to five different puppy play yards where puppies over 5 weeks freely live coming in and out of our home. We have almost a dozen fenced areas, and a total of nine acres fenced for our dogs and puppies. Younger puppies stay in our home 24/7. We have a very detailed and well thought out plan for How We Raise Our Puppies.
Skilled Puppy Raisers and Skilled Trainers
In addition, our two primary trainers are extremely successful positive reinforcement trainers having titled over a dozen dogs in AKC obedience trials, put a CDX on four of them, a UD on three of them, and a RACH on two of them. Also, Karen our primary trainer has even earned the most advanced obedience title of all: OTCH.
The OTCH is so difficult to attain that it takes most trainers a dog's lifetime to complete it. By far, most that try to earn it fail. Tara and Karen earned the required 100 points in less than a year and a half (including time off for Tara to whelp and raise a litter of puppies and for Karen to raise and train dozens of other puppies). AKC only awards the OTCH to less than a hundred dogs nationwide per year. There were less than 70 dogs to earn it nationwide in 2021.
Karen has also recently won Combined High in Trial on the last day of the 2022 Southeastern regional competition. There are eleven regions in the U.S. The regional competitions are where the best competitors in the country compete to earn invitations to the National Obedience Competition (the NOC). The NOC is the most prestigious obedience event in the country. Each region hosts only one regional competition a year and the NOC happens only once a year as well.
Tara has also been invited to perform obedience at the Masters Obedience Championship at Westminster.
Positive Reinforcement Training Only!
Karen is one of very few trainers in the competitive obedience world who uses exclusively positive reinforcement training. Most importantly, Karen (and Jenna) use the same positive techniques with our puppies that have been used to create an obedience champion.
All Summer Brook puppies will have some degree of training, even those leaving us at 8 weeks. You must scroll down to see a few of the many videos on YouTube of our past puppies in training.
Videos of our Training with Past Litters
More Videos of Past English Cream Golden Retriever Puppies
(Heel is misspelled above. We know better how to train heeling than to spell it!)
The video below demonstrates the training of each of the seven puppies in a past Piper litter. We accelerated the training for the seven puppies in the video . This degree of training is exceptional. However, it is not our norm for puppies at barely 9 weeks of age. This video exemplifies the training at 10-11 weeks of age.
Our Requirements
We have more requirements than most. The biggest requirement that keeps us from being a match for most is that someone must have considerable time for the puppy. If everyone in the family works away from home full time, we wouldn't be the breeder for you. Even if you work from home, you must have considerable time to devote to a puppy. Golden Retrievers thrive on human companionship and it is important to us that our puppies have the best possible life.
If Interested in a Future Summer Brook Golden Retriever Puppy
If you are interested in a puppy from Summer Brook and our list is open, see our How to Reserve a Puppy page. Also, see our FAQ pages for more information. Also, see our page on How Our List Works for more information on how our waiting list works. If not interested in a Summer Brook puppy, you might enjoy our page on English Golden Retriever Breeders for some interesting information on choosing another breeder.
Puppy Questionnaire
It has recently come to our attention that at least one person has sent us a questionnaire that we did not receive. We are always prompt to email people that send us questionnaires to let them know that we have received them. It is extremely rare that you won't get some kind of response from us within 24 hours.
Therefore, please check with us if you don't receive a response from us. Lack of response is likely is an indication that your questionnaire didn't go through.
How We Raise Our English Golden Retriever Puppies
We raise our puppies inside our home with a very well thought out plan. Our plan builds on the genetics that our puppies are born with. We've planned and scheduled every detail at every age. See our How We Raise Our Puppies page for more details.
Training Program
See our Focused Puppies Training Program for the details. You must see the videos to appreciate what we do with these very young puppies. Our training goals go beyond training behaviors. We train puppies to WANT to engage and work with a person. Therefore, training focus and a good work ethic is first.
For the past five years, over 90% of families getting puppies from us have chosen to get our training program. Many of these initially planned on picking up their puppy at 7 1/2 to 8 weeks and then decided to leave their puppy for the training after looking more into it. For this reason and more importantly because we believe it is in every puppy's best interest to stay with us until at least 10 weeks, all Summer Brook English English Cream Golden Retriever puppies starting with our 2020 litters will leave us with a start in training. Families love our program and so do our puppies.
However, we are offering our new 8 week program for some of our 2022 Paisley puppies simply because our current litters are so large.
More Information
For more information, see first of all our Raising Puppies, Trained Puppies, and Trained Puppies Expectations pages for how we raise and train our puppies. Then, go to our About Us page which gives information on our family and who will be working with the puppies. Also see our After Puppy Pick Up page for additional videos and how to continue the training that we start.
See our videos and blog pages on Puppy Care and Training Tips once you get your new fur baby!
Golden Retriever Puppy and Training Prices
See our puppy questionnaire for details of puppy and training prices.
How to Reserve
Click on our How to Reserve page if you are ready to reserve one of our puppies. This page will guide you through the process.