We base our pricing structure on how old puppies are when they are picked up. People naturally want to know what they can expect at various ages (by the day). They also want to know why it is beneficial to leave a puppy until they are at older ages. This page has our training program broken down by age. This page discusses trained English Golden Retriever expectations and what those expectations can reasonably be for our puppies. After reading this page, you should have all the information you need to decide how long you want to leave your puppy with us.
Scroll down for very detailed information on what you can expect at different ages.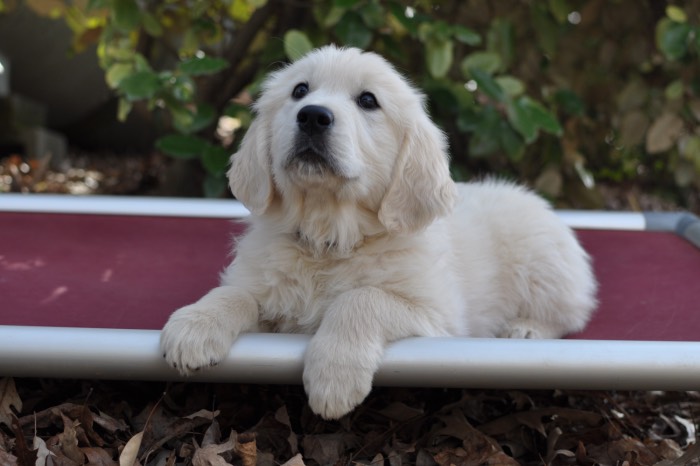 Begin House Training Through a Doggy Door – By 5 1/2 Weeks
Most, if not all, of our puppies are fluent with a doggy door by 5 1/2 weeks of age. We are continuing to build consistency with outdoor pottying the entire time puppies are with us. We are consistent with making sure our puppies do all their business outside. It is rare for accidents to happen in our home with puppies over 8 or 9 weeks.
However, 10 week old puppies have to be taken out (or crated) often. Most of our 10 week old puppies can be trusted for about an hour loose in the house after they have gone potty. A few of them will need to be taken out every 30 minutes unless they are in a small pen or a crate. Some of them can be trusted for 1 1/2 hours at 10-11 weeks.
Though we never will say never, so far, we've not had a 10 week old puppy to pee or poop in a crate. However, we never leave them for over two hours straight until they are 11 1/2 weeks of age. At this age, we start them sleeping overnight in crates. We've never had a puppy over 11 1/2 weeks potty in a crate, even overnight.
Eating Individually in Crates – Starting at 5 1/2 Weeks
By 6 weeks, puppies have been eating individually in crates for about 4 or 5 days. They go into their crates on their own and are already starting to associate the crate with good things.
Meal Time Manners Starting Just After 6 Weeks
We work with puppies 3 times a day with our meal-time manners program starting shortly after they are 6 weeks. Our mealtime routine requires eye contact and waiting for a release command before eating. It is hugely beneficial with regard to building focus and self-control in puppies. This routine continues until puppies leave us. It is usually not solid until puppies are about 10 1/2 weeks of age. By 11 weeks, almost all puppies will wait giving good eye contact for a few seconds even with the crate door closed.
Begin Building Crate Desire – Starting at 6 Weeks
At about the same time as we begin our meal-time manners program, we begin building crate desire. We VERY GRADUALLY build up the time puppies are kept in crates, starting with only a few seconds.
We begin the process by dropping pieces of dog food kibble into the crates periodically. This process causes them to begin to anticipate that good things happen in crates. By 7 weeks, we add special bones and bully sticks that are only available at crate time. As puppies begin to get used to the crates, we gradually increase the time spent.
We work with our puppies in their crates when they are wide awake. This is the most difficult time for puppies to accept confinement. Teaching them to be happy while crated when wide awake is the hard part. Being happy in a crate while sleeping is easy.
Begin Teaching Puppies Not to Jump – 6 Weeks
Starting at 6 weeks, we begin waiting for puppies to quit jumping on us before we pet them. We don't take them out of our puppy area for individual attention until they stop jumping. We gradually increase our expectations. By 8 weeks, we are choosing to only pick up or pet the puppies that are sitting with eye contact. This continues until puppies leave us.
It is much more difficult for puppies to maintain self-control in a group than individually. We work with them both individually and in groups of 2-4 puppies. If a puppy can control himself at our home in a group, it will be easier to maintain self-control when in his new home where there is no competition from litter-mates.
Begin Formal Obedience – 6 1/2 Weeks
Starting at 6 1/2 weeks, we begin daily individual formal obedience training. The first few days are spent working solely on focus as we teach our puppies to make eye contact. Before puppies are 7 weeks, reward is obtained only by sitting and making eye contact.
Begin Teaching the Down – Before 7 Weeks
Starting at 6 weeks 5 or 6 days, we begin teaching what we call muscle memory. We do this as we teach our puppies to "down". No command is given. We are simply teaching the puppies to be lured to the "down" position. As we teach this, puppies learn several other skills at the same time. Puppies learn to gently take treats from us. They increase their skills with regard to maintaining eye contact. Puppies learn to follow a treat.
Puppy Selection Complete by 6 Weeks 5 or 6 Days
Puppy selection is completed by 6 weeks 5 or 6 days or sometimes 7 weeks. At that time, those puppies staying for the entire 8-10 week program begin doing more intensive training. Those leaving us at 7 1/2 weeks will also continue to be trained, though not at the same level.
Even 7 1/2 Week Old Puppies Will Be Started in Training
Those leaving us at 7 1/2 weeks will continue with all group exercises including socialization, environmental desensitization, and good manners.
Puppies leaving us at 7 1/2 weeks will also be briefly introduced to a leash. However, none of our heeling exercises will be started. The heeling training is only for those puppies staying for the entire 8-10 week training program.
Puppies leaving at 7 1/2 weeks will be introduced to the sit and the down. However, we will not spend as much daily time with them in this training as we will with those puppies staying for our complete training program. Our training philosophy is to name behaviors only after they are solidly trained. Therefore, the verbal "sit" and "down" commands will not be introduced to our 7 1/2 week old puppies. Our teaching with puppies not enrolled in the full program is centered around good manners, socialization, and our group mealtime routine.
Why We Start Them All In Training
We realize that there are many families who want a young puppy and are trying to keep costs down. However, when we are training almost an entire litter, it is counter-productive to leave one puppy out of the training. If we do, that puppy's un-trained behavior makes it difficult to train the rest of the litter. Therefore, it is necessary from a training perspective to train the entire litter to a degree.
We have therefore decided to start them all in the training that we consider essential to the well-being of the entire litter. We also will be requiring 7 1/2 week old puppies to be picked up right at 7 weeks 4 days. These younger puppies can go home as early as 7 weeks 2 days. However, we will not let a puppy go home even a day earlier than 7 weeks 2 days.
No Vaccines Given Prior to 8 Weeks
Puppies picked up at 7 1/2 weeks of age will not receive a vaccine. It is our policy and our very strong opinion that early vaccines have a negative impact on the lifelong health of a dog. We will not give a vaccine even a day earlier than 8 weeks and we will not allow a puppy to make a home change within 3 days of receiving a vaccine.
If A Family Needs A Few Extra Days Past 7 1/2 Weeks
If a family needs a few extra days, there will be an extra charge of $100/day to cover boarding and most importantly, our training time. The initial training sessions of these young puppies is more time consuming than the sessions of our older puppies.
There are four primary benefits to your leaving your puppy with us a few days longer. First of all, your puppy will attain a bit more focus. Second of all, your puppy will have a stronger start in meal time self-control. Thirdly, your puppy will have more time spent in building crate desire. Finally, your puppy will have had a bit more time to develop better manners.
However, there is more "bang for your buck" if you leave your puppy for the entire program. Though, we do a lot with even a 7 1/2 week old puppy, it doesn't compare to what we do with the puppies staying for the entire program.
We do not continue doing the most of the individual obedience exercises once puppy selection is over with puppies not enrolled in the full program. This includes training for heeling, sits, downs, recalls, leash manners, and stays.
What the puppies not enrolled in the full program will be getting is work on the group exercises (which includes socialization exercises, the full meal time routine, work on learning to sit for attention instead of jumping, and crate conditioning). These puppies will continue getting individual attention and the basic manners training that goes along with this. However, they will not receive formal individual obedience training past 6 1/2 weeks.
Early Pick Up for Trained Puppies
If someone should need or want to pick their puppy up between 9 1/2 and 10 weeks of age, we can double up on your puppy's training and get him to the point of a 10 week old puppy in most areas. Some puppies train quicker than others. Some are more mature than others. We have trained a puppy to this level by 9 weeks 2 days. However, it was difficult and this was an exceptionally smart and driven puppy. We probably wouldn't be able to do it any sooner. The price is the same at 9 1/2 as at 10 weeks.
Some areas of training are more age-dependent than others. Bladder control is one of those areas. Also, building crate desire cannot be rushed. It is best if your puppy stays with us until he/she is the full 10 weeks of age to get the maximum benefit from our program.
Trained English Golden Retriever Expectations From Expectations for 10-11 Week Old Puppies
If you should pick your puppy up between 10 and 11 weeks, you can expect the following with regard to puppy progress in our major areas of instruction. There will be more progress in some areas than others but all areas will be more solid at 11 weeks than at 10 weeks.
Sits, Downs, and Stays
Puppies will sit and down with only a hand motion and a verbal command right at 10 weeks. Luring is no longer necessary. They will stay in either position for about 5 seconds at 5 feet. Puppies will still occasionally confuse the sit and down at 10 weeks. The sit/stay has only been trained for a few days. The down/stay will have been trained for a few days longer. Therefore, some puppies have trouble tending to go into a down when you back away from a sit/stay. However, they will go back up into a sit with a verbal and/or a signal reminder.
It is with regard to the sits, downs, and stays that puppies make the most progress between 10 and 11 weeks of age. By 11 weeks, puppies have a much better understanding of the concept that they are sometimes being asked to stay in a sit position and other times in a down position. We will be increasing the distance, the duration, and the number of distractions (the 3 D's) of our stays in both positions. There is a very noticeable improvement in all 3 of "the D's" and puppies are much more reliable at 11 weeks than 10 weeks. On average, 11 week old puppies are staying for over 10 seconds at a distance of over 10 feet. Many are solidly staying at 15 feet for almost 15 seconds. More importantly, 11 week old puppies are more reliable and able to stay in position with more distractions.
Meal Time Manners
Puppies are very close to being dependable with meal time waiting before eating by 10 weeks. I still don't trust them enough to close the crate, but they are close. They will give eye contact for about 2-3 seconds with a bowl of food sitting in front of them waiting for the release to eat. By 10 1/2 weeks, most of them are dependable enough for me to close the crate with the puppy still giving eye contact and not eating the food for a few seconds before I release them to eat. All of them are to that point by 11 weeks.
Building Crate Desire and Increasing Crate Time
We keep our 10 week old puppies in crates for about 20 minutes in wire crates at meal times. They are happy while wide awake with special bones or bully sticks that they only have access to during crate times. If families will combine crate times with times that their puppy is sleepy, they will be happy in there for MUCH longer. They will eventually fall asleep after chewing their bones for awhile.
By 11 weeks, puppies are to the point where they will be adjusting their nap times better to a family's schedule. As long as they've had good exercise prior, they will usually chew bones for much longer than 10 week old puppies and will eventually fall asleep during most crate sessions. By 11 weeks of age, our puppies like their crates so much that most will just sit there even when you release them to come out. If you don't take the bones out of the crates, they don't want to come out!
We don't let puppies have free access to crates. Crates are the "forbidden fruit" with the extra special goodies inside. Our puppies' crate desire grows hugely between 7 and 11 weeks.
Heeling
Puppies will heel giving eye contact at 10 weeks as pictured on our 10 week training videos. Puppies this young are not able to maintain this kind of focus for longer than is pictured in the videos; at least not on a dependable basis. Most of them love the heeling "game" that we play with them and love to work for food. More than half of them will heel off leash with good focus and position for about 10-20 feet as long as there are no major distractions.
There is not as much improvement from 10 to 11 weeks with regard to heeling as there is in sit/stays and down/stays. Consistent focused heeling takes months and sometimes years to master. However, heeling is more dependable, the older the puppy. Most of our 11 week old puppies can give focused attention while heeling for longer than most of our 10 week old puppies, though the difference is not substantial.
For long walks, we don't expect the kind of focus pictured on our videos. Our expectations are simply that puppies don't pull on the leash and that they stay reasonable close to us. We want them to sniff and explore the world. A very important part of puppy socialization is letting them figure out their world at their own speed.
As puppies get older, we take them on increasingly longer walks. However, we don't take them any further than about 300-500 feet off of our 14 acre property until after puppies are 11 weeks of age.
Recalls
We train a conditioned response to a very specific recall. By 11 weeks, puppies are amazingly in-tuned to my voice. They turn away from distractions and come when called instinctively. By 10 weeks, puppies are well on their way to this same response. We initially train this by heavily treating puppies when we call them at times that they are about to come any way of their own accord. I (Karen) do this many, many times gradually calling them under more and more distracting situations. We teach new families how to transition this conditioned response from my voice and my tone to their new voice. The recall becomes more and more solid the longer puppies are left with us. However, for it to remain solid and heavily motivational, we encourage families to continue to heavily reward it for several more months.
Focus and Work Ethic
All of our puppies like to work and have incredibly good focus at 10 weeks. They all actively try to figure out what it is you want. We easily transfer that skill from us to you. We spend considerable time at puppy pick up time showing families how to work with their puppy.
Trained English Golden Retriever Expectations From 11-13 Weeks
We will occasionally keep puppies until 12 or 13 weeks of age.
Starting at 11 weeks, the focus turns from the specialized obedience training to off-site socialization. Once puppies are over eleven weeks old, we take them off of our property on field trips 3 times per week. Socialization and environmental desensitization is of utmost importance at this age.
We continue the daily obedience training. Sits, downs, stays, walking on a leash, and overall good manners will continue to improve. However, the rapid progress made during the time up until puppies are 11 weeks old begins to slow down considerably.
The biggest advantage to leaving puppies with us until 12-13 weeks is that they are sleeping through the night in crates by this age. For some families, this (understandably) is a big deal.
Sleeping Overnight in Crates – Almost 12 Weeks
Puppies picked up prior to 12 weeks do not sleep overnight in a crate. Rather, they sleep in a small area in our side foyer with free access to potty outside. Since we have doggy door access, we take advantage of this helpful tool for a couple of reasons.
First of all, the doggy door allows us to gradually build up crate desire before requiring puppies to spend entire nights there. We don't need to use the crates for forced confinement like most new families will. Puppies accept forced confinement better when it is introduced later. Actually, our puppies don't even see crate confinement as a negative at all. Because of our slow and gentle introductory process, our puppies look forward to crate times.
The doggy door also allows us to postpone overnight crating until we know that the puppies are able to hold it all night. This prevents those occasionally problems with puppies who habitually get their owners up in the night for far longer than is necessary. Habits are easier to prevent than to break. At our home, we never start the get-up-in-the-middle-of-the-night routine to begin with.
Though we do not start our puppies in crates overnight unless left until 12 weeks, the daytime work we do with them transfers easily into night time crate training.
When puppies are left with us until they are 12 weeks or older, we transition them to the crate for overnight between 11 1/2 and 12 weeks. At this age, the majority of our puppies are happy in crates and able to hold their potty for 7-8 hours. Most can hold it for 8 hours.
If a puppy changes homes and makes the transition to a crate a week earlier when puppies are 10 1/2 to 11 weeks, the overnight time frame drops to about 6 hours for most puppies. However, a 6 hour night is do-able for most and most puppies transition to overnight crating fairly easily even at 10 1/2 weeks.
So….When Should You Pick up YOUR puppy?
We think the ideal age to pick up a Summer Brook puppy is around 11 weeks. However, picking up your puppy earlier or later could be the right time for you depending on what you want. Here is a summary of the advantages of pick-ups at the different ages.
Advantages to a 10-week Pick-up
Picking up your puppy right at 10 weeks could be the best thing for you under these conditions. 1. You are anxious to get your puppy as soon as possible. 2. You are excited about the possibility of continuing the training of your puppy yourself. 3. You are fairly confident in your ability to learn to continue the training.
We schedule 2 hour visits at pick-up time and we will work with you for as much of that time as is needed to teach you the skills necessary to be successful in continuing the training we've started. We also have plenty of videos so that you can continue learning at home. See our pages on 10 Week Training Videos and 12-13 Week Training Videos.
If you are fairly dog savvy with a degree of dog training skill, this might be your best option.
Advantages to an 11-week Pick-up
As we mentioned, we think that picking up your puppy right at or a day or two before 11 weeks is ideal. By 11 weeks, the basic obedience commands are fairly solid. (Of course, at this age, you must continue the training or your puppy will forget it.) Transition to overnight crating is usually easy if a 6 hour night is do-able for you.
Eleven week old puppies are ready to start off-site socialization. Most families are able to handle this aspect of socialization without the skill that is necessary for the training we've already done. Further, if the environment you live in is considerably different from ours, socialization starting earlier with you could actually be better.
Advantages to a 12-week Pick-up
If having a puppy sleep through the night in his/her crate is important to you, picking up at just over 12 weeks is an option with most of our litters. Commands are even more solid, especially the sit/stays and down/stays. There is still work to be done, but at this age, it is even easier for you to pick up where we leave off.
More Information on our Trained English Golden Retriever Puppies
For more information, see our How We Raise Our Puppies page, our 8-10 Week Trained Puppies page, our 10-13 Week Trained Puppies page, our 8-10 Week Videos, and our 13 Week Videos.