Be prepared for the arrival of your new puppy! This page has a complete list including those supplies that are easily forgotten. The Golden Retriever puppy and adult supplies on this page are those that we've tried, loved, and continue to use. First we'll go over a quick list of supplies that must be bought before you pick up your puppy. Then we'll go over a multitude of supplies that are nice to have, though not totally necessary. We'll also provide links to our favorites in the second section of this article.
Quick List of Golden Retriever Puppy Supplies Needed Before Puppy Pick Up
Before you pick up your puppy, make sure you have the following supplies ordered in time for you to receive them before picking up your puppy. When you come to pick up your puppy, you'll need to bring a few of these supplies with you. Lists of links to specific supplies that we recommend are below.
Supplies to Bring With You to Puppy-Pick-Up
Leash and Collar
First of all, bring a leash and a collar. Most families live too far to bring their puppy home without needing the leash and collar for at least one potty break.
Crate
Secondly, you'll need to bring a crate for the trip home.
If you will be flying, bring a soft sided carrier. The most popular soft sided carrier is the Sherpa brand but make sure to check with your airline before buying a one. If you are traveling alone or will be in your vehicle for more than an hour, bring a 24 inch wire crate (see link below). Many families fly in and out of the Atlanta airport with our puppies. We suggest these families bring both a soft-sided carrier as well as a small wire crate.
The soft-sided crate is necessary for a flight. However, it is far too small for a puppy to be comfortable in it without a person's occasional intervention. It works fine for air travel where you can often take your puppy out after take-off and before landing. At the very least, you can stick your hand in the carrier to pet him. If you are driving, you won't be able to adequately tend to your puppy in such a small carrier.
An 18 or 24 inch wire crate is very inexpensive and is worth the extra purchase even if you leave it behind you in your rental car before entering the airport. If you will be taking the crate home with you, a 24 inch crate is best. If you'll be leaving the crate in the vehicle, an 18 inch crate will do. Make sure you bring a second person with you to care for the puppy while you drive if you don't have a wire crate. Try to keep stress out of the trip as much as possible. A wire crate will help you to accomplish just that.
Food, Water, a Bowl, and a Bully Stick
Thirdly, bring food, water, a bowl, and a bully stick. See links below for these items. You probably won't need the food until you get home. However, bring one cup of TLC dog food just in case there is a problem on your trip home. There is a link below for the food we recommend for puppies. Water and a bowl will be necessary if your trip is over 3 hours. The bully stick will keep your puppy happy in the crate or the carrier.
Training Bag
If you'd like to practice the training here (which we suggest), you can bring your own training bag or you can use one of ours. See the link below for our favorite training bag.
A Phone to Video Puppy Information Given By Breeder and/or Trainer
If you like, you are welcome to bring a phone to video the training session with your puppy. We will be going over a whole lot of information. Most of it is on the website. If you have a really good memory and already have good basic knowledge of dog training, you might can remember it all without the video. However, there will be some things that we go over that are particular to your puppy and you might have questions that you can't find answers to on the website. In addition, many people ask to video our meeting. Therefore, I'm letting folks know that we don't mind and that it is an option.
Additional Golden Retriever Puppy Supplies to Have at Your Home
In addition to the supplies that you need to bring with you to pick up your puppy, there are a few supplies that you'll need right away at home. Whether you bring it to our home or not, a treat bag is important to continue the training.
We recommend getting a 24 inch crate, rather than sizing down a larger crate. Your puppy can use it until he is about 4 months old and these first few weeks at home are when the portability of a small crate can be a tremendous help. The cost of the smaller crate is minimal compared to the benefits of using a smaller crate during these house training weeks. Once your puppy outgrows this crate, he will be sufficiently house-trained to move into his adult-sized crate left in a more permanent location.
Dog Bed
We have several different recommendations for dog beds discussed below. However, we most highly recommend the Kuranda bed. The Kuranda bed is a raised cot that Golden Retrievers especially love because it is cool. We've spent hundreds (if not thousands) of dollars on beds and our dogs prefer these raised cots more than any other. More details as to why is discussed below. In addition, if you are getting a Summer Brook puppy, we use the Kuranda bed for some of our training exercises. Therefore, this bed will make for a good transition for your puppy moving from our home to yours.
Specific Puppy Products That We Recommend
*Disclosure – Some of the links on this page are affiliate links, meaning, at no additional cost to you, I will earn a small commission if you click through and make a purchase.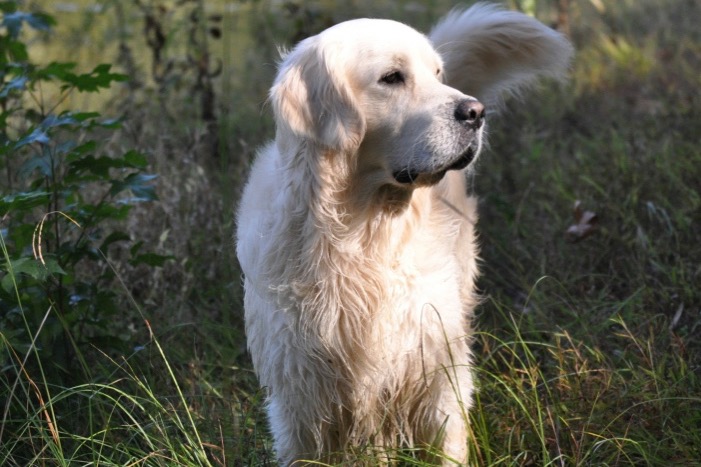 Food
Collars
We strongly encourage people to not keep puppies or dogs in collars when they are unsupervised. I will link to a post with details about this soon.
Golden Retriever Puppy Supplies: Leashes
Leashes are a must for a puppy or dog of any age. We have a variety of leashes of various lengths and thicknesses for different purposes. I suggest getting at least two leashes, but you might want to get more. Various types of leashes serve different purposes. This section will give you information on when it is best to use various lengths of leashes. Read the pros and cons of each size before deciding which length best suites your situation. This section will also recommend our particular favorites.
Slip Lead or Snap Lead?
We recommend a snap lead attached to a martingale collar or harness in most situations. However, for quick trips outside to potty or to the vet, or anywhere if you feel sure your dog won't pull, a slip lead is fine. Slip leads are easy to put on and take off if using for just a few minutes with a dog that is well trained.
Best Length and Width of Leash
We use a 6 foot long 8 mm wide leashes for most situations. The 8 mm width is wide enough to be safe, but small enough to wad up in your hand when you need your leash to be smaller. We use these leashes with both puppies and adults.
For me, an 8 mm leash is always sufficient in width for me and my dogs. However, if your dog is a puller or if you have arthritis or other problems with your hands or shoulders, a thicker leash would be more comfortable in your hand. Check out the Mendota leashes.
If you plan on adjusting the length of your leash for various applications, make sure you get an 8 mm leash. A thicker leash can be a bit cumbersome when you wad it up in you hands to make it shorter.
Golden Retriever Puppy Supplies: Food Bowls and Water Buckets
Golden Retriever Puppy Supplies: Crates
Golden Retriever Puppy Supplies: Dog Beds
Pens
If you are getting your puppy from a breeder other than Summer Brook, plastic pens are a good option for a 7 to 10 week old puppy. However, we've had 11 week old puppies climb out of them.
Baby Gates
Doggy Door
Toys, Bones, and Bully Sticks
Shampoo and Grooming Tools
Vacuum Cleaner
Supplements
Miscellaneous Other Products