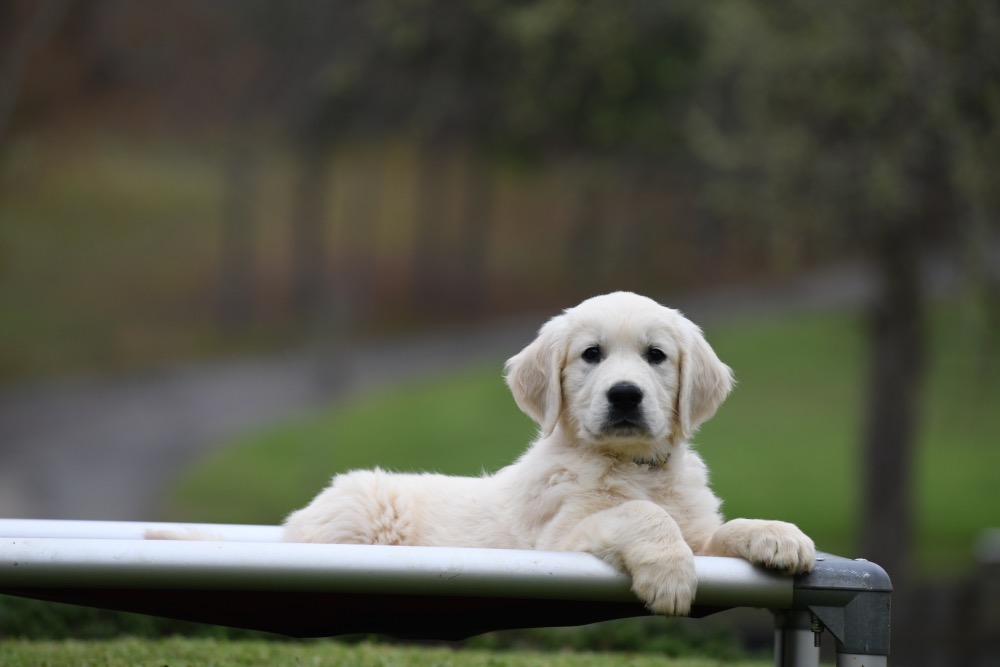 This page is a summary of what we typically go over with families when they pick up their puppy. We cram so much information into the 1 1/2 to 2 hours that families are with us when they pick up their puppy, that I sometimes wonder if people can remember it all. Therefore, we've written this page as a summary of what we discuss with the hopes that this page together with the links that are on this page will further help families to get home with their puppies feeling prepared to raise them. This page contains information on topics such as feeding, house training, obedience training, exercise and more. Below are tips for raising and for continuing the training of your Summer Brook puppy after puppy pick up day.
A Segment of a Typical Training Session After Puppy Pick Up
The video below demonstrates a typical training session for families to follow after they get home with their puppies. This puppy is trained to about the 11-week mark, though he is a little younger. Below the After Puppy Pick Up video, you'll find more videos with training tips on specific aspects of the training as well as a write up with even more tips.
Tips for Teaching a 10 Week Old Puppy to Heel
Watch the video below to see our Piper/Luke litter heeling at 9 1/2 weeks of age. In this video, I'll discuss how we train our puppies to heel and our training philosophy. Though this video is not an instructional video per say, you can still glean some ideas for continuing the heeling training with your puppy.
The next 3 videos will give over 30 tips on how to apply positive reinforcement training tips to the training of sits, downs, and stays. These three videos feature a litter of nine Piper/Luke puppies. The first video shows the four puppies that left right at 10 weeks. Part 2 features the other five puppies. We filmed both of these videos when the puppies were 9 weeks 4 days old. Puppies made a good many mistakes. Watch as we discuss how we corrected these mistakes. Then watch Part 3 to see the five puppies that were still here 8 days later to see the improvements.
Part 2
Part 3
Training Tips for After Puppy Pick Up
Follow the guidelines on our Do's and Don'ts for positive reinforcement training page. This post has information that should be helpful throughout your puppy's life.
More Helpful Tips for the First Few Days When Making the Transition from Our Home to Yours
Make sure you don't push your puppy too far. Remember: your puppy needs to learn your voice, your hand signals, and your expectations. Start off making it simple and gradually build back up to the training your puppy demonstrated when you picked him up.
Don't forget to work the exercises at easy levels often. Puppies who are consistently pushed further and further without practicing at easy levels will at best get confused. At the worst, they could totally loose motivation to work with you.
Set your puppy up for success. Gradually increase the difficulty. However, don't increase the criteria for reward so much that your puppy is making mistakes more often than 20% of the time.
Don't work your puppy too long. Quit your training session before your puppy gets bored. Leave him wanting more! Short frequent training sessions are better than infrequent longer ones. For most people, I suggest keeping your training sessions under 10 minutes. Jenna and I are experienced trainers. We know how to keep puppies' attention for much longer periods of time than most. Still, we never train a puppy for over 20 minutes at a time. If you are really ambitious and want to move your puppy forward rapidly in his training, don't increase the length of your training sessions. Instead, increase the number of times you train during a day.
Be careful not to drop food. If you do, make sure you get it before your puppy finds it. A puppy that learns that food is often on the ground will be inclined to surf the floor instead of paying attention to you.
Memory Lapses After Puppy Pick Up
Expect memory lapses. Some days very young puppies will have "off" days where they will seem to completely forget a command. They are not being disobedient but rather are confused.
When You Ask For a Change in Position and Your Puppy Doesn't Move
If your puppy seems to have forgotten a command, do the following if you've asked him to change position and he continues to stay in the same position.
Give your puppy a minute to process what you've asked him to do.
Don't repeat the command.
If after about 3-4 seconds, the puppy is still not doing what you ask and just staying in the same position, talk to the puppy just with chatter to let him know that he's got it wrong and he needs to try something else. I usually say things like: "Can you try something else?" or "What you gonna do?" or "Show me what you can do?" It doesn't really matter what you say as long as it is in an upbeat voice to excite him to try something different. Then when he finally does what you ask him, repeat the command ONE more time as he is going into the correct position. The repeat of the command must come simultaneous with your puppy doing what you ask. The purpose of this is to help your puppy to better match the word (and your tone of voice when you say the word) with the behavior you are asking for. Make sure you mark and reward the behavior immediately afterwards.
If after 5-6 seconds of chattering, your puppy still doesn't understand, stop your training for long enough to move to a new place (just 5 or 6 feet over from the original place). Start over again so that your puppy's brain gets "unstuck".
In the unlikely event that your puppy still isn't "getting it", back off with your training and make it easier until your puppy's brain re-sets.
Your Puppy Moves or Changes Position During a Stay
If your puppy is supposed to be staying still and he either gets up or changes position, do the following:
Say "no" in a calm fairly quiet voice. You are not scolding him, but rather are giving him information that he has done the wrong thing.
Tell him what he is supposed to do immediately after you say "no". For example, say "no, sit" if he goes down when he should be holding a "sit"position.
Mark and reward when he does the correct thing.
Exercise
See our page on Exercise for guidelines on how much exercise your puppy should get.
Socialization
See our Socialization page for information on this very important topic.
Leash Walking
See our Leash Walking Page for information on this very important topic.
Feeding
Go to our soon to be written Feeding page for information on how to feed your new puppy. This page will include details such as how much and how often to feed as well as give you details on how to continue our "meal time manners" routine. It also includes information on bowls, watering food, and feeding schedules. We are currently writing this page and it should be posted soon.
Keep It Fun!
Below is a short fun video of a puppy heeling off leash at 10 weeks. Summer Brook puppies are trained to heel both on and off leash. It's fun to watch a puppy when he is focused and working!
A Few More Topics We are Currently Writing Pages For:
House Training
See our House Training page for information on how to continue the house training that we've started. This page is huge and packed with helpful information on this all so important aspect of raising a puppy. This page will have such information on it as how to schedule your day, how to increase the time between potty breaks, how to use the crate, and more! We hope to post this page soon.
The Place Cot
Check back soon when we will hopefully have our new page on The Place Cot finished. This page will give you some ideas for the use of continuing the "Place" command.