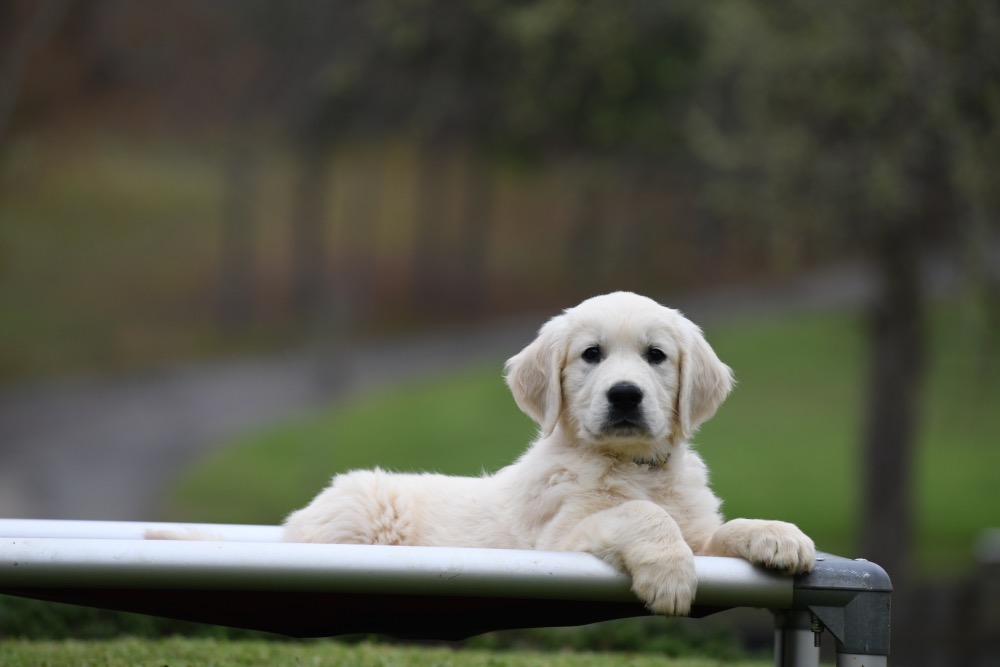 This page is a summary of what we typically go over with families when they pick up their puppy. We cram so much information into the 1 1/2 to 2 hours that families are with us when they pick up their puppy, that I sometimes wonder if people can remember it all. Therefore, we've written this page and the links it takes you to in order to help families to get home with their puppies feeling better prepared to raise them.
If families will read these pages and watch the videos prior to puppy pick-up, they will be better prepared for our visit enabling our visit to have more puppy bonding time and more time for questions.
This page contains information on topics such as feeding, house training, obedience training, exercise, and more. Below are tips and principles to consider while raising and continuing the training of your Summer Brook puppy after puppy pick up day.
The information on this page is up-to-date as of 2023 and is a replacement of our page on after puppy pick up that was written many years ago. Our early training was good, but our training protocols have now improved. This page reflects our recent changes.
House Training
See our page on Continuing House Training for Your Summer Brook Puppy for how to continue the house training that we've started.
Tips and Principles That Apply to All Obedience Training
Before reading the individual pages on the various aspects of raising a puppy, read our page on General Principles and Tips for all obedience training.
Training a Reliable Down/stay
Training the down/stay is an important part of raising a puppy. It is not only practical for life, but the mere practicing of it builds a huge amount of self-control and confidence in active puppies.
See our page on Training a Reliable Down/stay for tips on how to train it as well as to see a helpful informative video.
Heeling
Teaching our puppies to heel serves three very important purposes. See our page on Heeling for Strong Character, Environmental Desensitization, and a Stress Free Walk.
See the video below for detailed instructions on how to continue the heeling training that we start. This video focuses especially on helping your puppy make the transition from us to you. It also covers such details as physical and verbal cues and when to reward.
Training a Recall You Can Count On
See our page on Training a Reliable Recall for full details.
Exercise
See our page on Exercise for guidelines on how much exercise your puppy should get.
Socialization
See our Socialization page for information on this very important topic.
Feeding and Crate Time
Go to our soon to be written Feeding page for information on how to feed your new puppy. This page will include details such as how much and how often to feed as well as give you details on how to continue our "meal time manners" routine. It also includes information on bowls, watering food, and feeding schedules. We are currently writing this page and it should be posted soon.
Other Training Tips for After Puppy Pick Up
Follow the guidelines on our Do's and Don'ts for positive reinforcement training page. This post has information that should be helpful throughout your puppy's life.
Keep It Fun!
Below is a short fun video of a puppy heeling off leash at 10 weeks. Summer Brook puppies are trained to heel both on and off leash. It's fun to watch a puppy when he is focused and working!
A Few More Topics We are Currently Writing Pages For:
House Training
See our House Training page for information on how to continue the house training that we've started. This page is huge and packed with helpful information on this all so important aspect of raising a puppy. This page will have such information on it as how to schedule your day, how to increase the time between potty breaks, how to use the crate, and more! We hope to post this page soon.
The Place Cot
Check back soon when we will hopefully have our new page on The Place Cot finished. This page will give you some ideas for the use of continuing the "Place" command.