This page will provide you with a list of "Do's" and "Don'ts" as you raise your puppy using positive reinforcement. There is also a video with nine puppies who are barely nine weeks old in training. This video demonstrates some of the common problems you might encounter and how to fix these problems. Read on for loads of good information on how to use positive reinforcement in puppy training.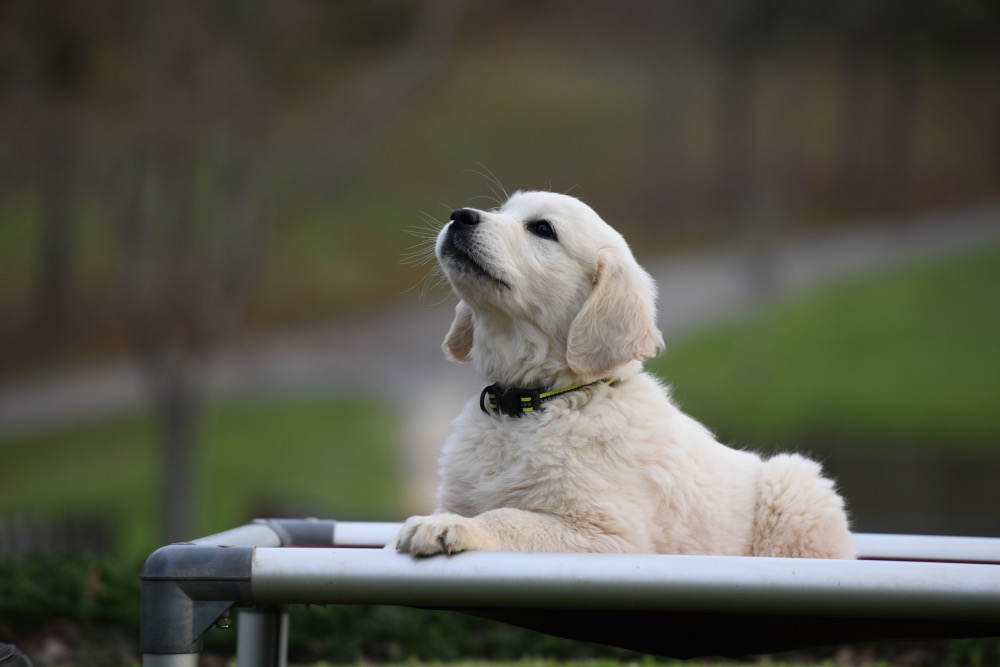 Positive Reinforcement in Puppy Training: Do These Things
Control Your Puppy and Your Puppy's Environment
For positive reinforcement to yield its benefits, your puppy must be well-controlled so that he WILL be successful. The key to good positive reinforcement training is having something positive to reward. You cannot reward a puppy when he is busying himself with inappropriate behaviors. This is such an important aspect of good positive reinforcement training that we will be writing a separate post for this topic alone soon. Control your puppy. Set him up for success!
Have a Good Reinforcement Schedule
Start young puppies off with a heavy and consistent reinforcement schedule. Reward often while your puppy is learning something new and while he is being conditioned to enjoy working with you. Then when behaviors become solid and he is obviously enjoying the work, gradually move his reinforcement schedule to being random. Puppies (and dogs) need to feel like a reward will come any time. At the same time, once dogs have learned a behavior, they no longer need to know exactly when that reward will come.
Use a Reinforcement that YOUR Puppy Wants
Almost all puppies want food. Food is also an easy reward to give. Therefore, for most puppies, we recommend starting training by using food. However, keep in mind the very important principle that for positive reinforcement to work, the reward needs to be something that a dog actually wants. If your puppy isn't hungry, food will not be a reinforcer. Train before meals and do not overfeed your puppy. If you are training frequently, take the amount of food you are using for training out of your puppy's daily food ration. Most people over-feed their puppies. See our page on How Much to Feed Your Golden Retriever if your puppy is a Golden.
Keep Training Sessions Short
Puppies have short attention spans. For most young puppies with a typical inexperienced trainer, ten minutes several times a day is plenty. If you break your training up into several short intervals, you will reap a tremendous training benefit. Your Puppy will think about his training in between sessions and come back to a subsequent session better than he was at the end of the previous session.
Positive Reinforcement in Puppy Training: DO NOT do the Following
Do Not Reward Your Puppy for Focusing on a Treat
The reward can be a treat, but the focus must be on you. Puppies need to know that the reward comes THROUGH YOU. In order to earn a reward, a puppy needs to look to you for it. Therefore, don't show a treat to a puppy before a behavior is performed. This will turn the reward into a bribe instead of a reinforcement. More on this in a later blog post.
Don't Name a Behavior Until It is Solid
Repeating a command over and over before a puppy has learned what he is doing will cause him to learn to ignore your voice. This is especially true with regard to a recall. You want your puppy to be in-tuned to you. Therefore, reserve speaking to your puppy for when he knows what he is listening to. A puppy that is used to hearing constant commands that mean nothing to him will quickly develop a habit of tuning you out.
Do Not Use Luring on a Regular Basis
Dogs trained primarily with luring will learn to focus on treats and will never learn to shift that focus to a person. Reserve luring for those difficult behaviors that cannot be trained with shaping. How to use shaping will be another up-and-coming page.
Other Do's and Don'ts
After current litter puppies are all in new homes, we will either add more "Do's and Don'ts" to this page or write a part 2 page. Check back.
Videos of Puppies in Training with Positive Reinforcement
This video of nine puppies doing obedience work with me should be helpful in fixing some of your puppy's problems. These puppies are between the ages of 9 weeks 1 day and 9 weeks 3 days. They are in the early stages of learning and making mistakes. Watch the videos to learn how to fix some of the mistakes that your puppy might be making.