The best possible time for puppies to change homes and leave the breeder is between 10 and 11 weeks of age IF a breeder has the time and the talent to start them in training and to give each and every puppy ample individual attention. If a breeder does not have time to train their puppies, puppies should be placed with new families between 7 weeks 2 days and 8 weeks. We think that 7 1/2 weeks is best if 10 to 11 weeks is not an option. No puppy should ever leave his litter prior to 7 weeks of age for any reason.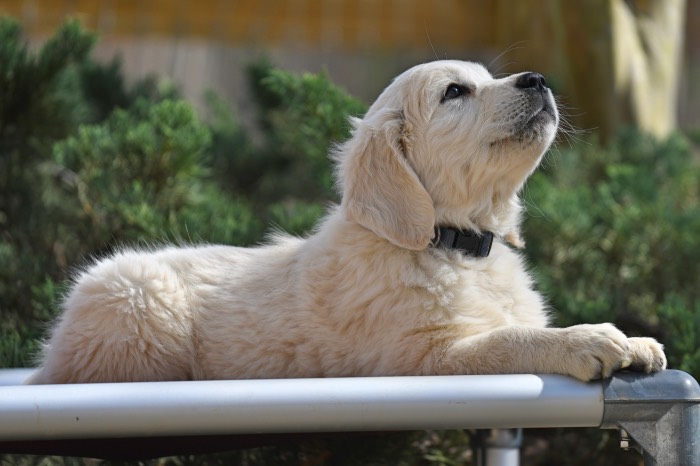 There are several reasons that we at Summer Brook are now placing all of our puppies right at or just before 11 weeks of age.
Additional Time With Litter Mates
One very important reason for keeping our puppies until they are 10 1/2 to 11 weeks of age is to give puppies additional time with litter-mates. This extra time with litter-mates gives puppies a better foundation for relating to other dogs. And more importantly litter-mates teach each other bite-inhibition. Having good bite inhibition creates a gentler mouth. Our 11-week old English Golden Retriever puppies are less mouthy than puppies leaving litter-mates sooner.
Later First Vaccine
Another advantage for later pick up is that 11 week old trained English Golden Retriever puppies can be with us at the optimum vaccine time. Puppies vaccinated at older ages have fewer vaccine side effects. They also have a greater chance of having an immune response to the vaccine than puppies vaccinated sooner. We feel that 9 weeks is the optimum time for a puppy to have his first vaccine.
Not Changing Homes During Puppy's First Fear Period
Puppies go through a fear stage that peaks at 8 weeks and goes through about 10-11 weeks. By 10 weeks, most puppies are completely out of it. By 11 weeks, virtually all of them are out of it.
More Mature Digestive Systems
Another advantage that we've found in sending puppies home later revolves around the immaturity of young puppies' digestive systems. Many 8-week old puppies experience digestive upsets when changing homes. Far fewer experience the upset at 10 1/2 to 11 weeks.
Easier Transition for the Family
Finally, we've found that many people are inexperienced with puppies. Many more have experience that is so far in the past that they don't remember much of it. Training an 8-week old puppy is time consuming, sleep depriving, and sometimes exhausting. Very few 8-week old puppies are able to sleep all night in a crate without needing to go outside. More than half of our 10-week old puppies are able to hold it for 6 hours. By 11 weeks, about 90% of our puppies can hold it for a 6 hour night or longer. Our 11 week old puppies are not fully house-trained by any means. However, by 11-weeks of age, our puppies are accustomed to peeing and pooping almost exclusively outside. Their bladders are a little more mature than at 8 weeks enabling them to hold it longer. If you will take our 11-week old puppies out often enough, the number of accidents will be minimal.
More Information
See our page on Trained English Golden Retriever Puppies for more information on what we do with our puppies before they leave us.