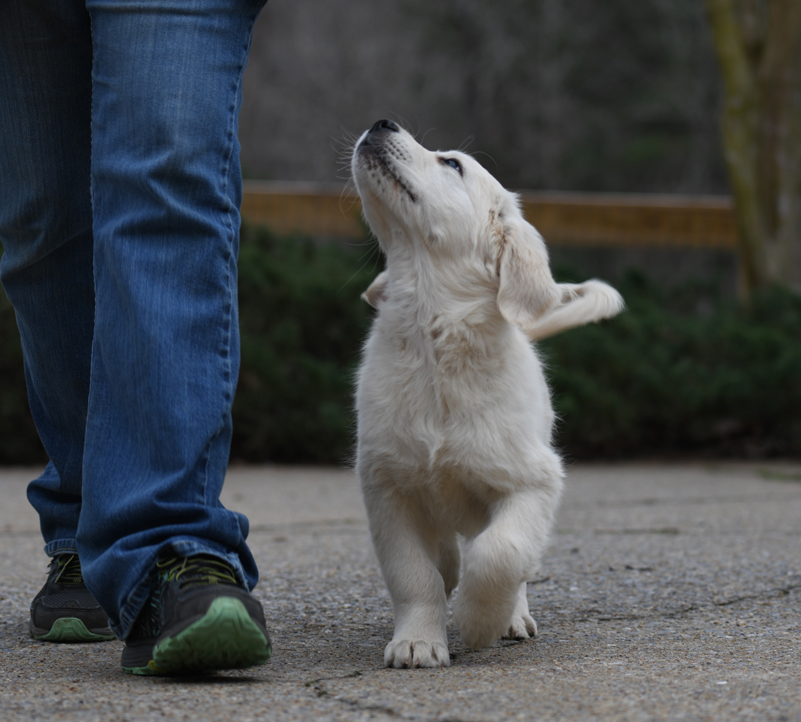 Focused Puppies Training Program: Shaping English Golden Retriever Puppies to Focus and Think
Our English Golden Retriever puppies started in training have an amazing and obvious desire to please. Scroll down to our video links to see for yourselves! Our program is built around the idea that HOW a puppy is trained is more important than the behaviors they learn. The training methods we use are designed to teach behaviors as a secondary goal. Our primary goal is to shape our puppies' emotional make-up so that they WANT to work for a human. We train our puppies to focus and think before we teach them to perform behaviors.
Video Showing the Results of our Training
The video below is of Oliver doing obedience here at Summer Brook Acres. He is 9 weeks 6 days old on the video. Oliver is already in his new home. However, this video shows the training of a typical puppy between 10 and 11 weeks of age with a couple of changes.
Oliver was an exceptional puppy at less than 10 weeks. Many of our puppies are trained to his level at an early age, but not all at 10 weeks. However almost all of our puppies are trained to this level or better by 11 weeks.
In addition, since this video, we've changed the way we train the place cot a bit. We no longer do sits on the cot thereby providing a way to move toward better dependability on the down/stays on the cot. When the question of which position to stay in is removed, a puppy can concentrate better on just keeping himself on the cot. This paves the way for a family to use the cot for longer periods.
With the exception of the few changes just mentioned, this video explains some of what and how we train. Scroll down for more details. There are links to videos of many more puppies we have trained in the past.
Trained English Golden Retriever Puppies Options
For most of our litters, we offer training up until 10 to 11 weeks of age. We feel that this is the ideal age for puppies to change homes if a breeder has the time and skill to start intensive one-on-one training before 8 weeks for the reasons listed on our Focused Puppy Program to 10 Weeks.
Starting with litters born in 2021, the first two reservations for both boys and girls (4 reservations total) and our pick puppies will be reserved with our 11 week program.
We will sometimes keep puppies for up to 12 1/2 weeks. However, this is contingent on our having another litter when these puppies are in training. We will also occasionally keep back a puppy from an exceptional litter and train them to higher levels. We won't be advertising these puppies until we see how they are progressing in their training. At that point, we post a video on our site.
What Makes Our Training Program Different?
What distinguishes our training programs from the training provided by most is the focus our puppies have on a handler. You can see this by looking at videos of our puppies in training. The very first thing we teach a puppy is to have and to enjoy having eye contact with a person. We don't even think about training particular behaviors until eye contact is the norm. Many (in fact, almost all other breeders') training videos show puppies that are barely paying attention to the handler. This type training will at the best produce puppies that reluctantly follow a handler and their food.
The Foundation of Our Program
The foundation of our program is teaching puppies to want to look at a handler and focus on them. We train our puppies to think instead of react. They figure out for themselves what they need to do in order to please a handler and get a reward. Our teaching methods are built on marker training and shaping instead of luring and leash pressure.
Minimal Use of Luring
Luring is simply having a puppy to get into a position by following a treat. We will occasionally use luring in the initial phase of training. However, we quickly change from luring to shaping and by far most of our training is done with shaping.
Shaping – Our Primary Training Method
Shaping is a training method that encourages a puppy to want to incrementally figure out on his own the behavior that a handler is wanting to train. It is similar to the hotter/colder guessing game that many children play. We wait until a puppy starts to move in the direction of doing what we want. We reward as he gets closer to the desired behavior expecting more and more from him as he progresses. Shaping takes more time initially to train compared to traditional luring types of methods. However, the results are far better and longer lasting.
We use treats but in a different way from lure-based trainers. Treats are not used as lures and bribes, but rather as rewards. In other words, our puppies are not shown the reward and asked to follow it around to entice them to work. It is only presented after the behavior is done. Puppies are encouraged to actively use their brains in order to engage the handler and to earn the reward.
Our primary goal is to create in our puppies a desire to work and focus on a handler. Having puppies that are primarily focusing on the treats themselves is not enough. We want willing and happy working puppies that desire above all to please the handler. We don't want puppies that are obsessively food-focused. Even worse are puppies that are focused on avoiding a punishment. Punishment based training is still the case with many of today's trainers.
Links to Details of Our Trained English Golden Retriever Puppies Program
See our Focused Puppy Program to 10 Weeks for details on the training provided up to 10 weeks of age.
See our page on Expectations for a Summer Brook trained puppy for information on what we do at what ages. In particular read about the additional training from 10 to 11 weeks. If you are wondering how long you should leave your puppy with us, this page will help you to decide.
There are a few more details on our Training from 11 to 12 1/2 Weeks page for details on the additional training provided from 11 to 12 weeks 3 days of age.
Training Starts Early
Even our 7 1/2 to 8 week old puppies are better trained than most. Starting before puppies are 5 1/2 weeks, they are trained to potty outside by way of a doggy door and are eating in crates. Formal obedience begins just after puppies are 6 weeks of age (for most litters, at 6 weeks 2 days). See our How We Raise our Puppies page for information on how we raise our puppies from birth to 6 weeks.
Who Trains the Puppies?
I (Karen) do the initial obedience training myself (along with our 26 year old daughter Jenna for our 2020 litters). Jenna is a professional dog trainer and shares Karen's positive reinforcement training philosophy.
We also have a team who help keep things running smoothly. Our team works with puppies on potty training, socializing, and obedience skills already trained. In the past our team has consisted of three high schoolers that all worked for us for over three years. However, starting with our 2020 litters, two of the three have moved off to college.
BUT, we are so happy to have our two daughters who are now in their 20's working with us again during 2020. One daughter, Jenna, has been an incredible trainer for many years. She will be making Summer Brook puppies her priority.
The other, Elise, is a socialization superstar and will be taking off college for the winter and spring to work full time with Summer Brook.
We also have a good many friends and contacts that visit puppies. Our goal is to make sure that puppies have a wide variety of ages and types of people to interact with.
Karen's Experience and Expertise
My training experience includes having trained around 100 puppies. This doesn't count the many raised by us to 8 weeks. I also have experience training at high levels in AKC obedience. I've put many obedience titles on several dogs including completing 3 CDX's, 2 UD's and numerous rally titles at all levels. I have won over 2 dozen first places at AKC obedience trials and at least the same number at AKC rally obedience trials.
I've also successfully trained at the very highest level in AKC obedience: Utility. It is at the Utility level that dogs do very advanced work. They sniff scented articles out of a pile. These dogs do directed retrieves, directed jumping as well as sits, downs, and recalls with signals alone while on the opposite side of the ring from the handler. Jack and I earned his (and my) first utility leg with a high score of 195 in 2016. We placed him in another home two weeks after he received that first leg. See Jack's page to see a couple of videos of him and me competing at an obedience trial.
Latest Achievements (2019)
Raising puppies is my priority and competitive obedience takes a back seat when we have puppies. However, in late summer and fall of 2019 we had a break with no puppies. During that short time, I started and finished two dogs in Utility (Tara and Piper) with scores consistently over 195 in their qualifying runs. Tara not only finished her Utility title but in 2 weekends of competing at the Open B/Utility B level, she earned two high in trials, two combined high in trials, 6 first places, and 19 OTCH points along with three UDX legs….a super accomplishment for a dog/handler team where neither dog nor handler had competed at that level prior. Piper did well also. However, Tara consistently beat Piper because Piper's training was divided between obedience and agility.
The Reason For Our Success
I attribute ALL of this success to the same positive reinforcement program that we use with our 8-week old puppies. It works! Further and most importantly, our training methods produce puppies and dogs that WANT to work. People are impressed with Tara and Piper's scores in the obedience ring, but what people notice and comment most often to me about is my dogs' happy attitudes. Many (more than half) of the dogs you see at obedience competitions have a "do I have to?" attitude. Not Tara and Piper! Our training method builds a desire and love of working in dogs. This desire to please and to work is our primary goal at Summer Brook.
A Good Home is a Must
We are very selective about where our puppies go. Our puppies must go to homes with people who have time for a puppy. We won't place a puppy in a home where a puppy will be left alone for most of the day. We cannot send a puppy to a home where he or she won't receive hours of attention every day. Even our trained puppies need a lot of time and love. We don't just offer "Trained English Cream Golden Retriever Puppies for Sale". Our goal is to provide companions for families who really want to share their lives with a dog.
For information on how our puppies are raised up until they are 8 weeks, see our Raising Puppies page.