There are many English Golden Retriever breeders in the US but choosing the right one can be extremely difficult. So, why choose Summer Brook? There are four primary reasons so many have chosen to work with Summer Brook Acres: (1)the quality of our adult dogs, (2) how we raise our puppies, (3) the openness and integrity of our program, and (4) the quality, method, and results of our training program. See our Trained Puppies page to really appreciate our trained puppies!
Why Choose Summer Brook? 1. Quality English Golden Retrievers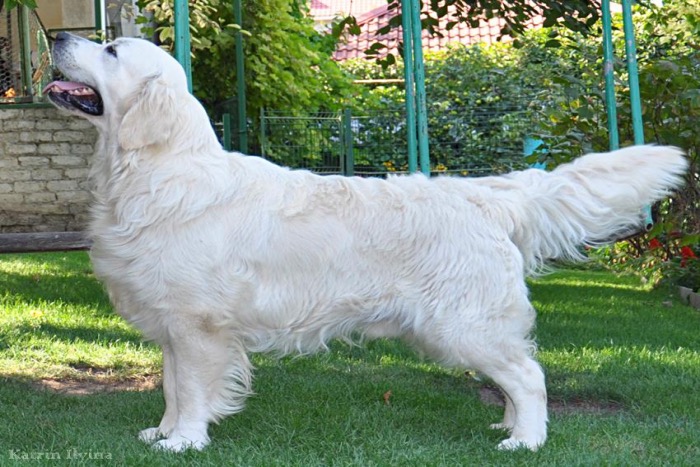 We focus on breeding dogs with fantastic temperaments and great health clearances. In fact, none of our Goldens have hips scores lower than the equivalent of OFA "good".
Of course, the quality of our dogs goes beyond looks, but the beauty of our dogs is what most people notice about Summer Brook first. Pictures and titles give a good idea, but more importantly, people think our dogs are beautiful in person. Our boys, in particular, have titles that prove their beauty and go beyond what almost all other imports have earned in the U.S. We are also very active in obedience trials. Many of our dogs have advanced obedience titles. All of them have at least a CGC.
Read our Dog Titles page to see what the different titles mean. This page also talks about which titles are easiest to get and which ones are the most meaningful. Many breeders have titles that can be rather misleading. I think most people are surprised to learn which titles mean something and which titles are earned by little more than paying money.
Why Choose Summer Brook? 2. Our Puppy Raising Method
We raise our puppies differently from most breeders because of the quantity and quality of time spent as well as the training and enriched environment that our puppies grow up in. See our How We Raise Our Puppies page to see what we mean. There you will learn about how our puppies are raised and see pictures of where they are raised and videos of what they learn. Puppies are born and raised in our home where someone is almost always home. Our carefully thought out detailed program gives each puppy the best possible start in life.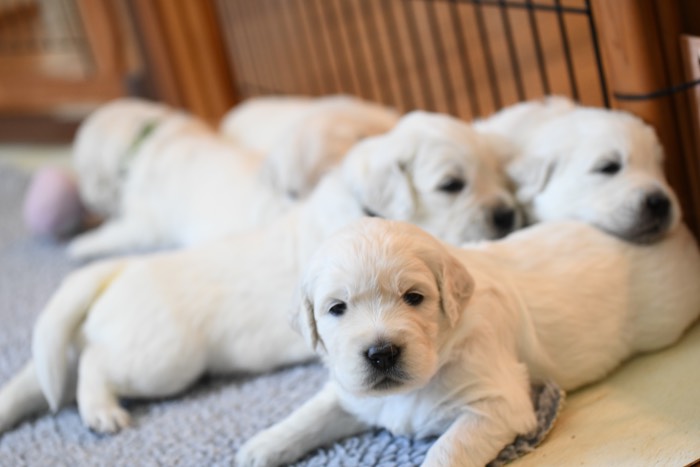 Why Choose Summer Brook? 3. Integrity and Openness in Our Program
The openness of our program is evident by the amount of information on each one of our dogs. We have scanned in copies on our website or links to OFA for all clearances. If you compare what we say about our clearances, you will find a big difference in us and many English Golden Retriever breeders.
Why Summer Brook? 4. We Don't Exaggerate the Quality of Our Dog's Health Clearances
Many breeders exaggerate the meanings of overseas hip scores. OFA has an easy to use chart comparing the OFA, BVA, and FCI to each other: OFA's BVA and FCI to OFA comparison chart. This chart will tell you how the various means of hip testing compare to one another.
OFA vs. FCI Hip Clearances
An FCI hip score of "A" is the same as either an excellent or a good. However, many English Golden Retriever breeders who import adult dogs claim that an "A" is the same as an OFA "excellent." Well, it could be, but more likely it is equivalent to only a "good." A "B" FCI score is a "fair" or "borderline." Many (in fact most) breeders of imports claim that a "B" is the same as a "good." Many will also say that their dog is in the top 4% of Goldens when their dog is in the OFA "excellent" range. In actuality, even if their dog did have OFA "excellent" hips, the 4% number represents a statistic that is almost 10 years old. New statistics on OFA's site show that 8.4% of Goldens have OFA "excellent" scores which you can see here: https://www.ofa.org/diseases/breed-statistics.
OFA vs. BVA Hip Clearances
These same breeders also exaggerate and miscommunicate about BVA hip scores. To be a BVA "excellent", the TOTAL of both hips added together needs to be a "4" or under. To be equivalent to OFA "good" hips, the BVA scores should total between "5" and "10." Look at many breeders websites and you will see what I mean. They'll have a dog with a BVA "6/7" and tell you that their dog has an equivalent to an OFA "good/good" because both the "6" and the "7" are individually between the "5-10" range. However, when you add the numbers together as they should be, you'll see that the dog is between "11-18" which is equivalent to an OFA "fair."
There are a LOT of breeders who mislead people about clearances and a lot more who are just misinformed. However, all breeders should be able to find out from either BVA or FCI or OFA how to compare the results. Even worse, there are also breeders that don't even do the tests.
We Retire Dogs Who Don't Meet Our High Standards
A fifth reason for choosing Summer Brook is our high health standard. Health testing is difficult. Most good breeders have had to make many difficult decisions to retire dogs because of poor health clearances. Of course, this comes after two years of pouring love and money into beloved dogs. We, here at Summer Brook, have retired over half of the dogs we've imported before breeding them in order to build healthy lines with truly very good clearances. Breeding dogs with the best of health is not easy and there are no short cuts.
Training Program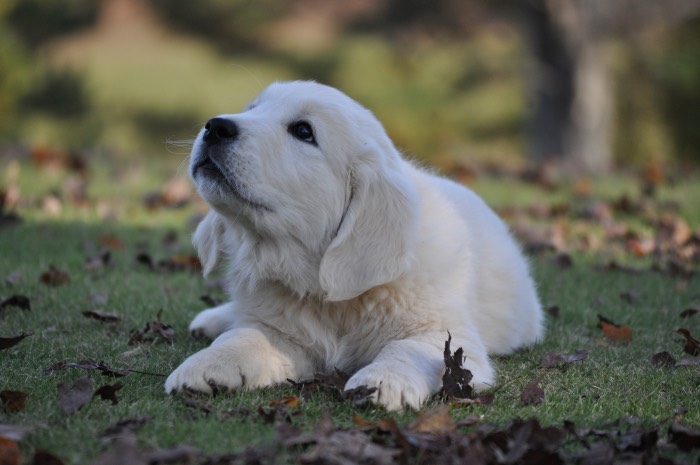 The final reason for choosing Summer Brook is our training program. Our training program is (in our opinion) better than any of the other English Golden Retriever breeders we've seen. Anyone can claim to be a professional trainer with virtually no skill. You can see the quality of our program by looking at the videos of our puppies. There are links to many videos on our Available Puppies page, our Expectations page, and our After Puppy Pick-up page. You can see even more by going to our YouTube channel.
Our puppies are taught to focus and think, first and foremost. We find that it is not as effective to only use lures like food or worse to use corrections.
Karen and Jenna are skilled trainers; the titles our dogs have won and the videos of puppies we've trained demonstrate the quality of our program.