Starting with our 2021 Tara/Jake litter we will be making a few changes to our training program. We believe that these training changes will enable us to provide families with an even better trained puppy than we have in the past.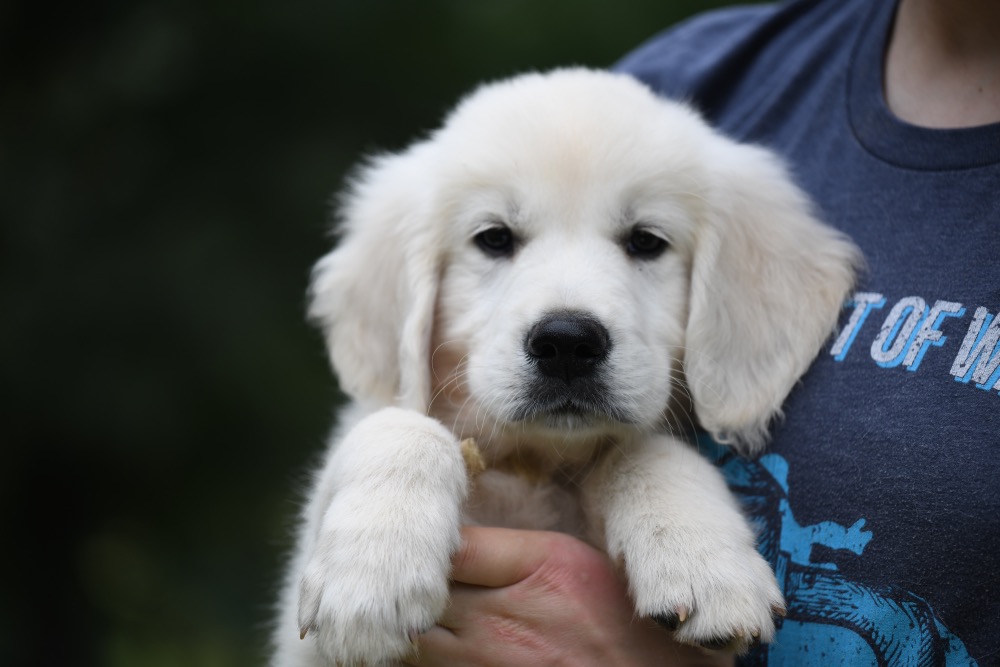 Here are the differences:
Adding More Training With the Place Cot
We will be doing more intense work with our puppies on the place cot.  Work on the place cot builds a great deal of self-control. Further, if families will continue the training that we start, it gives a super tool for managing a dog when guests come over.  The place cot can also be a good alternative to a crate for house training.  We will show families how to continue this training.
More Work Under Distractions
We will work our stay exercises in more distracting environments.
More Solid Down Stay With Training Changes
Puppies on our new plan will have a more solid down/stay because of two changes. First of all, we will be spending more time on the down/stay with the puppies on our new program than we did with our old program. Secondly, there will be no sit/stay from a distance to confuse the down/stay as will be discussed in our next program change.
The Sit/Stay Will Only Be Trained When Puppy Is Close to Us
We will no longer train puppies to do a sit/stay while we back away from them.  In our opinion, having a dog to stay in a seated position rather than in a down when at a distance from a handler is not a very useful skill unless you will be doing competitive obedience.  For most pet homes, the most advanced training you will need is the training required to get a CGC which requires a dog to stay in EITHER a sit position or a down position.  We will continue to cover all the skills required for a dog to get a CGC.  We will also continue to train our puppies to sit/stay when right beside us.   Unlike the sit/stay from a distance, we can see a use for a sit/stay when the dog is sitting right beside you, especially when out in public.
Same Time Invested in Different Ways
The same amount of training time will be spent on puppies trained with our old protocol as our new. However, the focus with regard to our stay exercises will be different and some of the exercises that we spend our time on will be different. 
All Other Aspects of Training Will Remain the Same
Other than what is listed above, the rest of our training program will remain the same.
Families Will Love Our Training Changes
We think that families will prefer the results of our new program. Most importantly, we believe these changes will better facilitate the instilling of our four core characteristics in our puppies. These core characteristics are self-control, confidence, focus, and a desire to work with a person.
For more information on other aspects of our training program, see our Training page.