Starting in 2022, we will no longer training a sit/stay. Instead, we will focus this additional time training a more solid down/stay. We will also add what we call "stationary exercises for finding heel position". The training changes that we've implemented are making a good training program even better.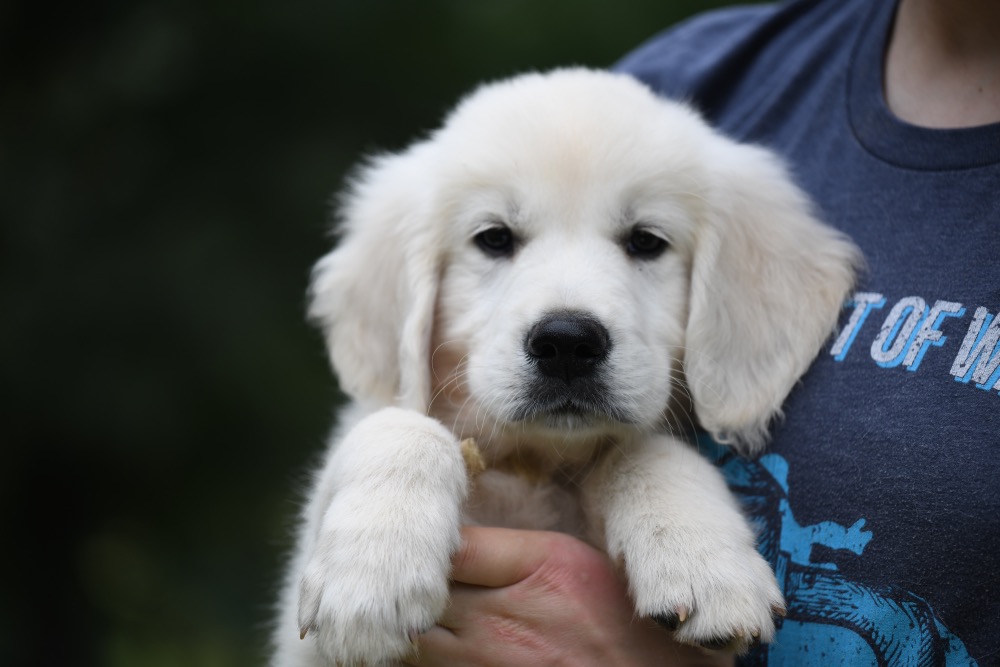 A Change in the Sit/Stay
The first skill that we will not teach our 10 week old puppies is a sit/stay when we walk away from the puppy further than a couple of feet. We will continue to train our puppies to sit still while we are beside them or when we step back one or two feet. However, if we want to move further away, we'll ask them to go into a down first. The down/stay is stronger when a puppy no longer needs to remember what position he needs to maintain. Puppies will know that if their handler is moving away from him, he needs to stay in a down position. A down is an easier position for puppies to stay in.
A Change in Focused Heeling
We've added several stationary exercises which really help young puppies to find and stay in heel position. You can see a couple of videos demonstrating these skills on our Expectations page.
Details of the Stationary Exercises
We will be adding four new exercises that will each play a different role in teaching puppies to find heel position. In addition, the "right here" command which was previously taught only to those puppies staying for our 12 Weeks program will now be taught to all our puppies over 8 weeks. We feel that this command is too important for us to not always include it. All three of these exercises will serve to give families valuable tools towards keeping their puppies in heel position.
The "Right Here" Command
The "Right Here" command will signal a puppy to turn around and loop behind his handler to get himself in heel position. This is an extremely helpful command for puppies that tend towards getting out in front of their person. It is also helpful for initially getting a puppy in the correct position prior to movement.
Right About Turns
180 degree stationary right about turns teach a puppy to move quickly to get around a handler when doing an about turn. We have always taught our puppies to do about turns while moving. Now we will teach it both while moving as well as in a stationary position. When stationary, the puppy has to speed up to get around you and then remember to pay attention to where he is in order to stop when he realizes his person is not moving. This helps a puppy to develop focus and self-control.
Left turns
Left turns teach a puppy to get himself back behind his handler when turning to the left. When a handler turns to the left, the puppy will be on the inside of a circle. If a puppy doesn't make an intentional effort to get himself back behind his handler after a left turn, he will end up in a forged position. Forging is always a pre-cursor to pulling on a leash. Therefore, our goal is to give families tools to stop forging before it turns into pulling.
Side Steps to the Right
Side steps to the right while telling a puppy "right here" teaches a puppy to find heel position when he gets out to the side and too far away from his handler.
Why Change What's Already Good?
Why We Are Changing the Stay Portion Of Our Training Program
We're changing the stay portion of our training program until puppies are over 11 weeks for several reasons.
Practical Use of the Stay Exercises
First of all, we can see no practical use of having a puppy distinguish between a sit/stay and a down/stay when there is distance between a puppy and his handler. We feel that if a puppy needs to stay in place while his person goes more than a few steps away or for more than a few seconds, the down position is better. It is easier for a dog to maintain a down/stay than a sit/stay for long periods of time. It is simply more comfortable.
For most pet homes, the most advanced training you will need is the training required to get a CGC. The CGC requirement is for a dog to stay in EITHER a sit position or a down position.
A Better Down/Stay
Secondly, by eliminating the sit/stay from a very young puppy's repertoire of behaviors to remember, we can better train a more solid down/stay.
To Better Support Our Training Philosophy
Thirdly and most importantly, training both a sit/stay and a down/stay at the same time at very young ages does not support our philosophy of training. Our philosophy is built around the idea that building core values should be priority over behaviors. These values are focus, desire to work with a person, confidence, self-control, and resilience. In order to build these characteristics into our puppies, we keep our training fun. We make it a priority to not push our puppies to the point of frustration. We keep frustration down by training one thing at a time and by building a strong foundation before we increase the difficulty of what we train. For example, our puppies practice a down/stay where we back away one step for one second hundreds (if not thousands) of times before we begin adding distance, time, and distractions.
Training Self-control is One of Our Primary Goals
After training both a sit/stay and a down/stay to over a hundred puppies, we've come to realize that asking a puppy to learn the necessary self-control to stay still while his person backs away even just 5 feet is difficult for many puppies.
If you look at enough of our videos, you'll see that a lot of our puppies are working their front feet back and forth as they struggle to gain enough self-control to keep from following their urges to get up and run to us. Now, consider the fact that these puppies are not only trying to learn self-control (at a very young age!), they are having to remember what position they were asked to stay in.
Therefore, we feel that asking puppies to remember which position they were asked to stay in before they have mastered the self-control to stay in either position reliably is not ideal. We are striving for the best possible training protocol. What we were doing is good. However, what we will be doing in the future will be even better.
All Other Aspects of Training Will Remain the Same
Other than what is listed above, the rest of our training program will remain the same.
Older Videos on YouTube
There are videos of every puppy we've trained on YouTube. You will find that all of these videos will demonstrate a sit/stay that we no longer train to puppies younger than 12 weeks. Even for our 12 1/2 week old puppies, the sit/stay is not done for as long of distances. Instead, our current program allows for a stronger down/stay. These videos are still available. However, keep in mind that our program has changed.
Families Will Love Our Training Changes
We think that families will prefer the results of our new program. Most importantly, we believe these changes will better facilitate the instilling of our four core characteristics in our puppies. These core characteristics are self-control, confidence, focus, and a desire to work with a person.
For more information on other aspects of our training program, see our Training page.