Go to our puppy questionnaire and scroll down about 9 or 10 questions to see our total price. Payments are divided between payment for the puppies themselves and payment for training. See our Trained Puppies page for details on what the training entails. Read below for details on our deposit and payment policies.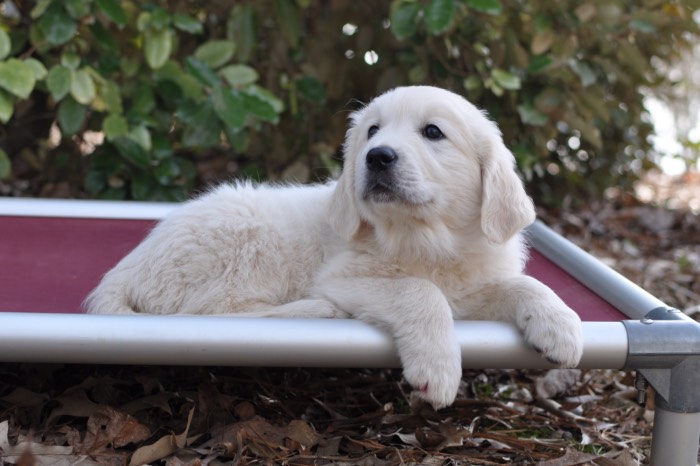 Payments Must Be Made By Check or Zelle or Venmo
All payments must be made by check or Zelle or Venmo. (Zelle and Venmo have limits that sometimes change.) Puppies must be paid for in full before puppy selection time. This ensures that all checks are good and have cleared banks. We do not currently accept paypal, credit cards or any other form of payment.
$500 Deposit to Get on a Reservation List
A $500 deposit is due when you get on our list.
Second Deposit of $500 Due Before Puppies are 2 Weeks Old
We require a second deposit of $500 when puppies are 2 weeks of age for a total deposit of $1000. At this point, deposits are not refundable.
Contract Sent at 2 Weeks
I will send out a signed copy of our contract when the puppies are 2 weeks old.
Final Payment Due at 5 Weeks Along With Contract
Then before puppies are 5 weeks, final payment along with a copy of the contract is due back to me. It is your responsibility to get checks here before 5 weeks. Sometimes USPS is slow. I will not accept a personal check after puppies are 5 weeks old. If your check is late, a cashiers check will have to be overnighted. All checks must arrive before puppies are 5 weeks 3 days in order to get your puppy. If we do not receive either a personal check before puppies are 5 weeks or a cashiers check or cash before puppies are 5 weeks 3 days, you will forfeit your puppy as well as your deposit. We are extremely busy during the last couple of weeks that puppies are here. We need to have financial responsibilities taken care of early so that we can focus on the puppies themselves.
Payment Policies for Training Fees
For puppies held extra time, training fees must be received no later than 2 weeks before the day you will be picking up your puppy.
Payment Policies for Deposits
We will fully refund your deposit if we can't provide you with a puppy from the litter or litters that you request and of the sex that you request.
We will partially refund deposits in certain cases. When waiting for long periods of time, we do understand that life circumstances can change leaving you no longer in a good position to raise a puppy. If you change your mind about getting a puppy from us for any reason before the litter is bred, we keep $200 of the $500 paid. We refund the rest. If you need to cancel your reservation after the litter is bred but before ultrasound, we keep $300 of the $500 paid up to this point. After ultrasound and until 2 weeks prior to the posted due date, we keep $400 of the $500 and will refund $100. Once it is later than two weeks prior to the posted due date, there is no refund of the $500 deposit. The only case where we refund deposits after birth is if we cannot provide you with a puppy of the sex that you request from the litter you request.
If you cancel after puppies are 2 weeks of age and before puppies are 5 weeks when full payment is due, the entire $1000 deposit (two deposits of $500 each) is non-refundable.
Late Cancellations
Once puppies are 5 weeks of age and you've sent in your contract and final payment, we consider that the puppy is your puppy. If a family needs to cancel for any reason after final payments have been sent, only a small portion is refundable.
Late cancellations put us in a very difficult position because it often doesn't give us sufficient time for us to find a good family for your puppy and then for that family to make plans to get to Alabama last minute. Often with last minute cancellations, we end up keeping puppies extra time beyond our normal training time. This is problematic to us as small breeders raising puppies in our home with limited space, especially when we have litters coming up behind your litter.
In addition, late cancellations will put any replacement family in a negative position because they will not have any input as to which puppy will be theirs. Therefore, we will only keep $1500 and refund the rest after puppies are 5 weeks of age.
Late cancellations present an additional problem when you have agreed to take a pick puppy and you cancel after puppy selection. The puppy you choose may not be someone else's pick puppy or if puppy selection hasn't started yet, we may not have another family lined up to take your pick slot. Therefore, all pick fees are non refundable if you should cancel after puppy selection. In other words, we will refund all money paid except for the $1500 deposit and the $500 pick fee for a total of $2000.
$50 Change Fee if Original Litter Has Not Yet Been Bred
Sometimes people get on a list and want to change litters to a later litter. We allow that if two conditions are met. There must be availability on the new list. You must notify us of the change before the original litter is bred. There is a $50 litter change fee.
Change Fee After Original Litter Has Been Bred is the Same as a Cancellation
If someone gives notice that they want to change after a litter is bred, the fee to change is the same as a cancellation. This fee is $300 after a litter is bred but before ultrasound; $400 after ultrasound but before birth; $500 after birth. There is no fee in the case of a litter not having enough puppies for someone. This fee is only for those cases where people are choosing for themselves to wait for a later litter for personal reasons.
No Litter Change Fee if Someone Moves to an Earlier Litter
Occasionally, I decide to breed a dog last minute or a litter has more puppies of a particular sex than normal. This gives an opportunity for someone to change to an earlier litter. Before opening the new list for the general public, I will usually offer those puppies to someone already on another one of our lists. There is no litter change fee for those cases where a person is moving to an earlier litter.
Training Fees
We discuss our training fees for our 8-10 week program on our puppy questionnaire. Training fees are due at least 2 weeks before puppies are picked up if paying by check. You can also bring cash for the training when you pick up your puppy. (We provide a receipt.) The cost of the puppy him/herself is due by 5 weeks with the same payment policies as all other puppies.
All puppies are trained to a degree which is discussed on our training pages. Untrained puppies must be picked up at 7 weeks 4 days (or up to 2 days early). For every day puppies are left longer than 7 weeks 4 days, there will be a training fee which is discussed on the puppy questionnaire. (Your puppy questionnaire along with email confirmation before deposit is accepted is our agreement between you and us on prices.)
Health Certificates are $75. Usually They Are Not Necessary
Health certificates are $75. Most, if not all, airlines do not require health certificates for in-cabin flights. As of the writing of this section of this page, no airline requires them for in-cabin flights. If an airline employee tells you that you need one, they are probably confusing in-cabin flying with flying in cargo. Check on-line for official information. Phone customer service employees with ALL airlines are often confused over regulations regarding in-cabin pet travel.
Cost to Leave Puppy Overnight After Your Appointment
For those who want to visit one day and then leave their puppy overnight and pick him up the next day, our quick pick-up-and-go is a popular option. Many families coming from long distances have found this option to be helpful.
We charge the full daily training fee up until your pick-up appointment. Then the cost for this last night is $50.
Families have their pick-up appointment and visit on the first day of their arrival in our area. They meet us, the parents of their puppy, and their puppy. We go over the training and answer any questions they might have during this two hour meeting. Then these families leave their puppies with us overnight.
They can enjoy a night in a local hotel without having to worry about a new puppy. The puppy stays overnight with us. Then the next morning the family will pick up their puppy. We will bathe your puppy on this quick pick-up day and one of us (probably Darrell) will meet you on our front lawn with your puppy and you will quickly be on your way. This quick pick-up can be as early as 7:00 thereby giving those driving or flying long distances an opportunity to get an early start.
Cost for Us to Meet You at the Birmingham Airport
If you need us to meet you at the BHM airport with your puppy, there is an additional charge of $150. This covers our costs and time during our very busy pick up days. Unless this is absolutely necessary, we do not recommend this option. There is too much to go over and it can't be done in an airport. The training in particular cannot be done in a busy airport.
We Reserve the Right To Refund Any Deposit
Summer Brook reserves the right to refund a deposit if we later decide that placing a puppy in a particular home is not in the puppy's best interest. We do not sell our puppies to anyone that we don't feel will give a good home to a puppy. We try our best to vet puppy applications up front. It is very rare that we might find ourselves in a position of refunding a deposit for these reasons. However, we will. Providing good homes for our puppies is priority.