Pictured below are pictures of our last litter of Sydney's 4 week old puppies. Check back later to see pictures of our current litter of Sydney's 4 week old puppies.
They were 4 weeks 1 day old in these pictures.
Like most large litters of light colored puppies, most of these puppies have stains on their faces from the mom putting out large amounts of milk. These stains will be gone by the time puppies go home.
The girl we are calling Bubbles has a black collar with colorful balls on it that look like bubbles. Sparkle wears a black collar with sparkly bones on it. Bee has an orange and Turquoise collar with Bumble Bees on it. Lady Bug has a pink and light green collar on with lady bugs on it. Paisley's collar is purple and green with a paisley pattern (and yes our Paisley wore this collar as a little puppy!). Stripe wears a red striped collar. LB is short for Light Blue which is the color of his collar. (Paisley's Blue wears a solid dark blue collar.). Brown and Maroon are wearing solid colored collars and are named for the color of their collar.
Scroll below the pictures to read more developmental information on 4 week old puppies.
Sydney's 4 Week Old Puppies: The Girls
Bubbles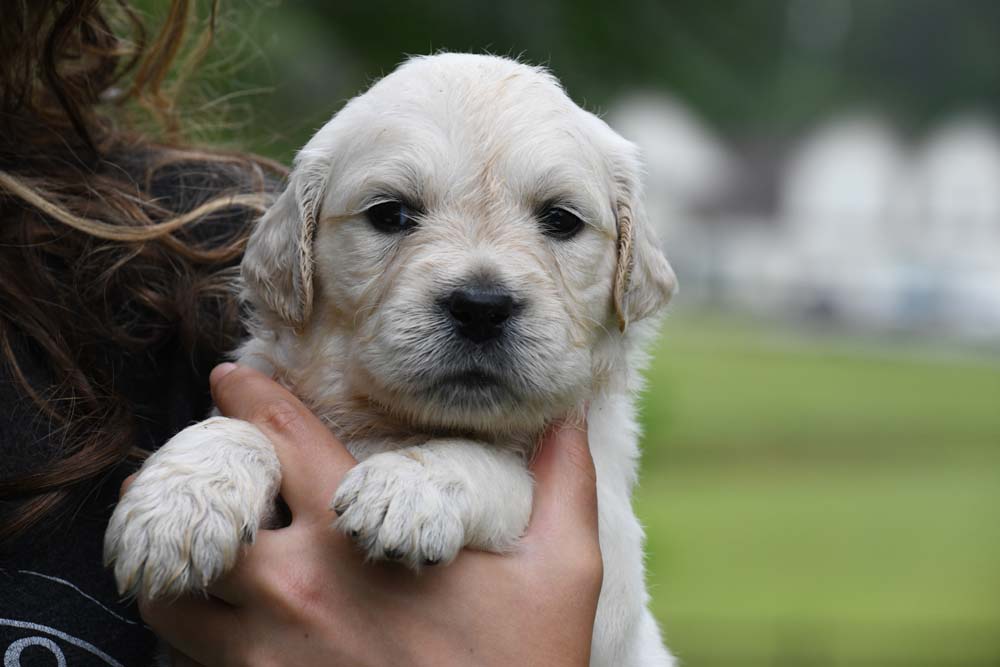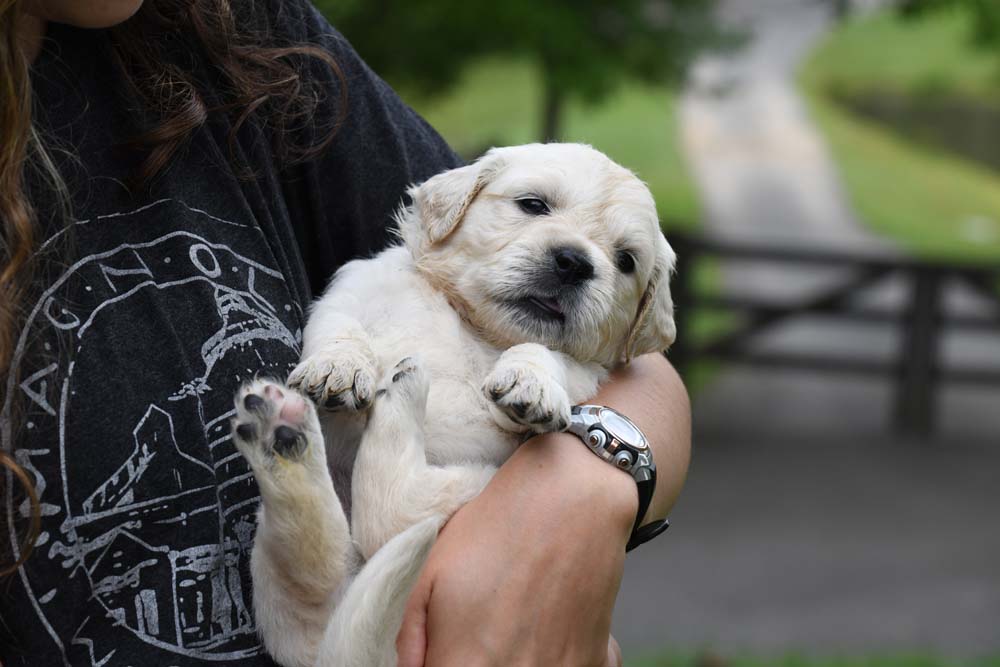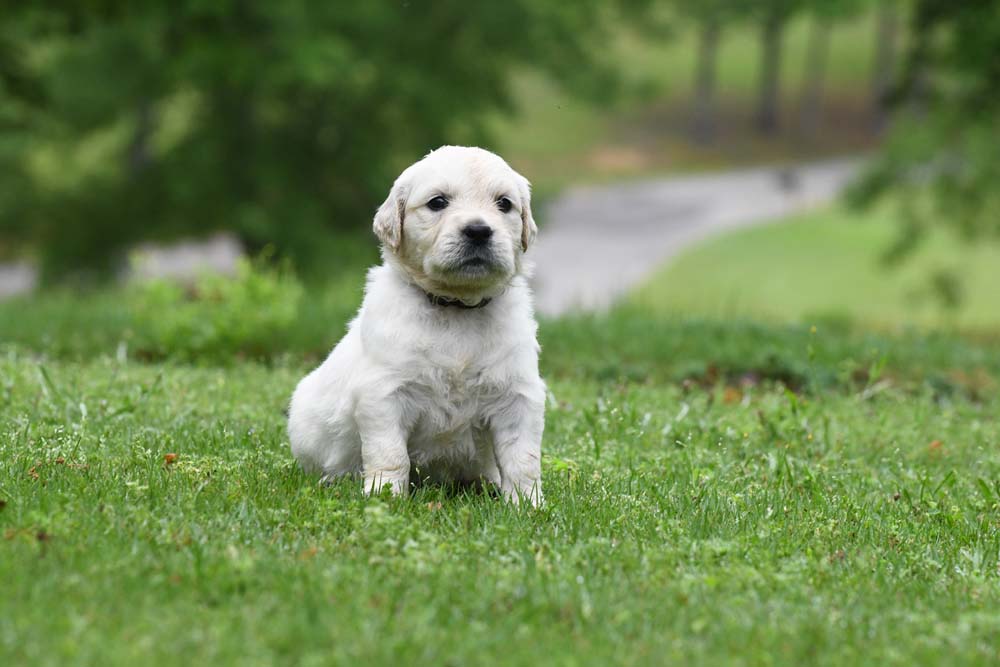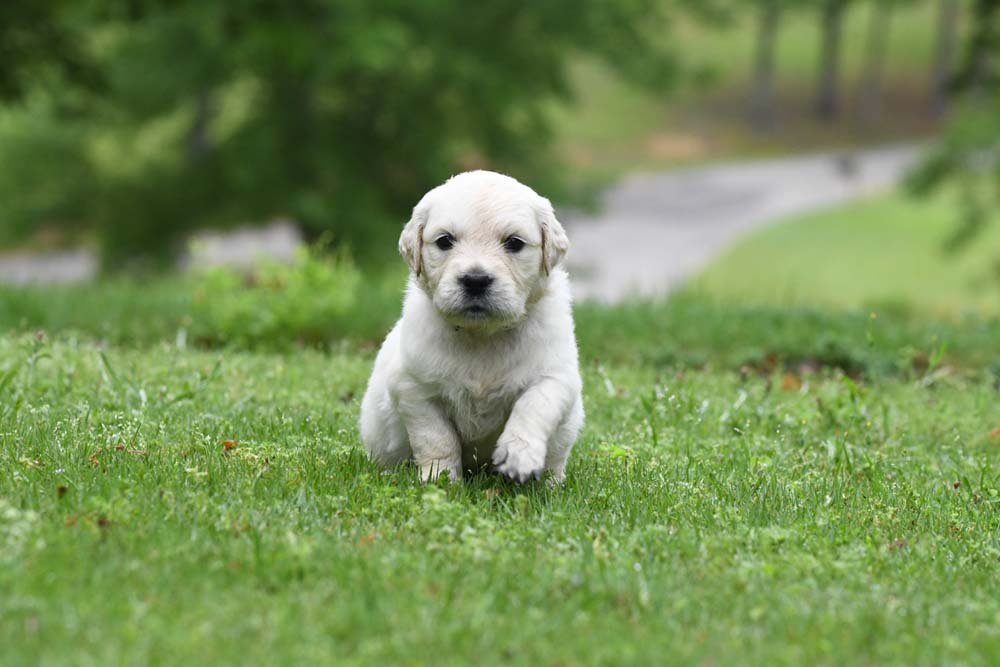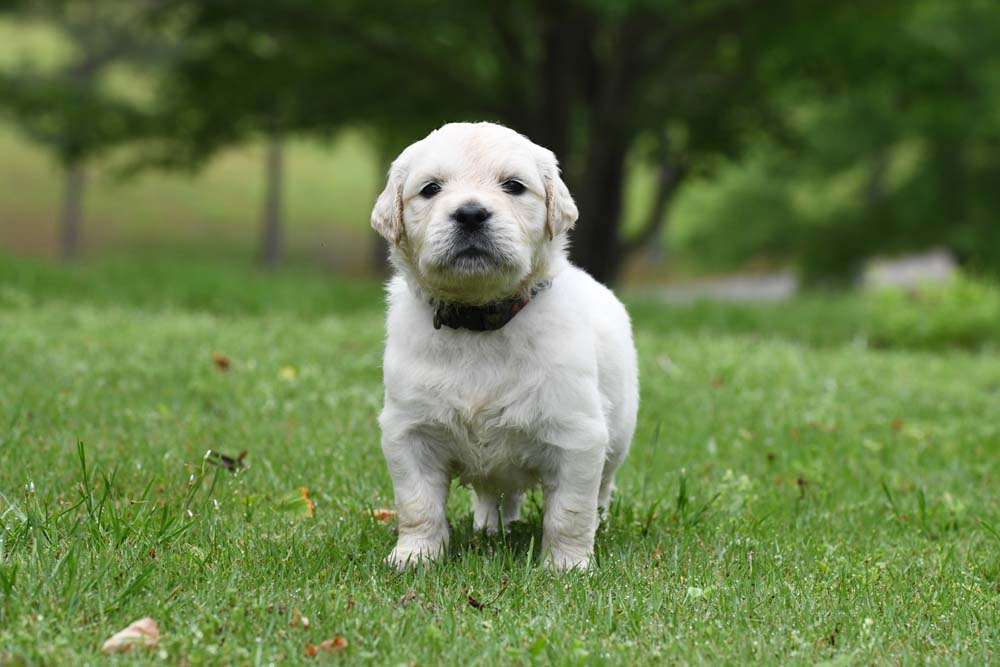 Sparkle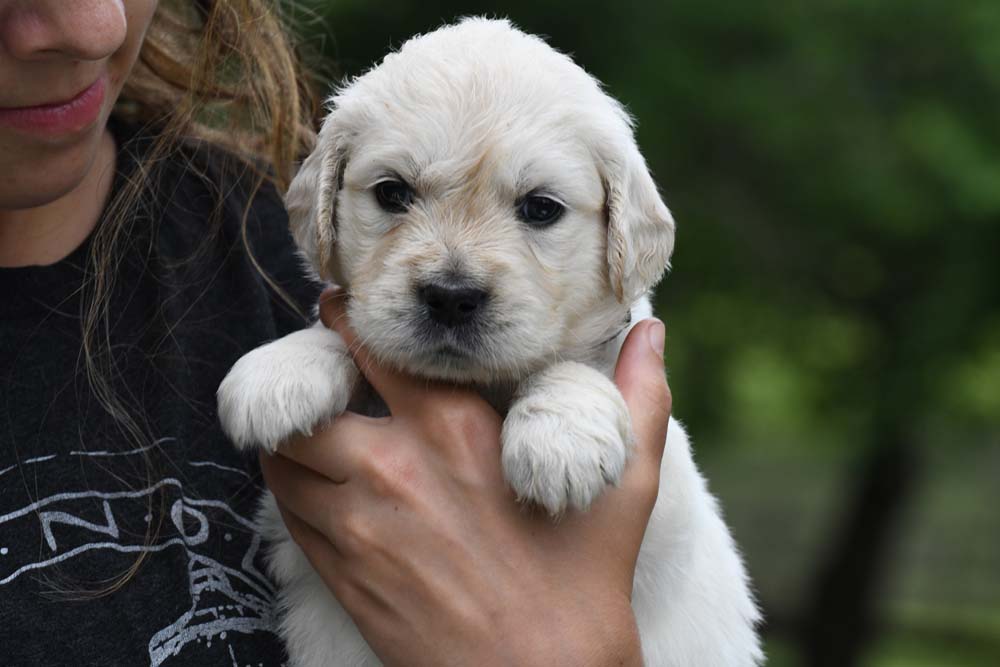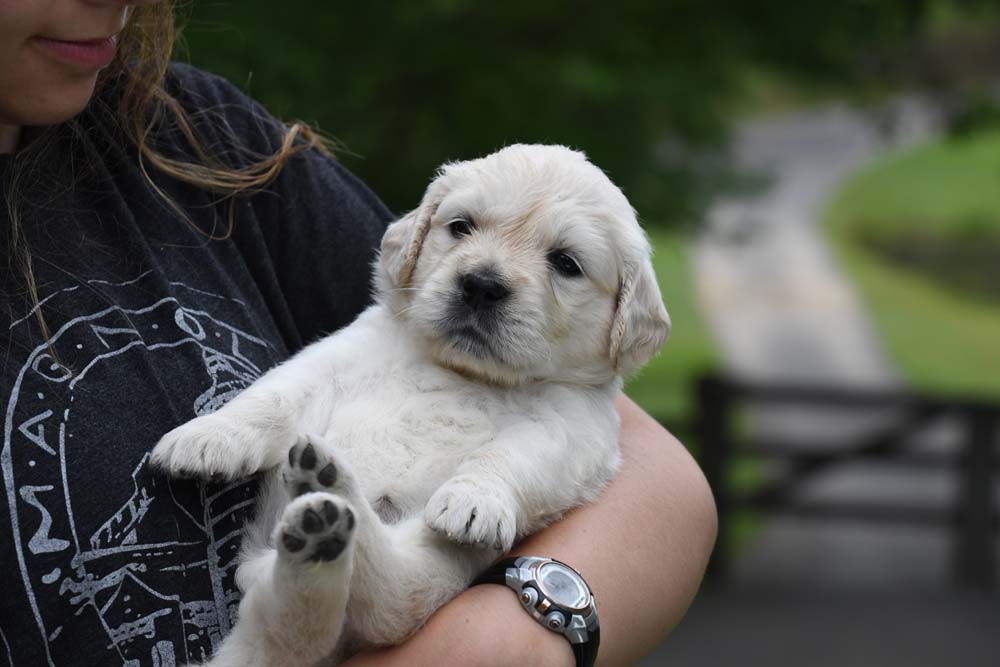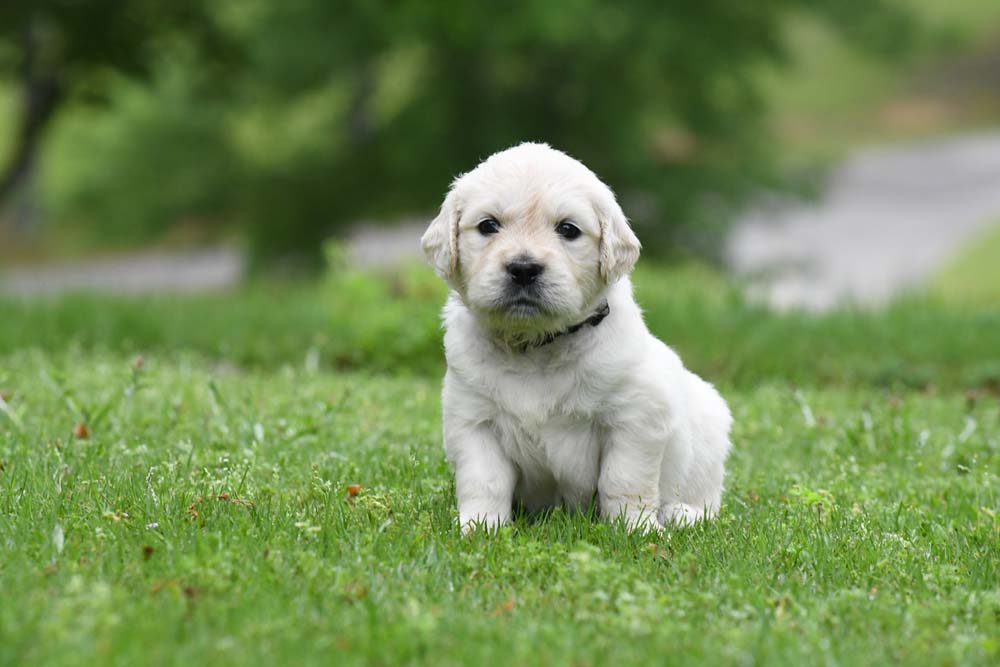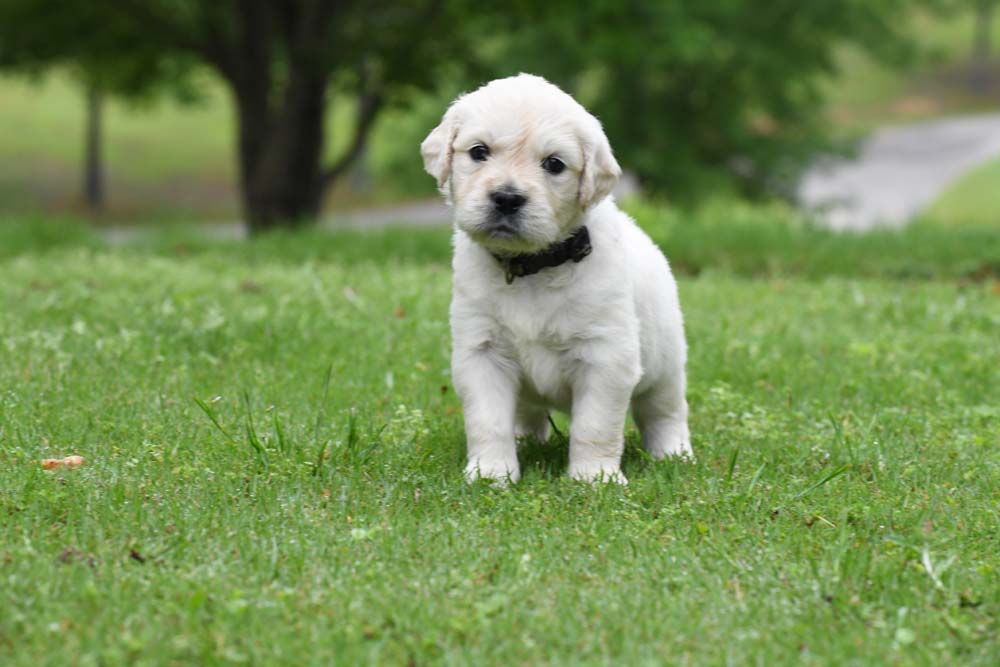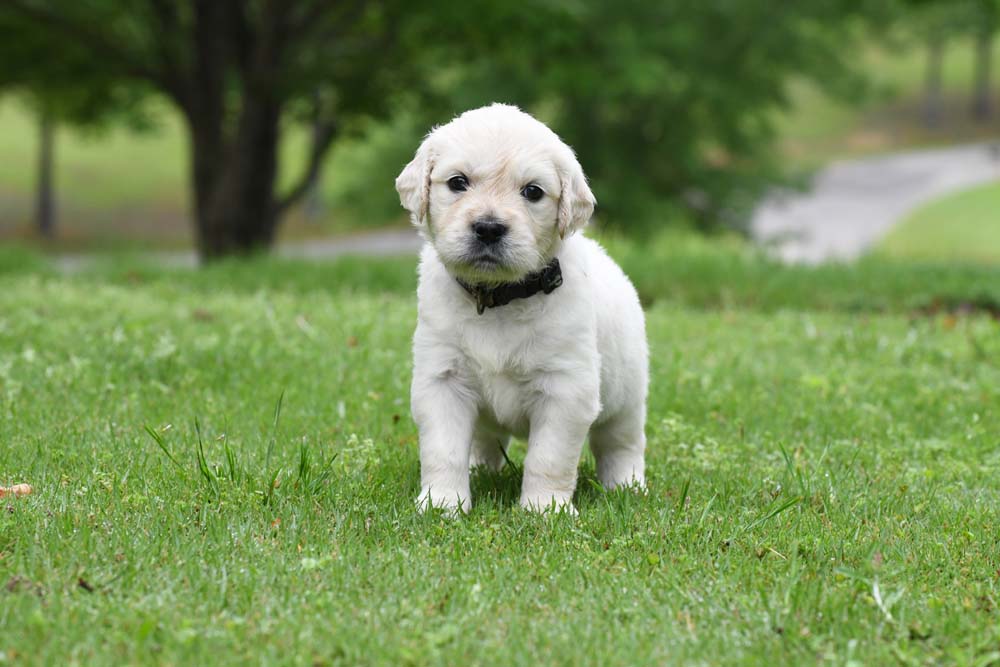 Bee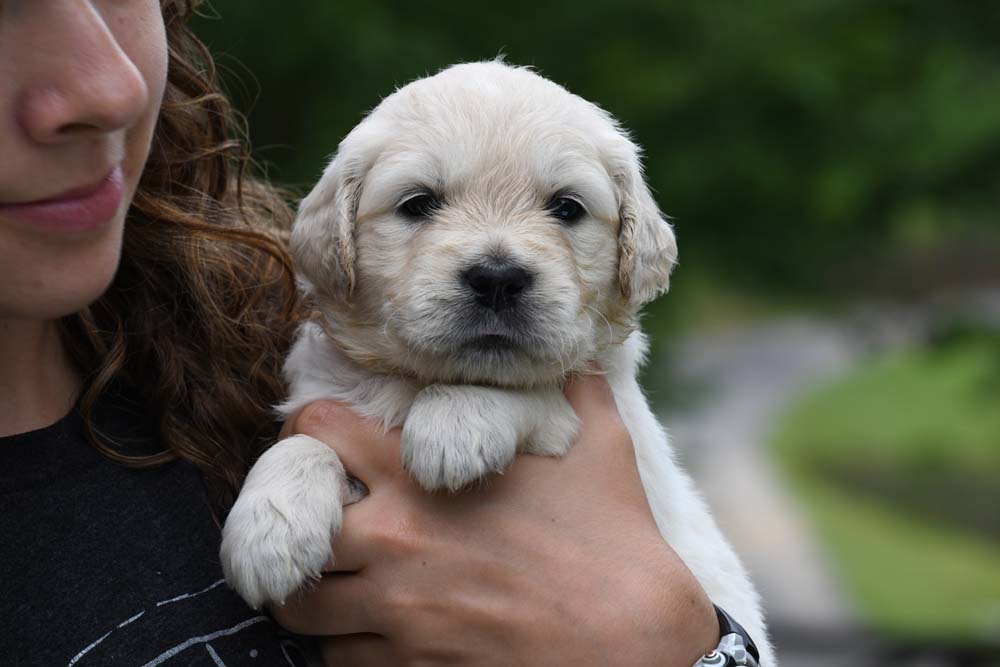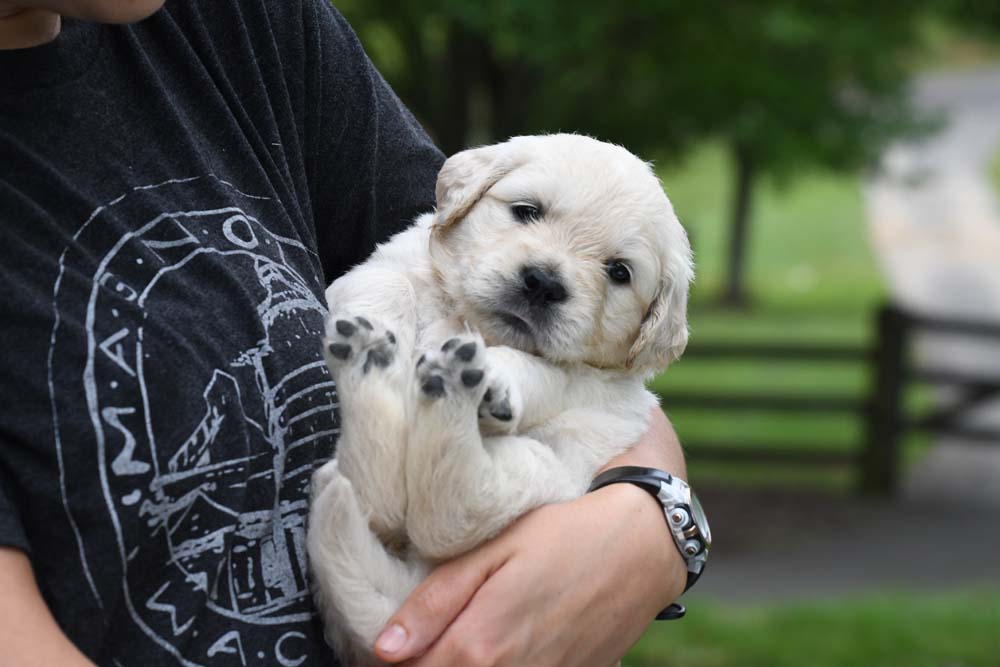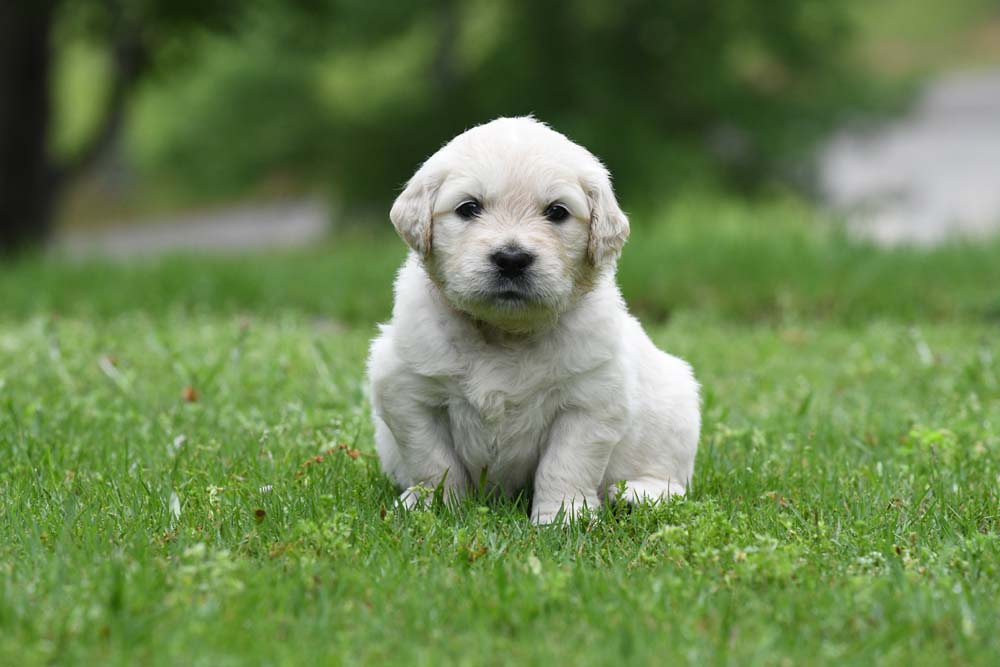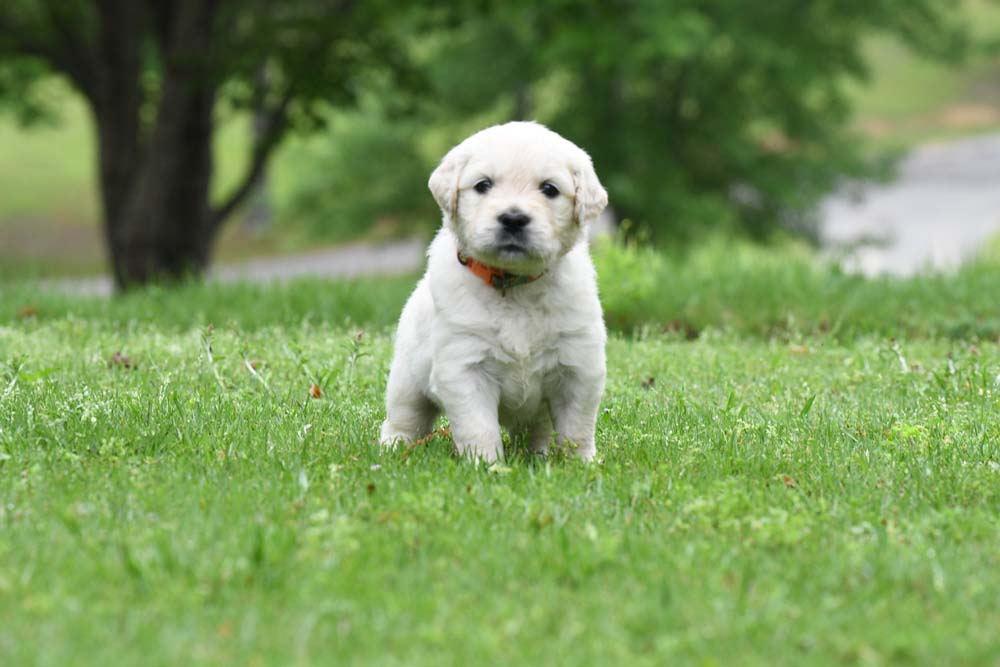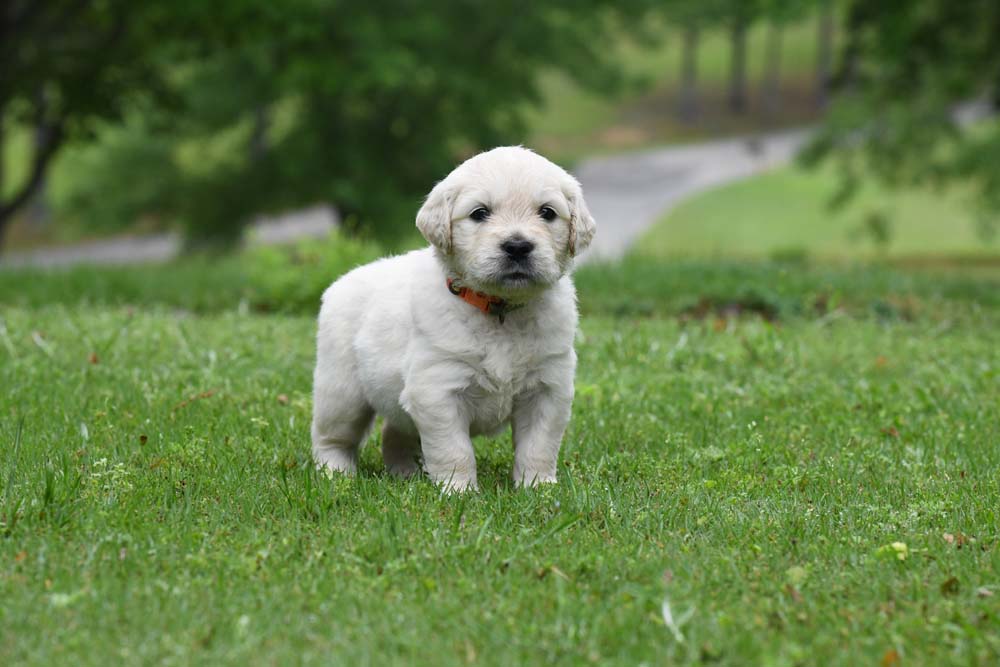 Dottie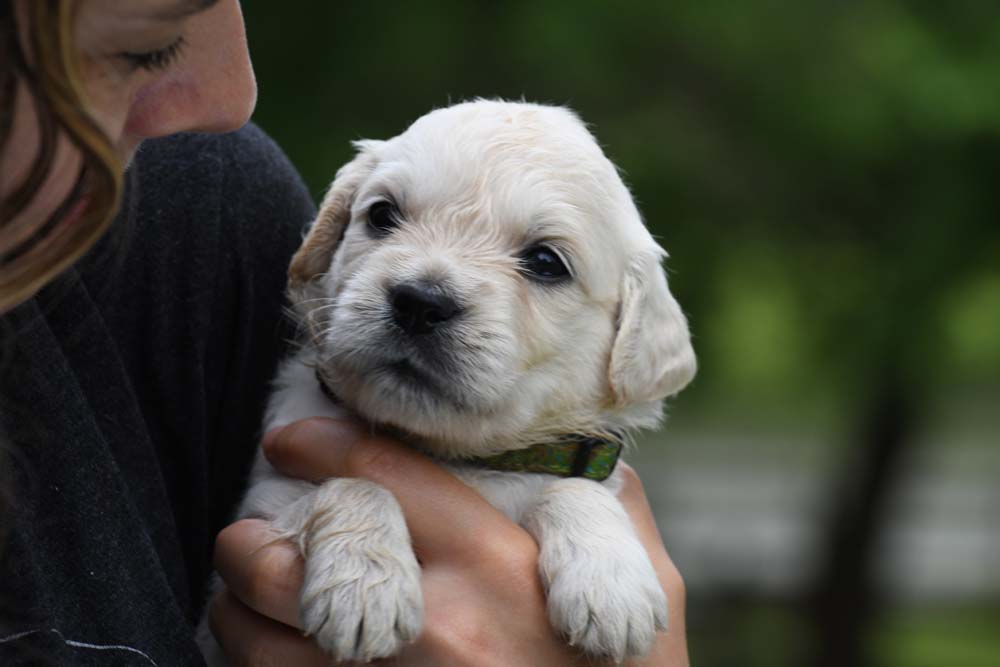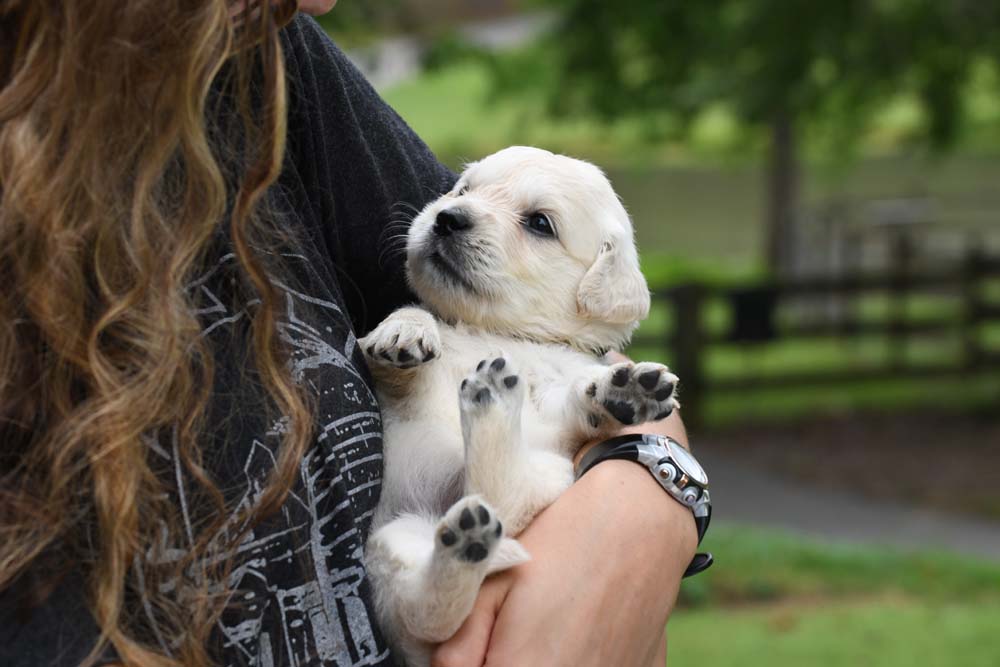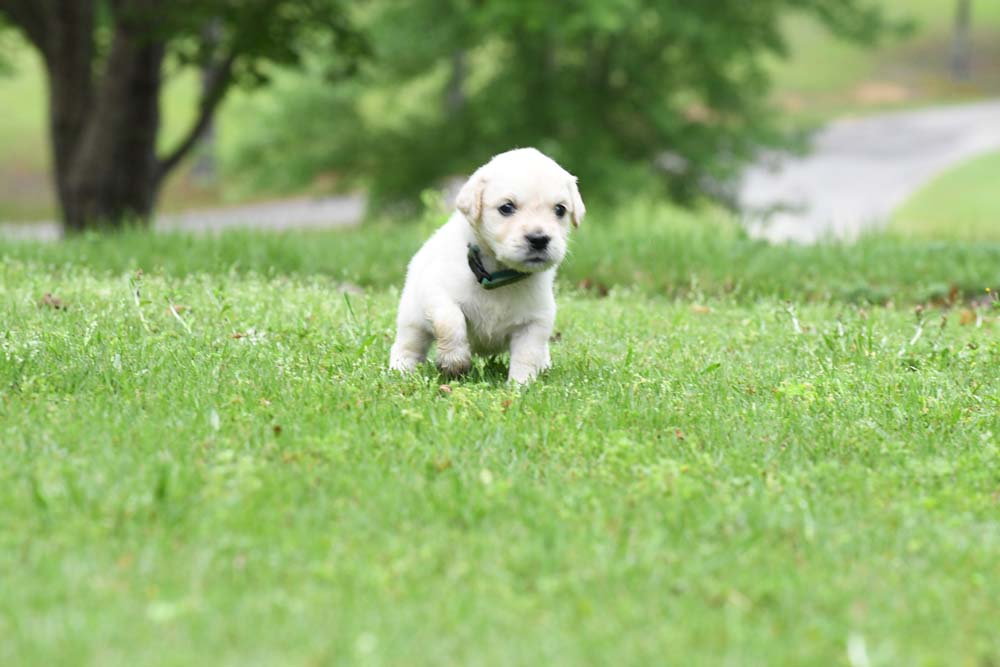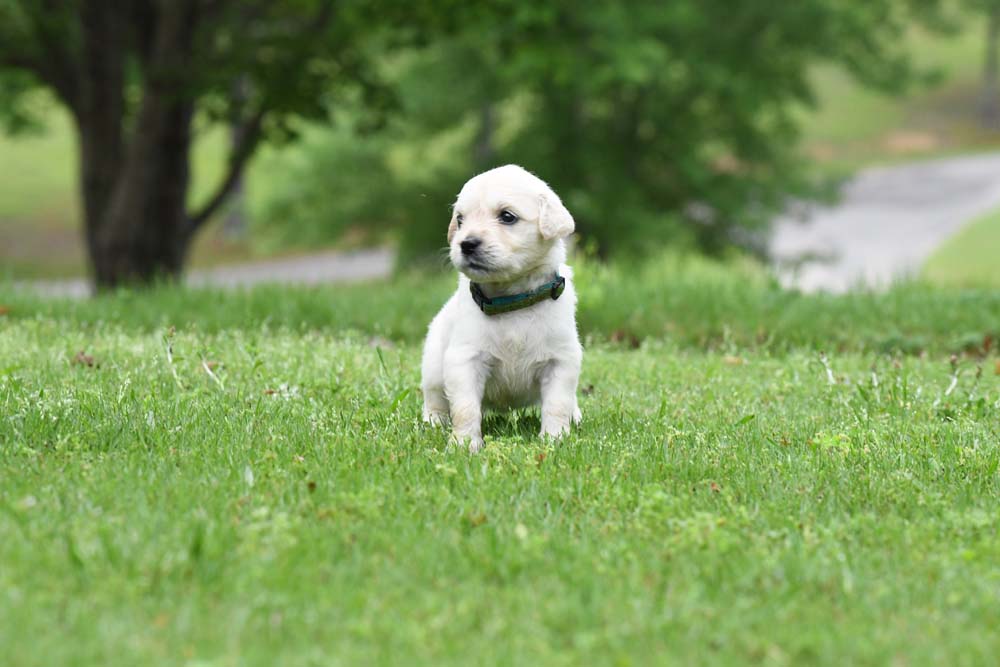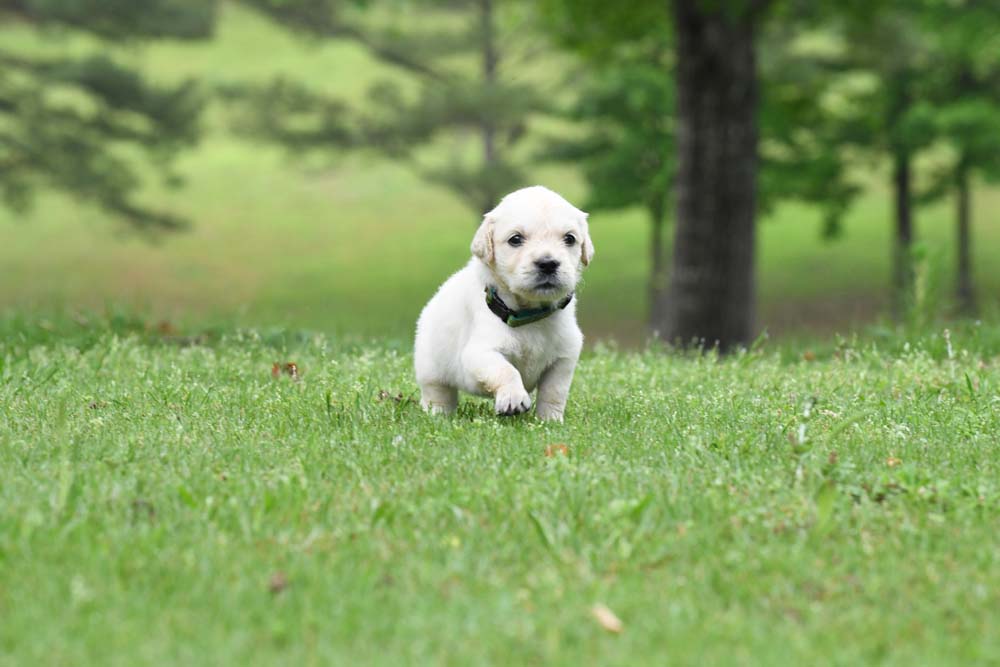 Lady Bug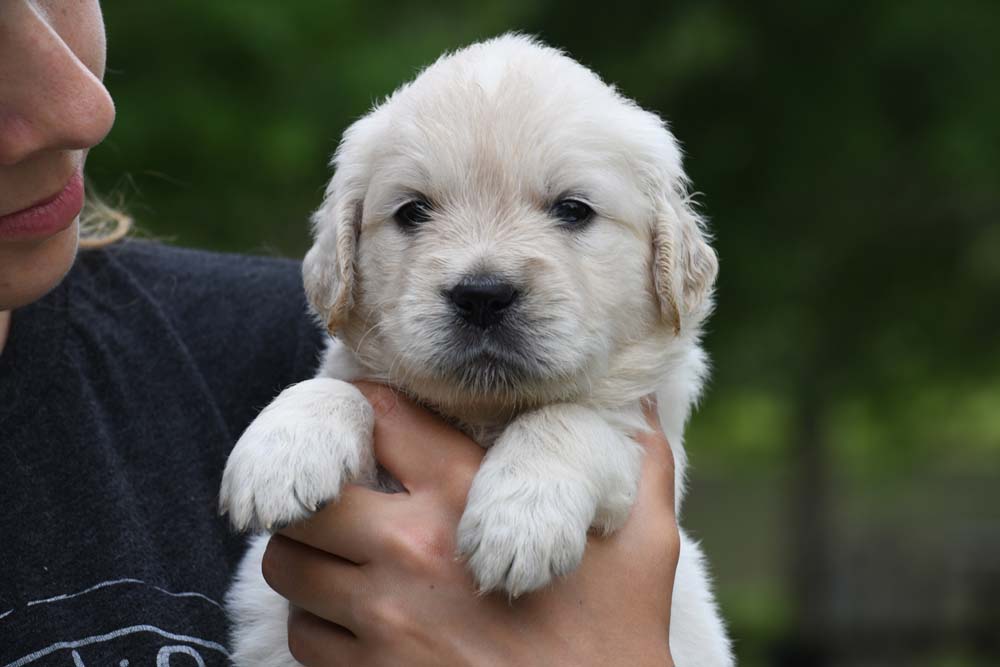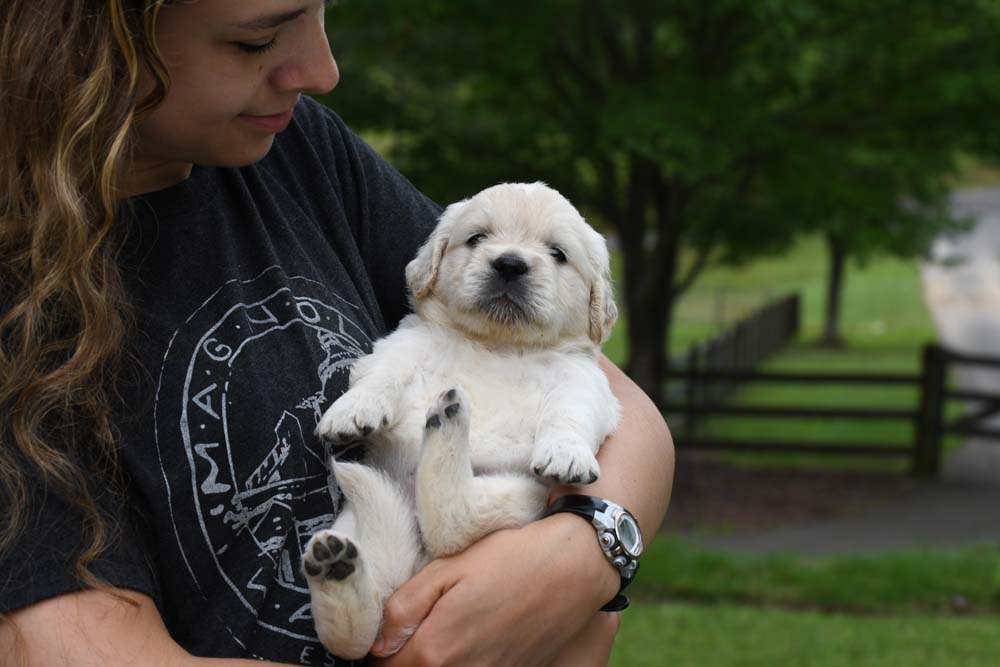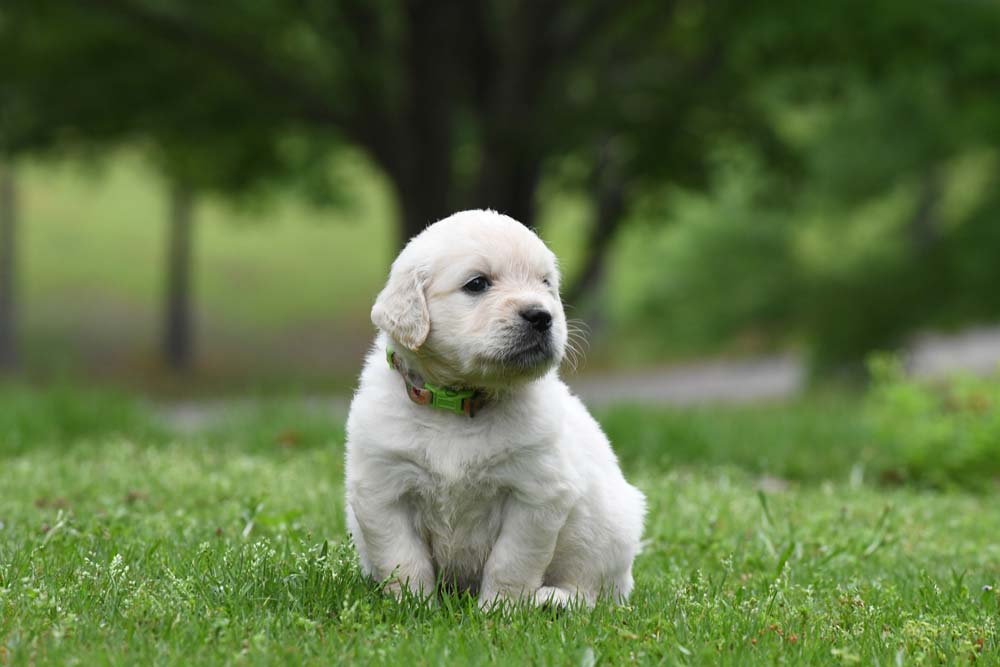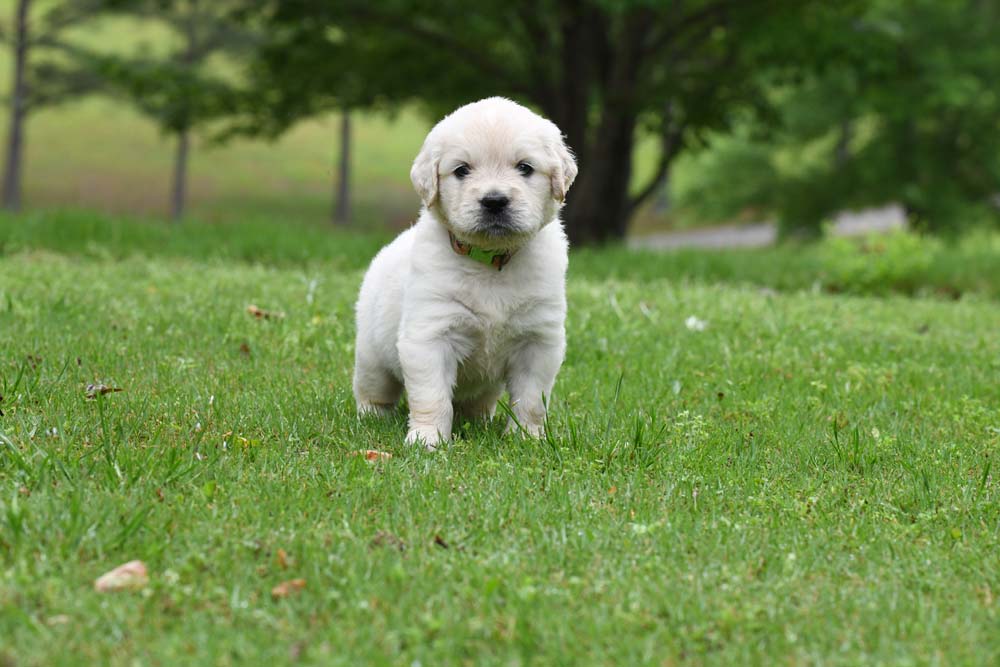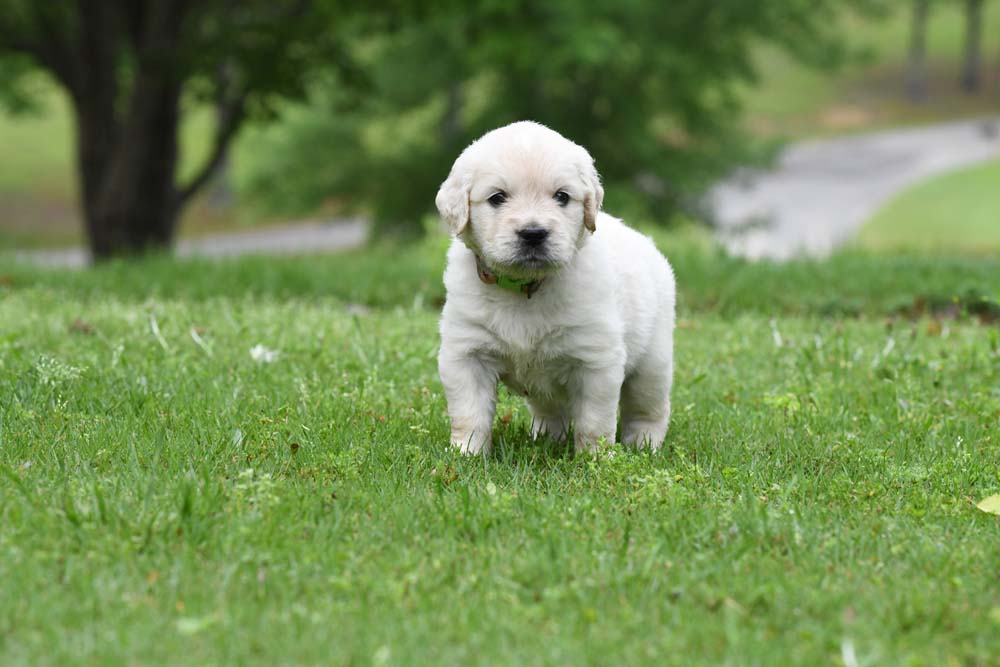 Paisley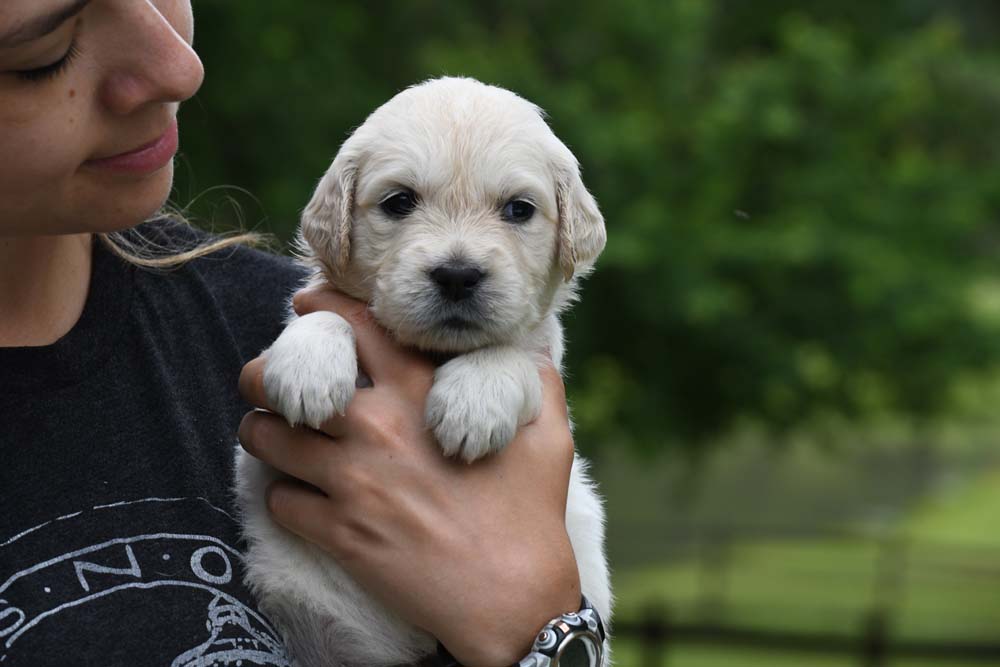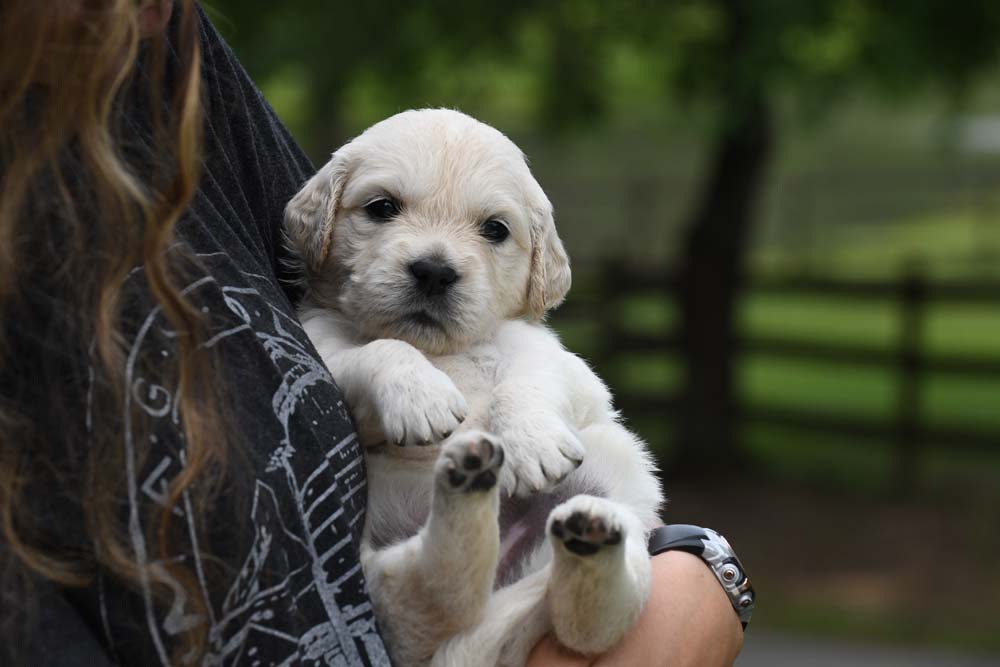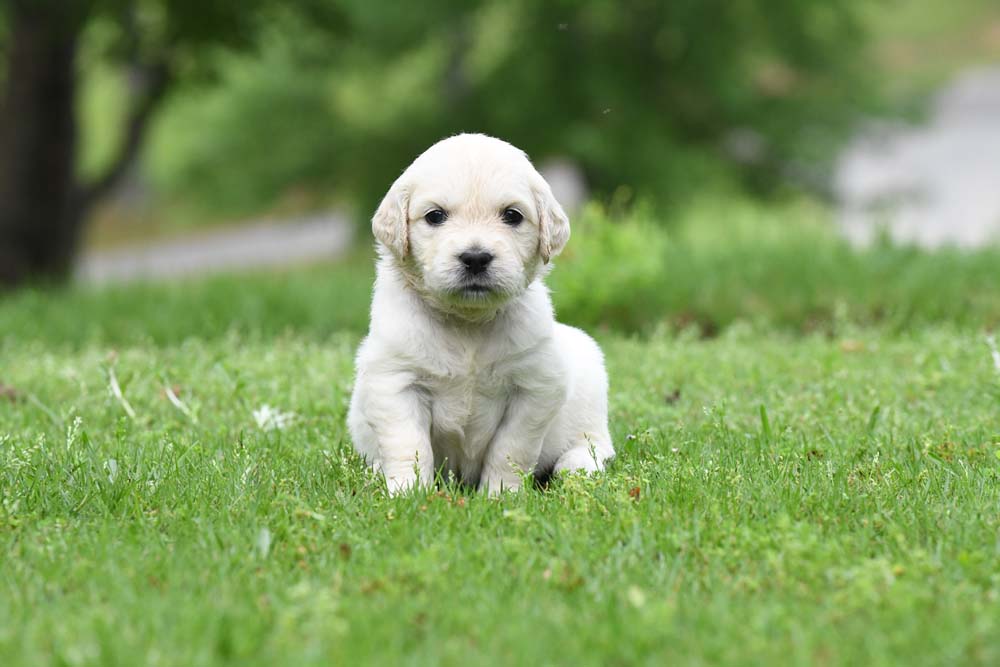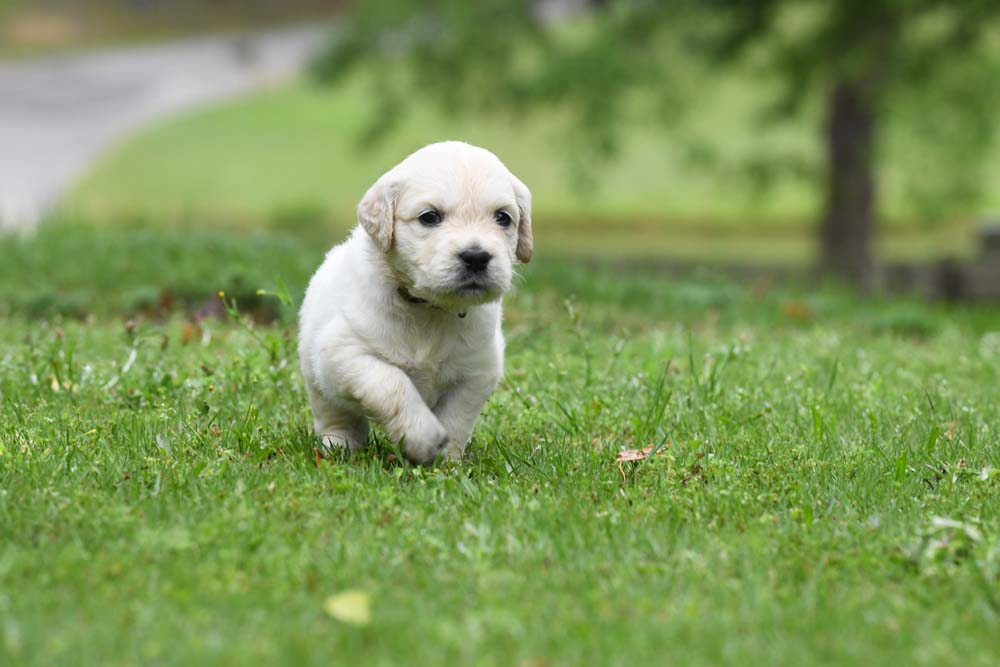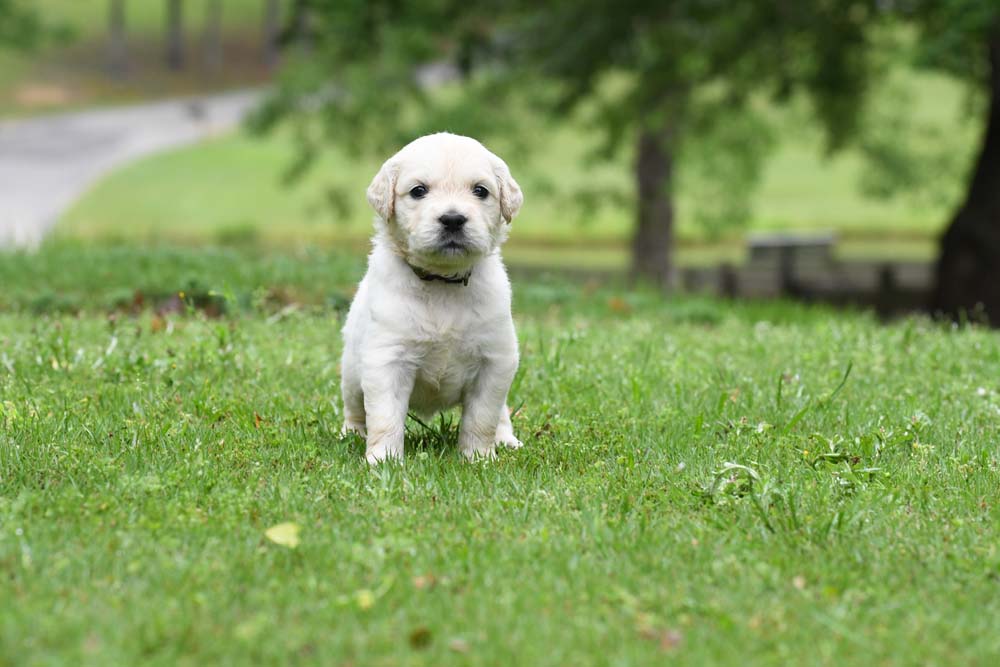 Sydney's 4 Week Old Puppies: The Boys
Stripe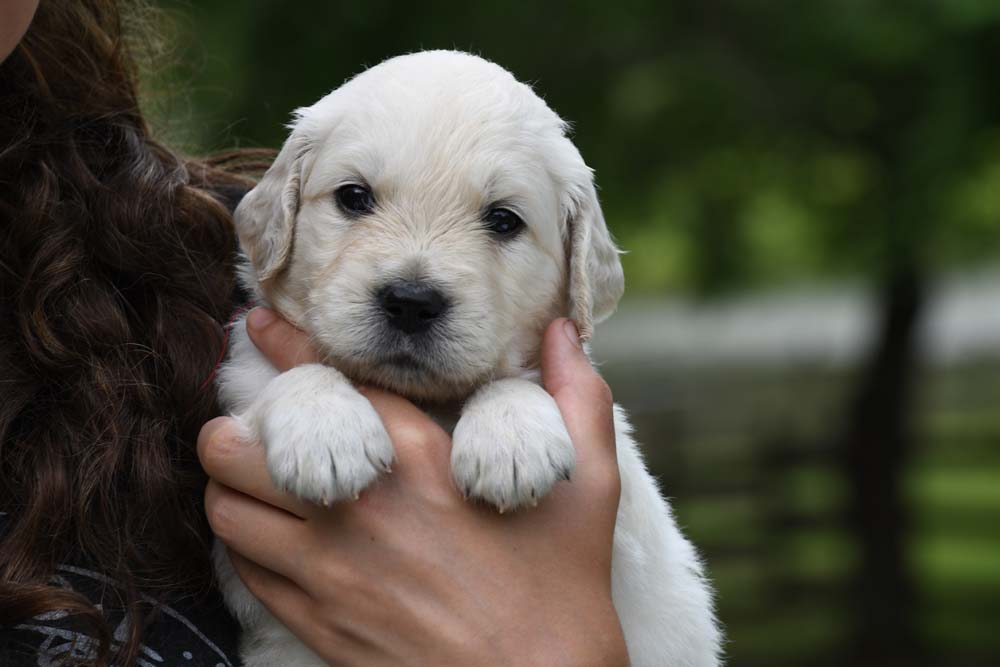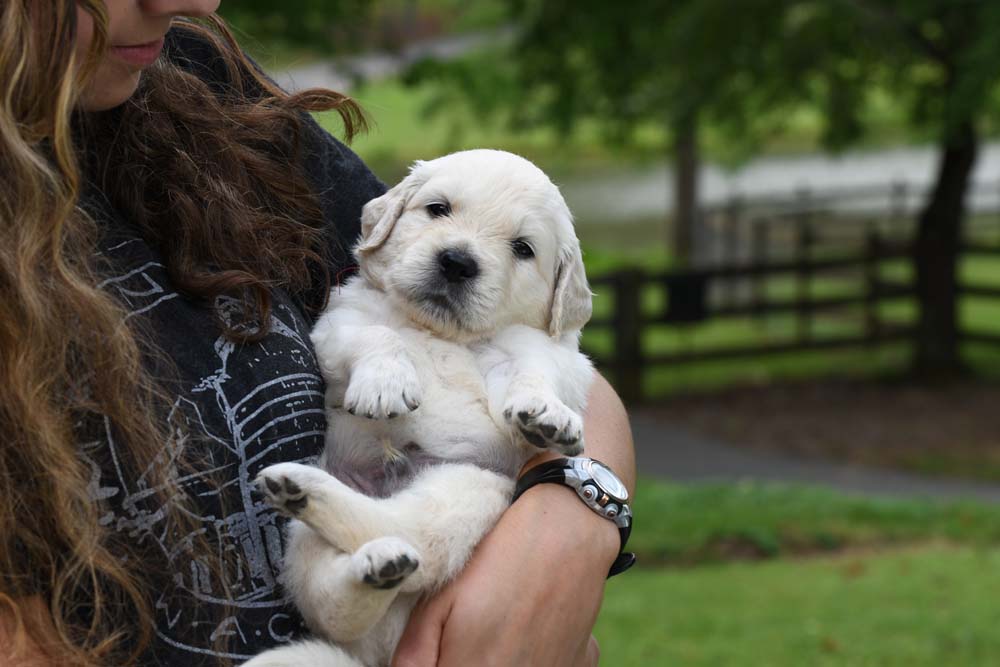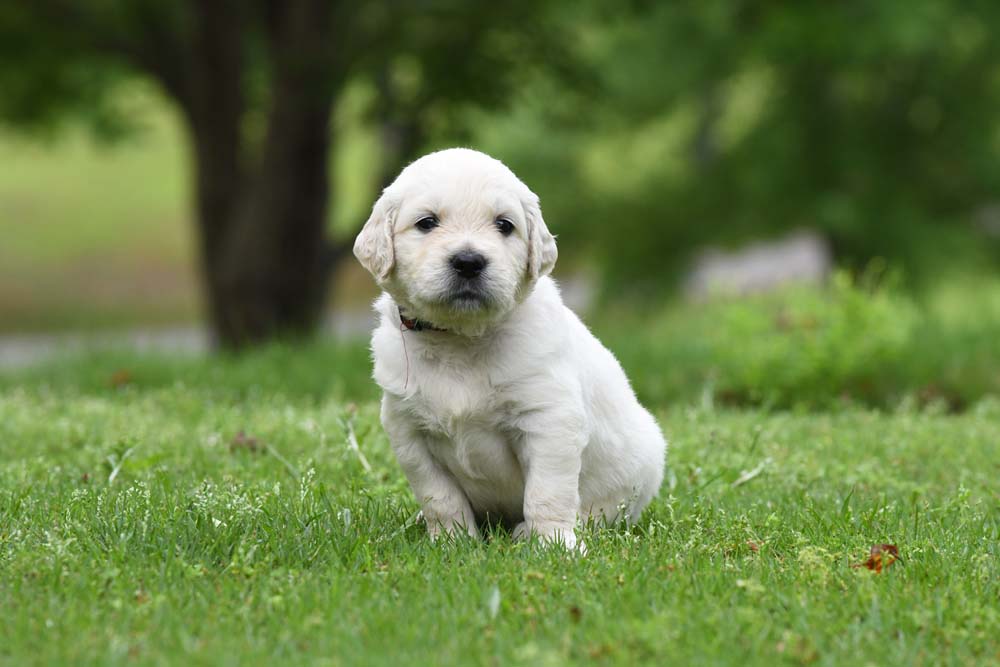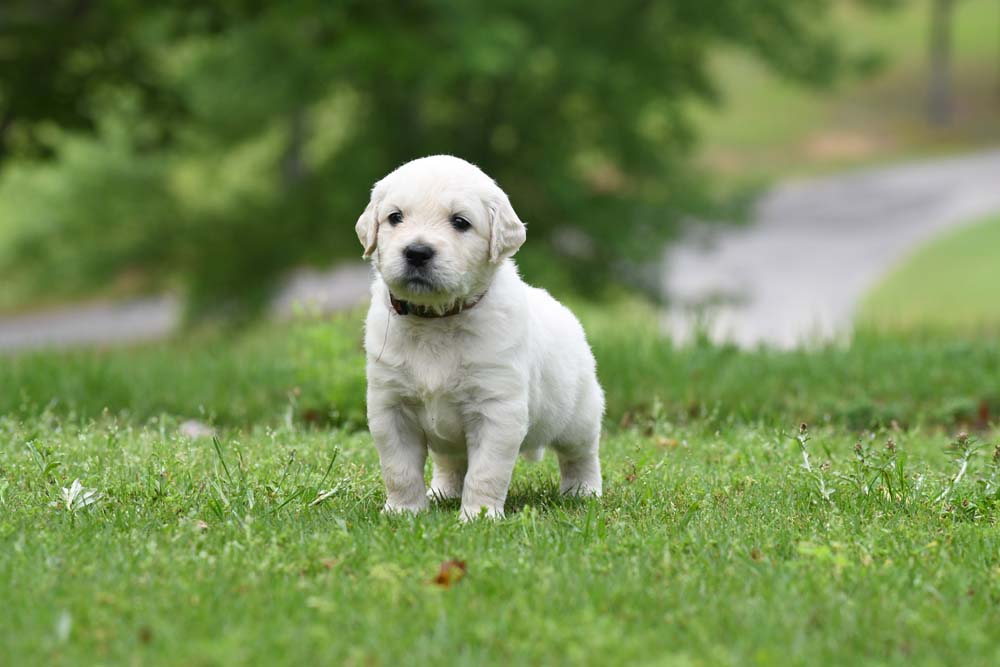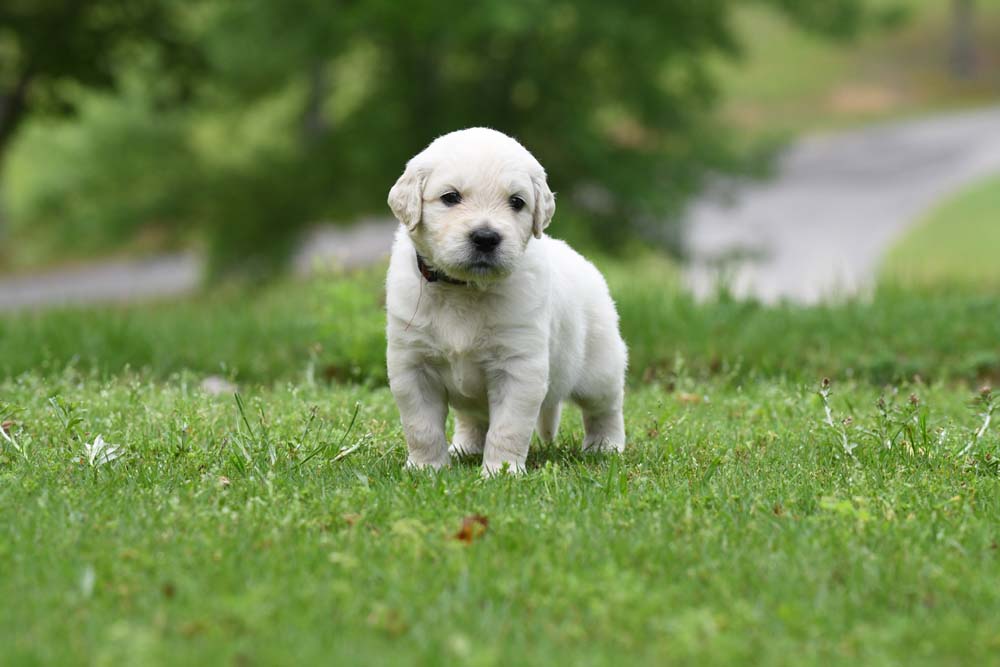 LB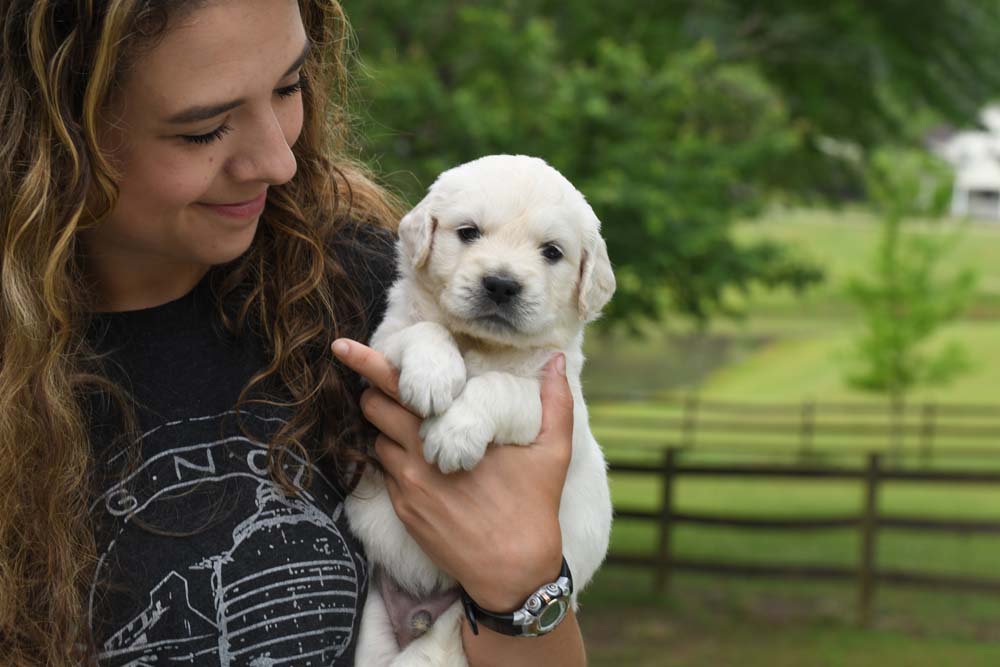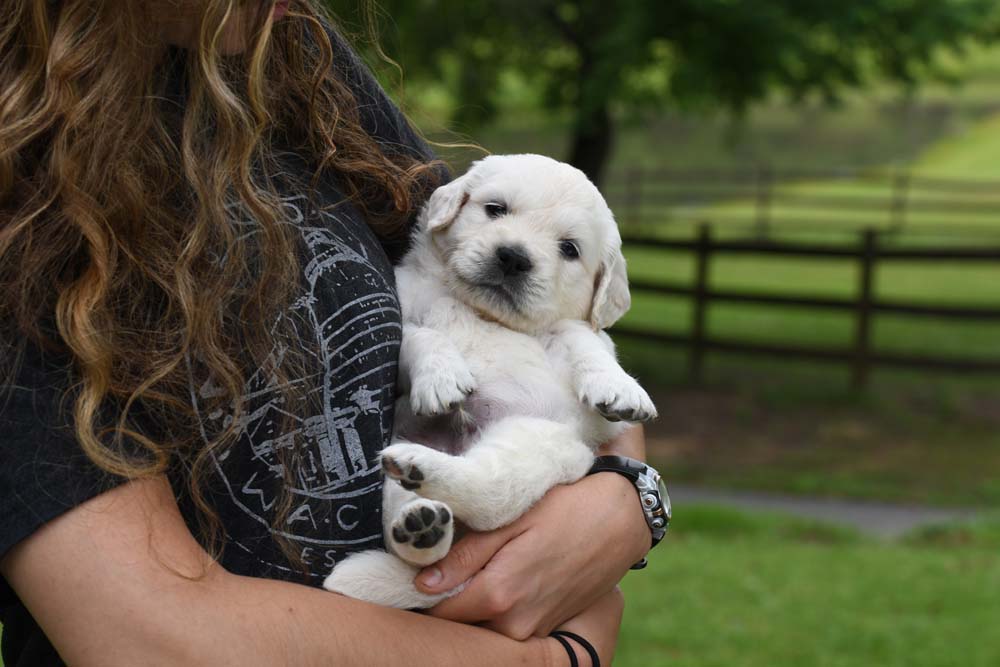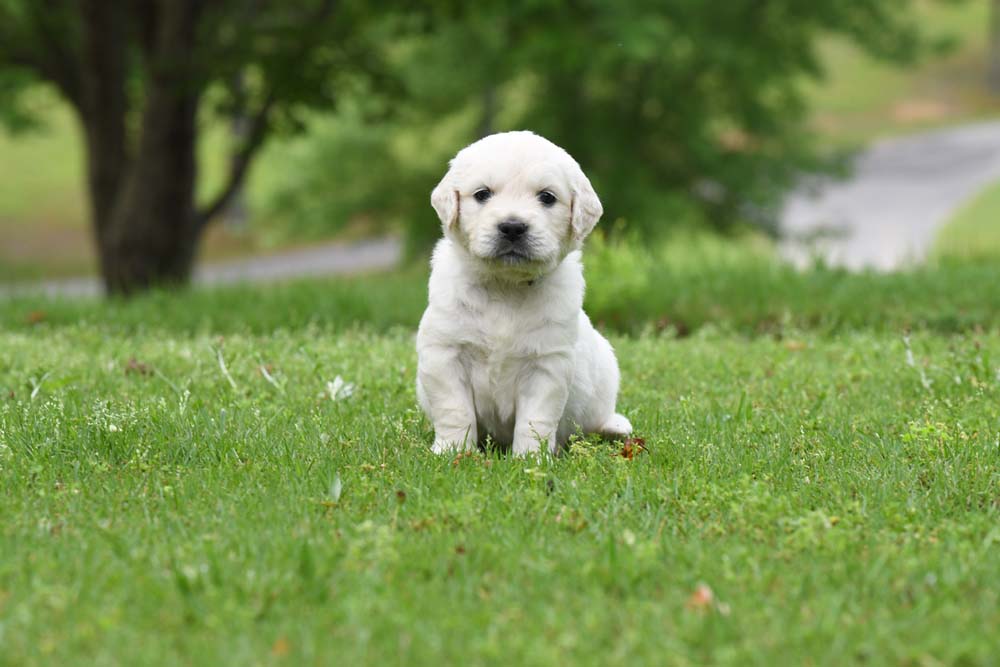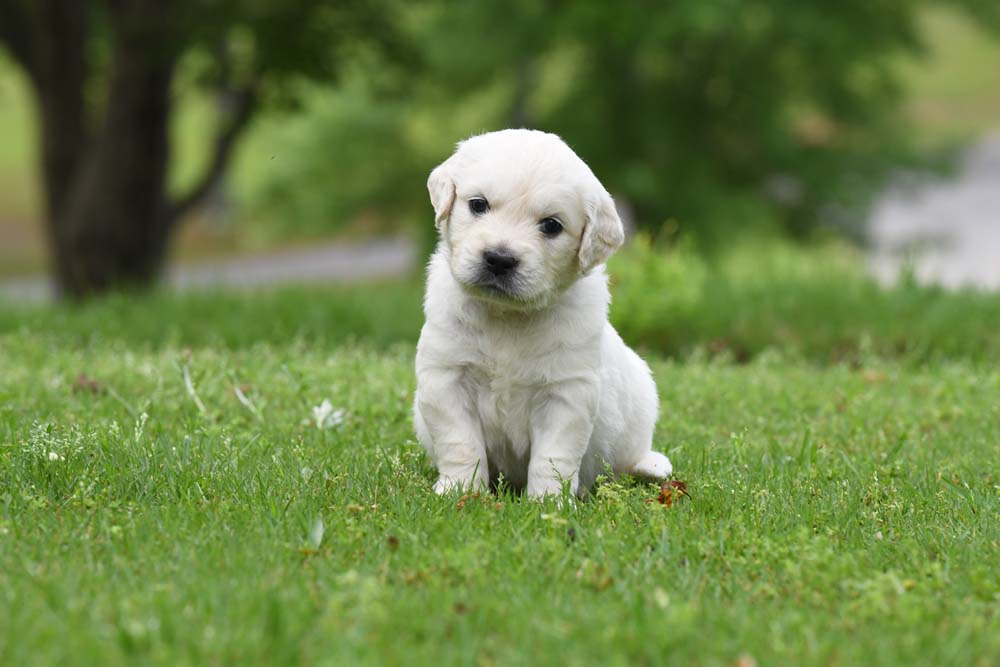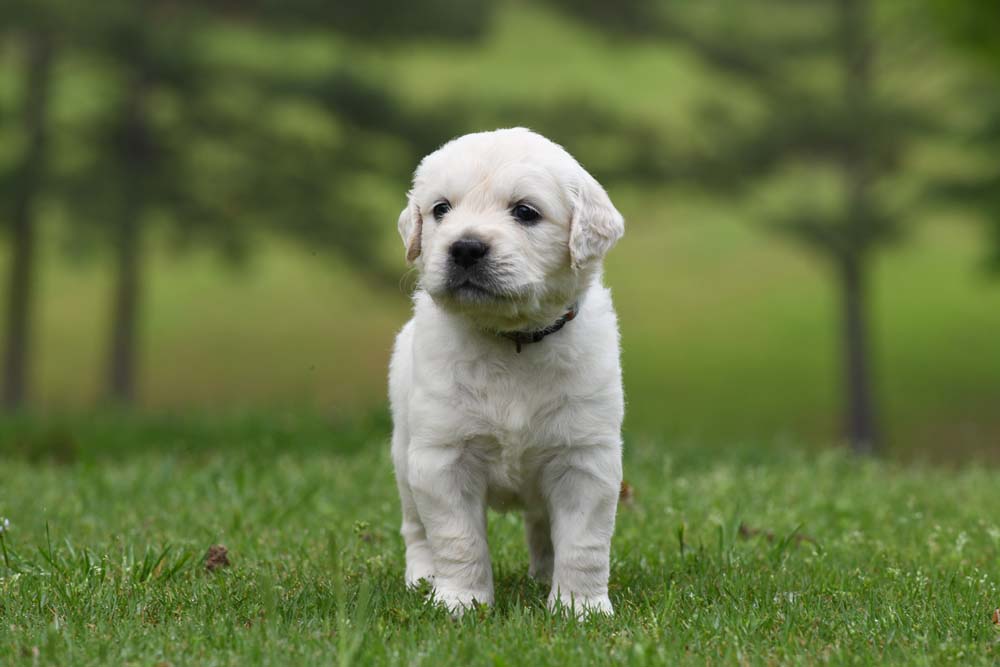 Brown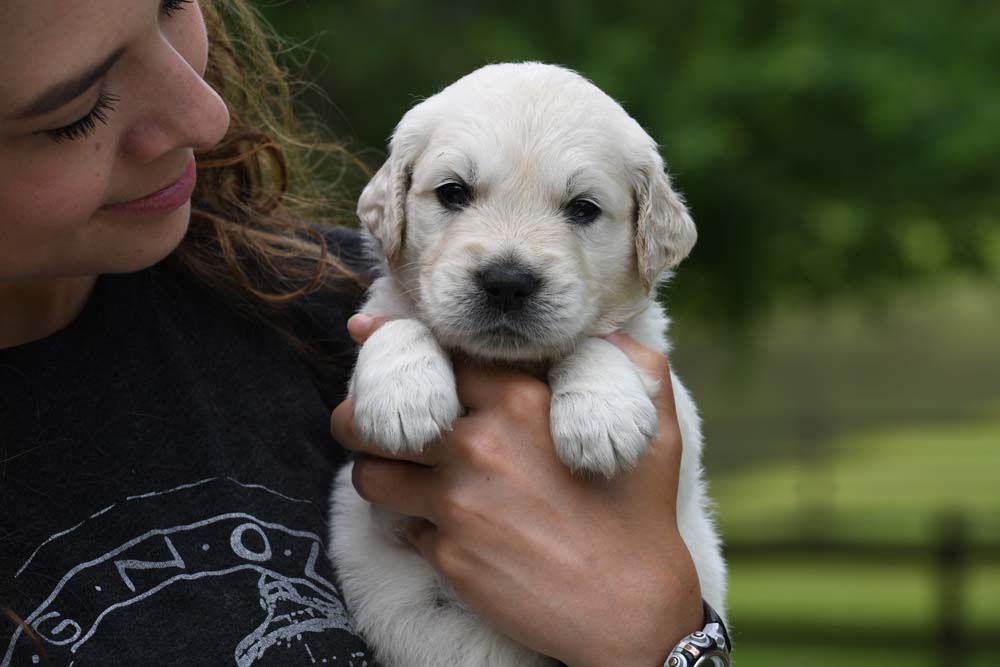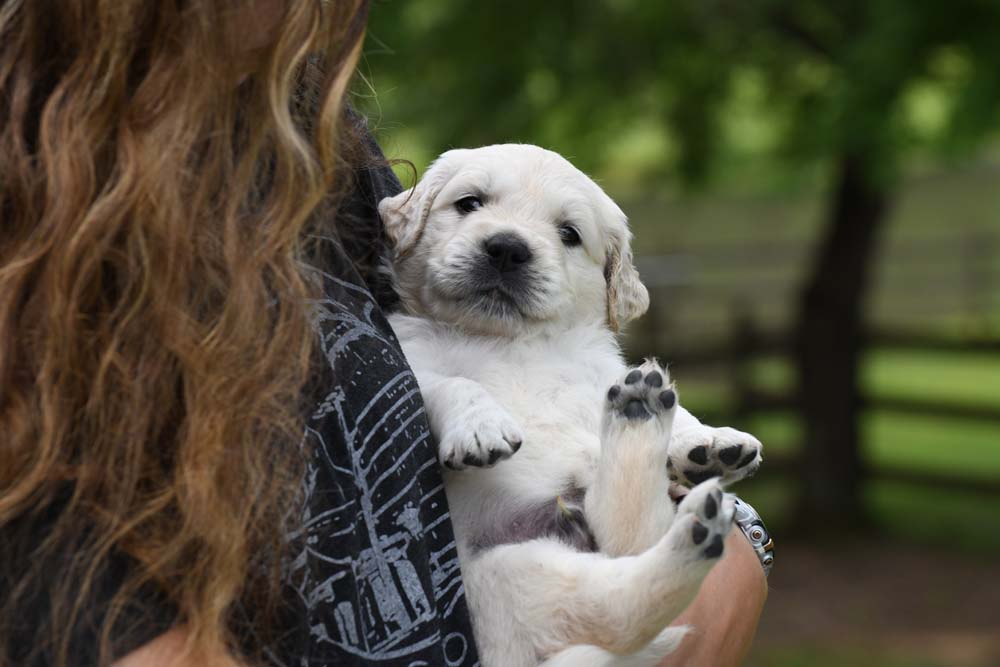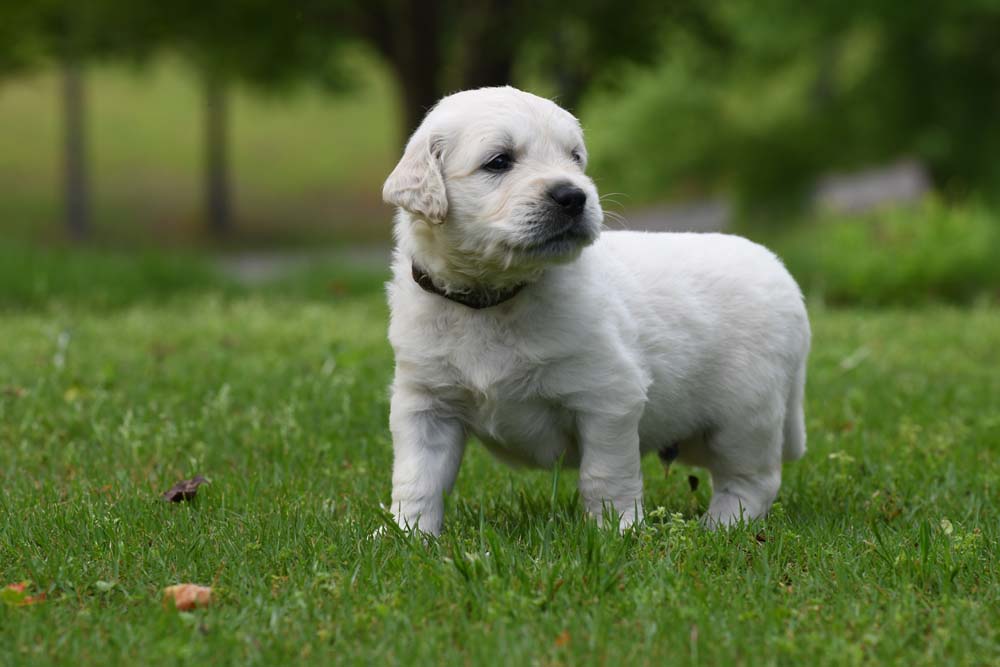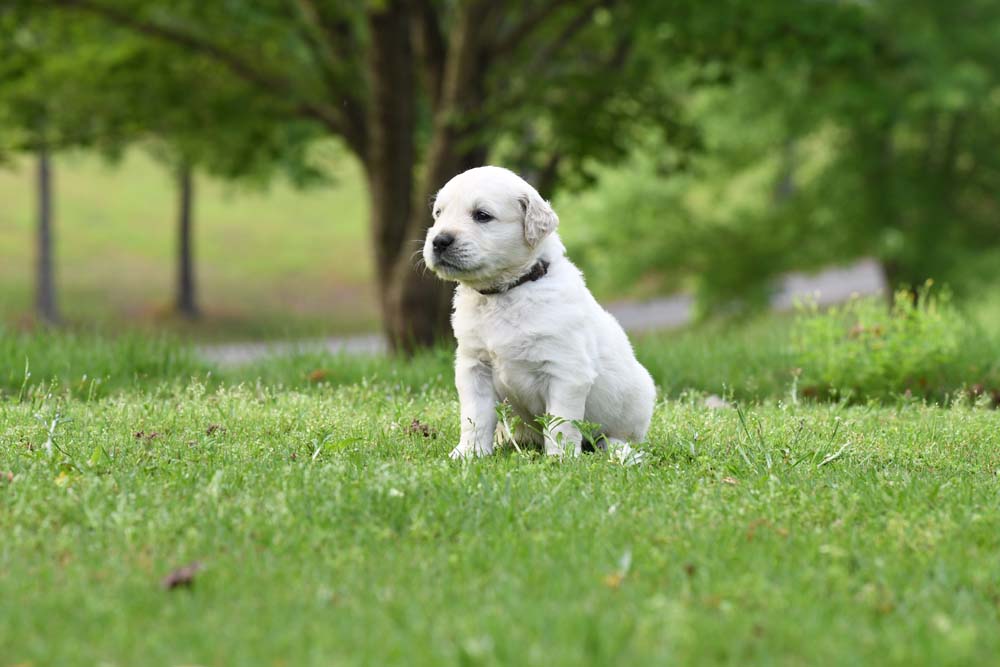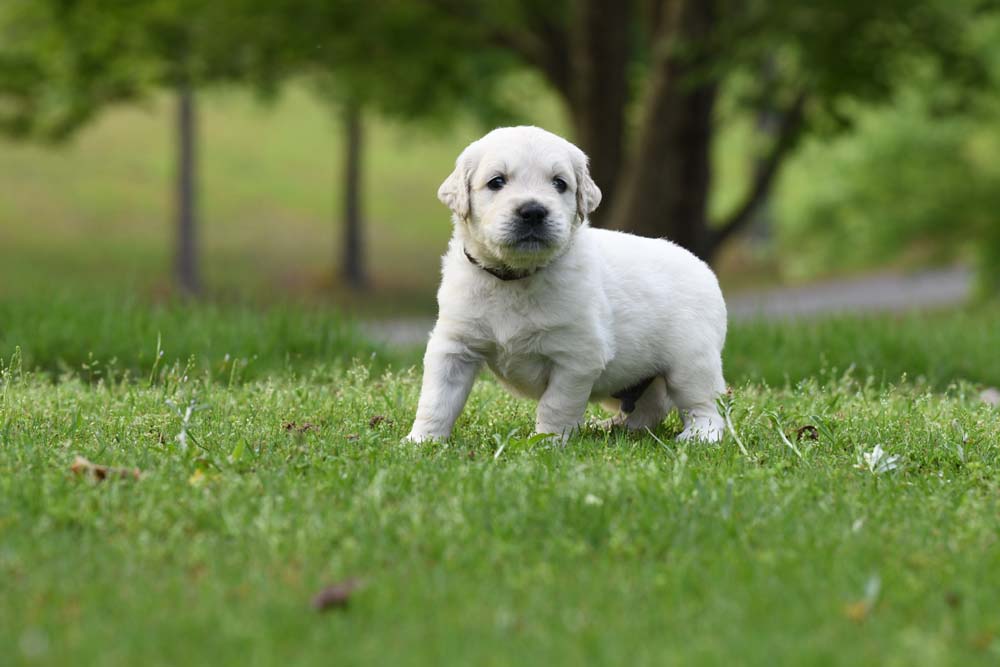 Maroon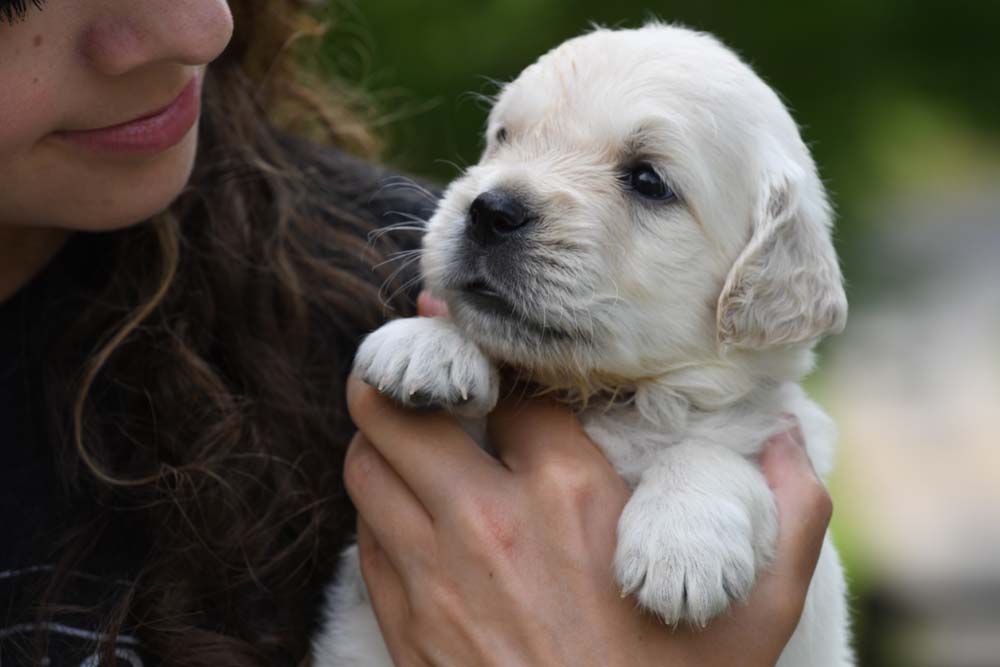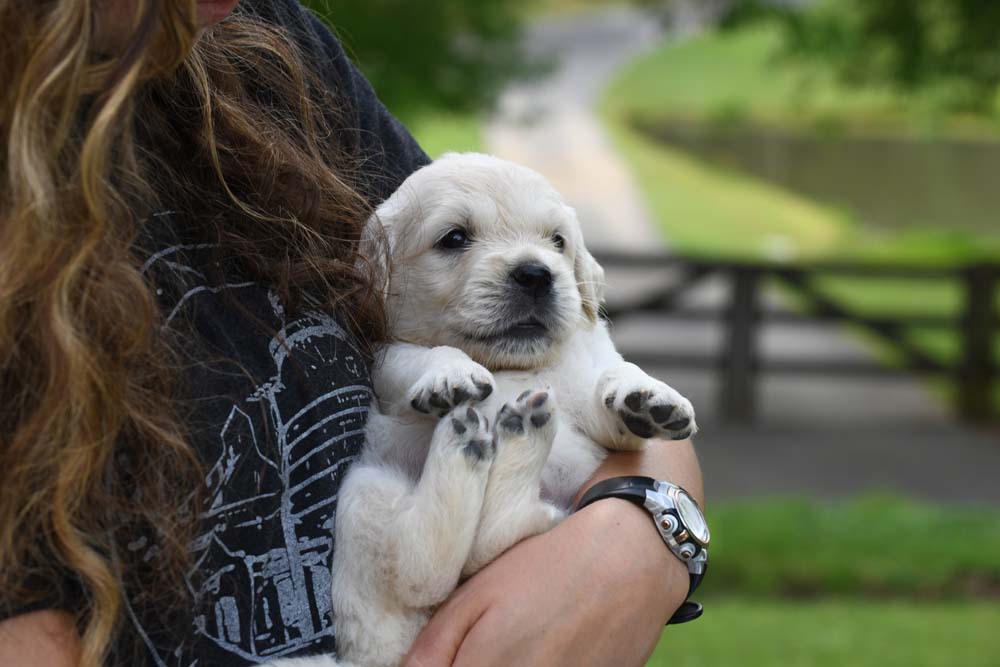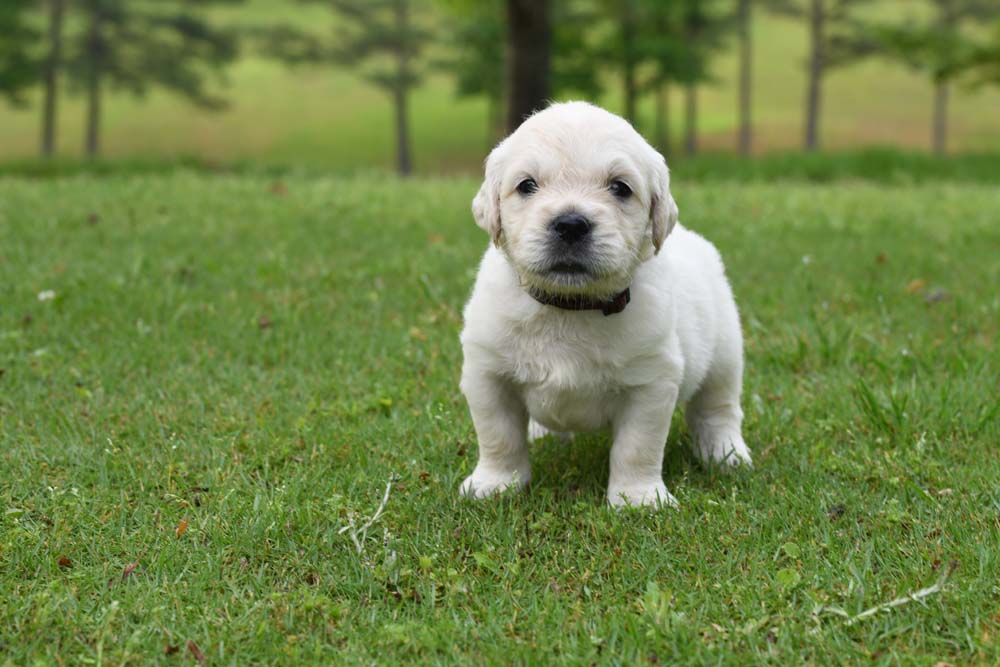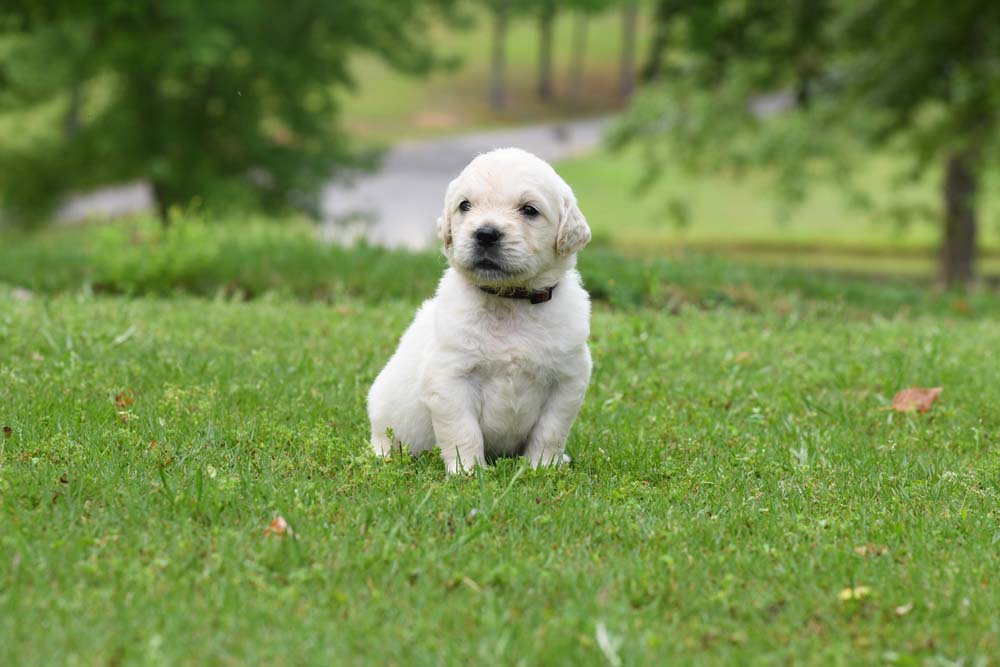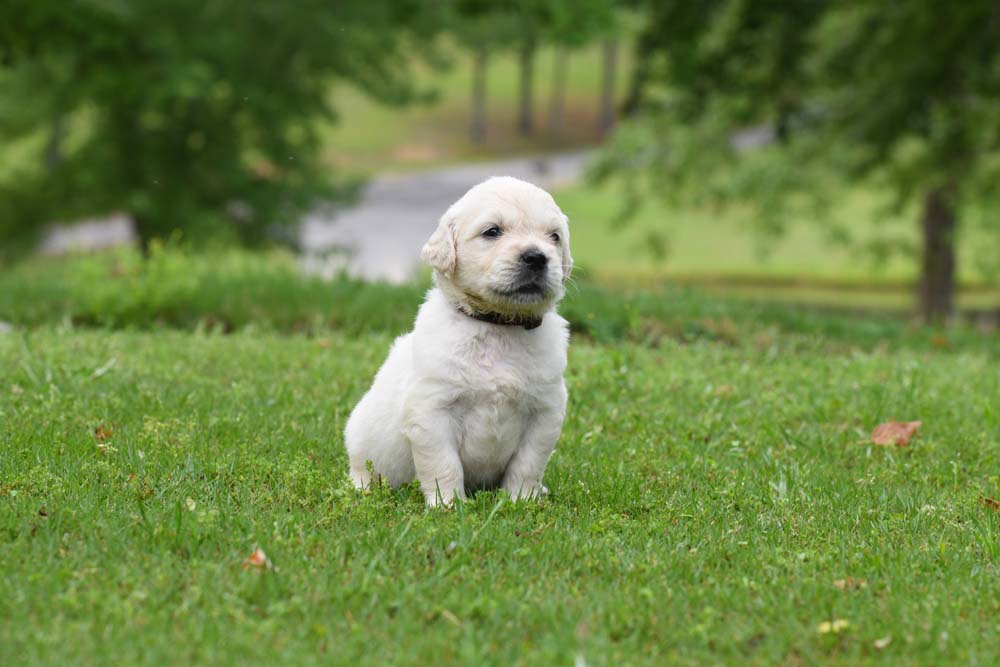 Sydney's 4 Week Old Puppies: Developmental Information
Between three and four weeks, puppies change a huge amount. Personalities are starting to emerge. Four week old puppies are ready to venture out of their pen and explore our home. They are old enough for a brief introduction to outside. By four weeks, puppies are beginning to stay awake for longer periods of time and are actively engaging in play.
Indoor House Training
Between 3 1/2 weeks and 4 1/2 weeks of age, we spend a lot of time training them to potty in the pine pellet potty pans. We keep the area outside the pans almost perfectly clean. We gradually decrease the amount of area that is covered by pads as puppies show increasing dependability with doing all their business in the pans. By the time puppies are 4 weeks 5 days, almost all of them are close to doing all their business in the right place.
Started on Puppy Food
We start 4 week old puppies on puppy food as the moms naturally start the weaning process. At 3 weeks, puppies have teeth which makes the nursing experience less pleasant for the moms. By four weeks, it can be rather painful for large litters to be biting and pulling as they nurse. Almost all moms will begin pulling away somewhat from the litter between four and five weeks.
We offer soaked dog food three times a day. The puppies are fed in one large bowl all together at this age. They eat as much as they want and the mama will finish off the bowl.
Introduced to the World Outside Their Pen
Starting shortly after 4 weeks, puppies are introduced to the world outside of their pen. We take them initially in groups to various rooms in our home. As confidence builds, we take them out individually. Puppy socialization becomes increasingly important. Puppies are staying awake for longer periods of time. This is the week that our socialization program becomes very intentional and scheduled.
Four-week old pictures are usually taken in our front yard. This is their first trip outside. They don't stay outside very long on this first trip, but within a few days, they are ready for longer outside experiences.
By the time puppies are 4 weeks 5 days, they are ready to be trained to navigate the two steps from our puppy play yard to our side porch. Puppies are ready to begin doggy door training. This is the optimum time to introduce puppies to new things. They are anxious to try new things and to explore their world.
For more information on how we raise our puppies, see our Raising Puppies page.
We'll continue keeping you posted on how Sydney's 4 week old puppies are growing on a weekly basis. See our Available Puppies page to get to pages of Sydney's 4 week old puppies at other ages.