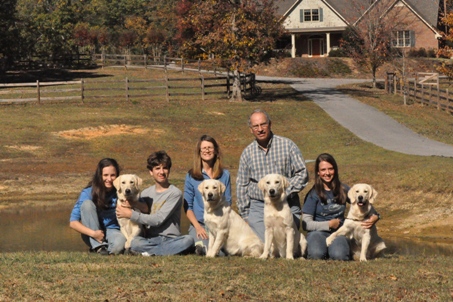 We are breeders of English Golden Retriever puppies who have a goal of improving this beautiful breed in the United States. Our family is a dog loving family who has been truly blessed. What better life than sharing it with seven English Golden Retrievers and an occasional litter of puppies?
Breeding Golden Retrievers from Imported Lines
All of our Golden Retrievers are what are commonly referred to in the United States as English Golden Retrievers or English Cream Golden Retrievers. In Europe they are simply referred to as Golden Retrievers. I have heard many people refer to the imported Goldens as White Golden Retrievers. Though they are often a very light cream, they are never truly white. They range in color from the palest cream to a rich gold.
Our Family
Pictured above is our family in 2010 in front of our pond and home. The two older folks in the middle are Karen and Darrell. We have been married for almost 30 years. The three younger people are our three children who are now in their 20's. All of our kids are either in college or have graduated from college. The dogs in the picture have now all been retired and we've been blessed with seven better dogs. We are very selective about the dogs we breed. It has been a hard journey to get to where we are today. We strive to improve our program with each new puppy or dog that we raise. With time, we have been able to greatly improve our program.
Where We and Our Goldens Live
Our family lives on a private road in a community filled with gated areas, beautiful ponds and lakes, pastures, and woods. All of our neighbors have 5-50 acres of land. There are miles of trails, some going beside lakes…a dog's paradise. We are in Chelsea, AL, about 20 miles from Birmingham. People have flown to us for puppies from almost every state in the country.
Our English Golden Retrievers live and sleep in our home. We have 5 doggy doors going out of our home into five different fenced areas. Our front door gives access to a sixth. We've fenced about 9 of our 14 acres for our dogs. Someone is home with them nearly all the time.
We are fortunate enough to have a home large enough for the dogs to have plenty of room. Our house has an open floor plan that enables us to see all of our dogs from one place. At the same time, we are still being able to separate them individually or in groups when necessary. We have several baby gates that we open and close as needed. We don't have kenneled areas to divide our dogs. However, we've found our home situation to be more than sufficient for the number of dogs we have. See the Our Home page for more information.
How We Care for Our Dogs
Unless it is rainy, our dogs have free access in and out of our home through doggy doors. We brush each dog regularly and bathe them once or twice a month depending on the time of year. Because they have access to large outdoor areas, we rinse them off often. We do daily competitive obedience training with most of them and they all do short training sessions at meal times. The dogs rotate between the various areas in our home so that they all have quality time with us. We use primarily natural methods to prevent fleas and tics, and we feed our dogs high quality food.
How and Why We Initially Started Breeding
When we first started this venture, we were a home-schooling family with 3 children from 10-14 years of age. We've always been home quite a bit more than most families and had a very busy home with a lot of company and activities at our home. Our home life was (and still is) very compatible with caring for dogs.
Two Daughters Wanting Careers with Dogs
My oldest daughter Jenna wanted to be a vet for most of her young life. My younger daughter, Elise, was also wanting a career with dogs. At 12, Elise was unsure what career with dogs she wanted but both girls had a big passion for animals. Together, they talked Darrell and I into a small breeding/show program that we thought would last only a few years. We began breeding initially purely for the love of our daughters.
A Family Venture
In the beginning, my 2 daughters (then 12 and 14 years) and I were a three woman team. We had no paid employees and Darrell (husband) and Daniel (son) helped minimally. But as time went on, Darrell and Daniel become involved and we added several paid employees. Darrell now handles most of the communications. Daniel is now in his last semester in college majoring in engineering and only helps occasionally. But for many years, he was a huge help in staying up late "baby sitting" new puppies.
The three girls in our family enjoyed many years of numerous mother/daughter/dogs activities. We spent many weekends going to obedience trials and conformation shows. Jenna, Elise, and I spent a good percentage of our free time researching pedigrees and breeders in Europe. We loved it! The dogs were our hobby.
Adding Employees
However, in time our daughters moved on to other interests. They graduated from high school and went to college. Both girls moved from home. It was time for a change for both the girls as well as for Summer Brook. After home schooling for 17 years, I was excited about the prospect of throwing myself into working with the dogs myself. Without the responsibilities of homeschooling, I found myself with more time to invest in my hobby. By this time, my hobby had turned into more than a full time business.
In 2013, we hired our first employee, 20 year old Anna. She worked with us for about a year and then went on to become a vet tech. Then we were blessed to meet Emma, a 14 year old neighbor that has worked for us after school and on Saturdays for over four years. She is now (in 2019) about to graduate from high school and will be going to Mississippi State to pursue a career as a veterinarian. Katherine and Jessi, two other high schoolers joined our team in 2016. They both home school and are able to work mornings. All three of these girls have had a big impact on Summer Brook Acres. They will all be graduating this year. Sadly, only Jessi will stay in town and continue working with us.
However, a mom's dream is coming true. Both of my daughters are now back home working with us again!
Jenna
Jenna graduated from college in English, her second passion behind dogs. After 2 years in a pre-med curriculum, Jenna decided that she didn't like biology. However, she never lost of her of animals. Her interests in the dogs is now more with training than with the medical aspect. Jenna is now combining her love of dogs (and specifically dog training) with her love of writing. She designed our website as a high school project and has done a total redesign on it twice since the original design. Jenna has written and edited much of the content on our site. She is also a very skilled trainer and helps quite a bit in that area.
Jenna initially developed her training skills by training horses. We had horses for many years. In fact, our current dog pastures were originally pasture for horses.
Elise
Elise has also just returned home and is now working again with us at Summer Brook. She primarily works with taking care of our adults and working with younger puppies. Her plan is to start nursing school in the fall of 2019. She will continue working part time with us and live at home until she finishes school.
Karen
Karen is the wife/mother of the Summer Brook family and the writer of this page. In the early days of Summer Brook, my interest in breeding was purely for my daughters. However, as I got more involved with the dogs, I learned that I had a huge love and talent for dog training. That is where my passion lies, but I am involved to some degree in all aspects of Summer Brook Acres.
Darrell
Darrell is the husband/father of our family. His primary role with Summer Brook is with communications. I (Karen) initially handled this role. However, after several years, handling the responsibilities with both the dogs and the people became too much. Darrell also works with our family real estate investment business.
The Early Days of Summer Brook Acres
Before getting our first dogs, we spent hundreds (maybe thousands) of hours researching. We started off deciding on the breed. From there, we moved to researching breeders and individual dogs and pedigrees.
It took us YEARS to refine our program to what it is today. We retired more than half of what we originally imported without ever breeding them. For those of you considering a new breeder or breeders with adults without verified clearances, you are embarking on a crap shoot. Our experience is not unusual for good breeders. There are a lot of hoops to jump through in order to have really good breeding dogs. It is not as simple as calling or emailing a European breeder and asking for the best dog. The best breeders in Europe are very particular about where their dogs go. It takes time to develop relationships overseas. And it takes patience to build good lines with good looks, health, and temperaments.
In addition to our English Golden Retrievers, our family has had one American Golden and 4 smaller dogs. These 5 dogs were family pets and never bred. We loved them all. However, none of them quite captured all of our hearts like the Golden Retrievers.
Our Breeding Philosophy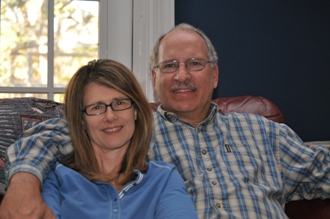 Many people contact us looking for a "white golden retriever puppy with a blocky head". Though all our dogs are a light cream, we do not breed for color. We feel that the head is important but, it is not the entire package. There is so much more in producing a nice litter of puppies. We will only breed the best dogs that meet our very high standards. We have intensely studied the pedigrees of hundreds of dogs looking for those with generations of proven good conformation, good health, and a typical sweet Golden Retriever temperament.
Most of our dogs have parents with not only titles earned because of their beauty, but titles proving their worth as working dogs also. While our dogs are beautiful, we believe that a good pet, first and foremost, needs to have a good temperament and be healthy. Our goal is to produce puppies that are physically, intellectually, and temperamentally as close to the FCI breed standard as possible, and then to do all we can to nurture and care for our puppies in such a way that they will have the best possible start in life to develop to their fullest potential.
Pictures of Jenna and Elise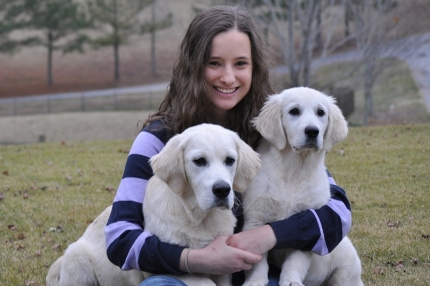 To the left is Jenna pictured with our first two Dream Max dogs when they were puppies.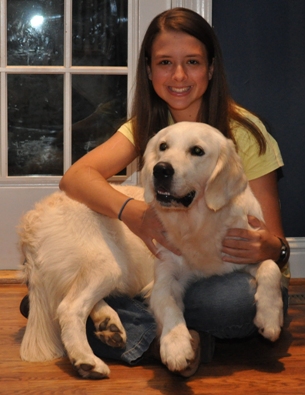 Below is Elise pictured with Maria who unfortunately did not have good enough hips for breeding. She was the first of many dogs that we've loved and then said good-bye to.