Choosing an English Golden Retriever Breeder can be a daunting task. I have in the past had a large number of people asking for our opinion on specific breeders. We've also been asked advice on specific litters. We no longer want to offer our time in this way. However, hopefully this page will help you in choosing an English Golden Retriever breeder better yourself.
There are Several Excellent Breeders, but Even More Puppy Mills and Dishonest Breeders
There are many excellent breeders of imported Golden Retrievers with English or European lines. However, there are at least three large puppy mills in the U.S. There are also several more that I suspect of being puppy mills. There are also a lot of breeders who do not do health testing and make no claims to. Many others who say their dogs are health tested are not. Still others have tested their dogs but are exaggerating their results. Hopefully this page will be a help in recognizing good breeders and weeding out some of the less desirable ones.
Make Sure Breeders are Doing Health Testing on the Parents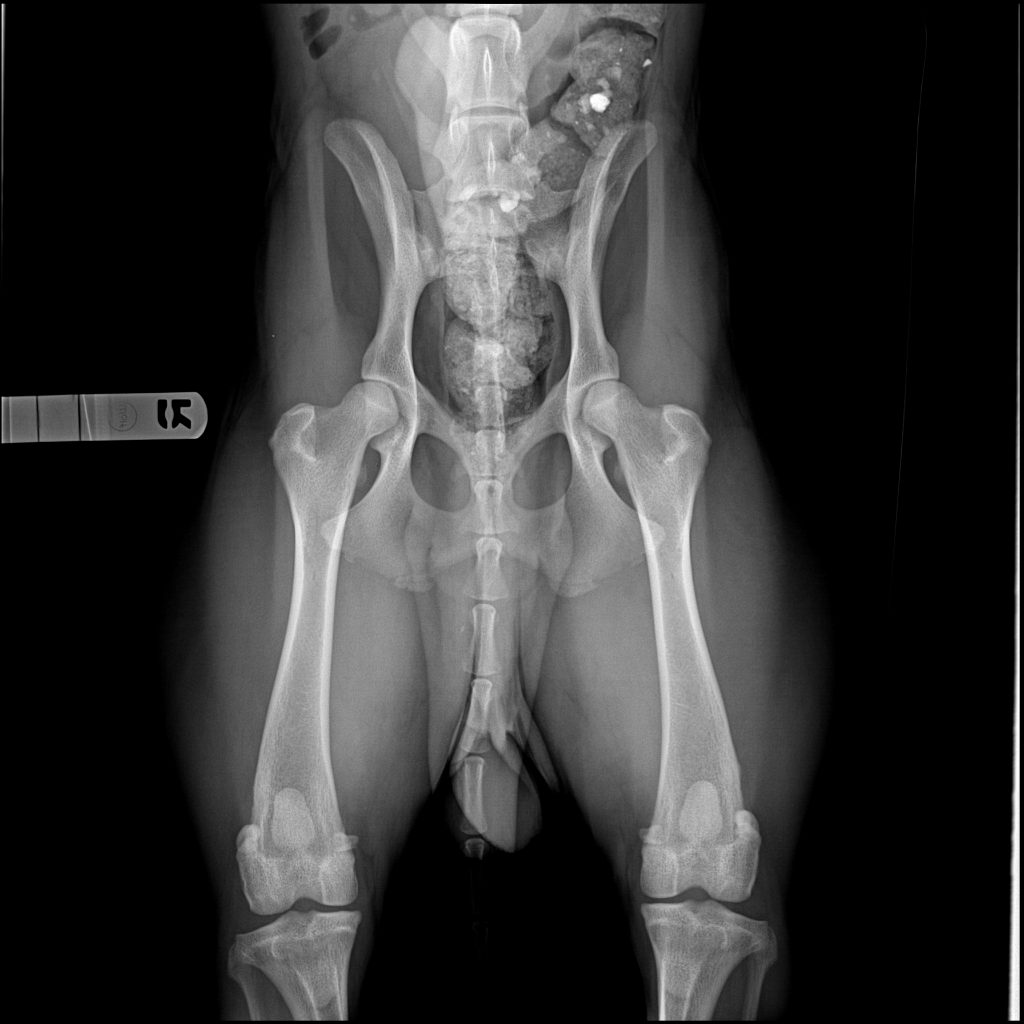 First, make sure that the breeder you are considering has done at a minimum tests for hips, elbows, heart, and eyes. Eyes should be done yearly.
See our page on health which will take you to several other pages to learn about what kinds of tests should be done and what results to look for. The breeder should be willing to show you proof of the results of these tests or have them linked to their website or show you how to verify these results through OFA.
There are quite a few breeders who will guarantee hips, elbows, heart, and eyes but this does not equate to having the parents tested. Their guarantee will be the same as many good breeders, but what good is a guarantee when you've fallen in love with your puppy and are facing a future of taking care of a puppy with genetic problems that could have possibly been prevented in the first place. No breeder can truly guarantee a perfect puppy, but a breeder who does health testing and then retires those that don't score well will give you the best chance of a healthy puppy.
How to Verify Health Testing Results
Second, be careful of those who do not have proof of health testing. There are many breeders who are claiming to do health testing when they have not. If breeders use OFA, you can verify results on www.offa.org. If dogs were either evaluated by Penn Hip, BVA, or FCI, you should ask to see proof of that if the test results aren't scanned into their site. Though a Penn Hip clearance is an acceptable clearance, Penn Hip will give a dog a number whether they have good hips or not. Having a Penn Hip number means nothing unless you know what the results show. Penn Hip suggests only breeding dogs who rate better than a 50%. Ask to see the results to verify that the hips are in the top 50%.
How to Spot Dishonesty
Third, make sure that the breeder is honest. If you discover that they are dishonest about one issue, there could be others.
A fairly common exaggeration is with regard to health results. Some breeders claim to have dogs better than they are. They take advantage of the public's ignorance with regard to how the European hip and elbow schemes compare to the American scheme.
Misrepresenting BVA Hip Scores
BVA and FCI scores are sometimes exaggerated with regard to how they compare to OFA. A BVA score must be a TOTAL of both hips of 4 or less to be equivalent to an OFA excellent. There are some breeders who are claiming that their dogs have excellent hips when only one hip is 4 or less. By the time the other hip score is added in, these dogs are almost always in the good range which is a total of both hips added together in the 5-10 range. So if a dog has 2/3 BVA score then the dog has the equivelent to an OFA "Good."
Misrepresenting FCI Hip Scores
There are also many breeders misrepresenting FCI hip scores and how they compare to OFA. (Often the same breeders exaggerate both.) An FCI score of A does not necessarily mean an excellent. It is a broader range and could be a good or an excellent. A B is either a fair or border line. A C is mildly displastic. A lot of breeders are claiming that an A is excellent, B is good, and C is fair. If a breeder has a comparison of their BVA or FCI scores on their site, you can verify how they really compare by looking at OFA's site. Scroll to a comparison chart at the bottom of this page: https://www.ofa.org/diseases/hip-dysplasia/hip-international-ratings-matrix.
Registered Names Should be Easily Matched to Dogs
Fourth, make sure that a breeder has their dogs identified with their registered names. Otherwise, you can't know for sure which health results go with which dogs. . There are breeders who only identify their dogs with Fido or whatever their call name is. There is no reason not to have a dog's registered name displayed unless someone is hiding things about their dogs. A registered name will also give you the ability to check out the health clearances of the dog's relatives.
Verify that Relatives of Your Potential Puppy Aren't From Puppy Mills
Look at the pedigrees of any puppy you are considering and verify that the relatives have not come from either of the puppy mills in the U.S. You will know these puppy mills by the fact that they have large numbers of dogs and no verifiable health testing. I not only recommend that people stay away from these puppy mills but also that they stay away from breeders who have purchased dogs from them. Sadly there are many honest, well-meaning new breeders whose dogs came from one of these puppy mills with poor health backgrounds. These puppy mills, unlike most reputable breeders, will sell their puppies with full-registration to anyone. This is flooding the American market with poorly bred English Goldens with bad health.
We Hope This Page Helps You in Your Puppy Search!
I've written this little section to hopefully help people find a nice puppy from a good breeder without anyone contacting me directly for help. I don't want to be in a position of having to judge another breeder. Thank you for understanding.