This page will give you tips on flying with puppies. Learn to keep your puppy happy while at the same time navigating the rules and regulations of the airlines. Summer Brook has sent puppies home with families to almost every state in the U.S. Almost half our puppies fly to new homes in the cabin of an airplane.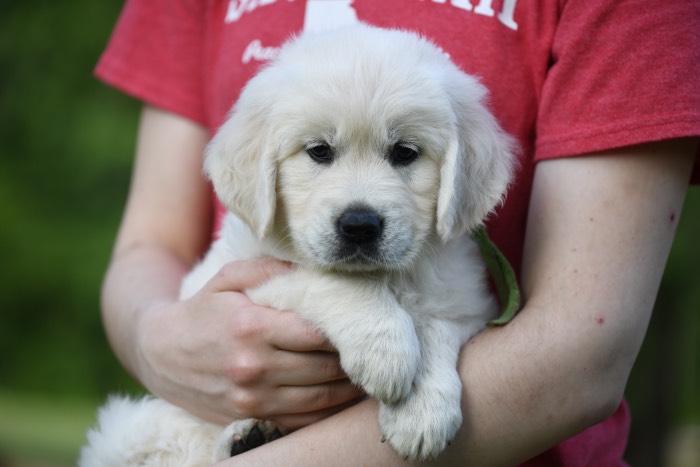 Travel by Plane
We have sent dozens of puppies home safely with new families in the cabins of airplanes with virtually no problems. Puppies do amazingly well. We've sent over two dozen puppies to the west coast. Surprisingly, even our 7 1/2 week old puppies rarely potty on these long flights, even with the option of going on a potty pad.
Hardly anyone has had any problems with flights including many going from our home in Alabama to the west coast until early 2019 when we had our first problem. Someone flying to California was first informed of a regulation change by United when she was at the gate. United, unbeknownst to either us or her had changed their policies between the time she checked with them and the time she boarded. The change required puppies to fit into carriers in such a way that Golden Retrievers would become too large before they were even walking well.
Many airlines followed suite during the early months of 2019. However, Alaska Airlines remained pet friendly for puppies in the cabin and within a few months, Delta reversed their policy with regard to their extreme restrictions. However, these changes have made us hesitant to tell families what they are allowed and not allowed to do with regard to flying with their puppies. There is too much out of our control. We're here to help if we can, but we are no longer able to keep up with all the changes of every airline in the country.
As airlines began putting height restrictions in place, carrier companies began offering carriers to meet these restrictions. These carriers are taller (to meet the requirements for puppies to be able to stand up in the crate) while at the same time having the capacity to smush down to fit under the seat. These new developments by carrier companies will hopefully help it to continue to be possible to transport puppies in airline cabins. This is the best way for puppies to travel long distances.
We Will Consider Shipping If There Are No Other Good Options
As long as there continues to be options for in-cabin flights, we will continue with our policy of not shipping. However, we might consider shipping if a family was left without other options because of airline changes.
If we decide to send puppies by plane alone, details will be posted here when we know them. What we can tell you at this point is that if we decide to ship, it will ONLY be direct flights. This would probably necessitate a 5 hour round trip drive for us to Atlanta. We would only offer this option for puppies over 10 1/2 weeks. These older puppies are out of the 8-10 week fear period. They also will have been through our socialization and desensitization program. Our shipping cost would be about $650 to cover flight, extra vet visit, health certificate, crate, and time and expense to drive to and from Atlanta. If there was a direct flight from Birmingham, the cost would be less.
We are currently not shipping. However, in 2018, airlines became very restrictive. They have since reversed these heavy restrictions. We will only consider shipping in the event that airlines again put heavy restrictions on in-cabin flights.
Flying With Puppies – Things to Remember
Wait Until Puppies are Over 2 Weeks Before Booking Flights
It is a good idea to have a travel plan before getting a puppy. However, please wait before booking plane flights. Though it's not common, it does sometimes happen that we loose a puppy. We've only lost one puppy who was over 2 weeks. It is rare to loose one after 3 or 4 days. We've only had one litter where we lost more than one puppy at any age other than puppies we couldn't revive at birth. However, with anything living, anything is possible. Book your flight when your puppy is over 2 weeks of age.
Check Requirements Online, Not By Phone
Before booking, check the rules on-line. Customer service people will tell you the policies over the phone. However, customer service personnel with almost all airlines don't seem to know much about pet travel. Call once and get one answer. Call back again in a few minutes and a different employee will tell you something else. Pay attention to the official rules on-line and you can be assured of compliance.
Try to Get a Seat Behind a Seat With More Space Underneath
You need to check with the airline about space under the seats for particular planes and even for particular seats within the plane unless you are flying Delta, American, or United. See if there are certain seats that have larger storage areas under the seat in front of them than others.
Reserve Your Puppy At the Same Time as Yourself
Make sure to reserve a place for your puppy at the same time you book your flight. Most, if not all, have a small limit to the number of puppies allowed on board each flight in the cabin. You do not pay for your puppy up front like you do for your own ticket but instead pay when you get to the airport with your puppy.
Bring Travel Supplies
Though we've had a good number to get car sick, we've never had a puppy to get sick on an airplane. However, make sure you bring paper towels or baby wipes. Your puppy could be the first. Your puppy could get car sick on the way to the airport.
I have puppy pads (and diaper sacks to dispose of them in) that I can give you for the puppies to go to the bathroom on if you can't get to an outside area in a reasonable amount of time while you are traveling. In addition to the crate, bring a collar (10-15 inch size for now) and leash, empty water bottle that can be filled after passing through the check in at airport, and a small water bowl. I will provide you with the blanket that your puppy has been used to sleeping on for you to put close to the outside of your carrier so that your puppy can smell it. (It won't fit inside a travel carrier but will be nice for a regular crate when you get home.)
Be Prepared to Take Puppy Out of Carrier at Security
Be prepared at security to take your puppy out of the carrier. They will x-ray the carrier and you will carry your puppy through security out of the carrier.
Don't Be Concerned If Your Flight Has a Stop
I've had many people fly directly into the Birmingham airport but to get to Birmingham from most places, there will be a stop. This shouldn't be a problem. You can carry your puppy through the airport if your puppy is flying in the cabin.
If You Want a Non-stop Flight, Fly From Atlanta
If you want a non-stop flight, I've also had many fly into Atlanta and rent a car and drive to my house. I'm about 2 ½ hours from the Atlanta airport and about 35-40 minutes from the Birmingham airport (if it isn't during rush hour). Just recently someone mentioned flying into Nashville (a 3 hour, 15 minute drive to us). If you are flying in and out of Atlanta, keep in mind when booking your flight time that Georgia is on eastern time and Alabama is on central time.
When Flying In and Out of Birmingham, You'll Need 5 – 6 Hours in Between Landing and Take Off
When doing a round trip on one day, you'll need at least 5-6 hours in between your incoming flight landing and your return flight leaving. If you check luggage or if you arrive during Birmingham rush hour, you'll need more. If you're getting a puppy started in training, you'll need more.
Here is the time break down. You'll need 1 1/2 hours for the drive to and from our home, about an hour to rent and return a car, 1 hour (minimum) at our home if your puppy does not have the training (2 hours if he does), and 1 1/2 hours to check in the airport and go through security (BHM is a small airport.) The 5 to 6 hours does not include time for checked baggage or time to contend with rush hour traffic.
Book an Appointment Time Slot With Summer Brook
Once you've decided on your flight plans, please email me with them so that I can put it on my calendar and hold that time for you. Wait for me to respond before actually booking the flight to make sure that no one else has already reserved that time.
Contact Us With Questions
We're here to answer any questions you may have. We may not have all the answers. But may be able to either point you in the right direction. We might know someone else to ask who may know the answer to your question. If you learn anything new about any particular airlines please let us know. Please pass on to us anything you learn about new rules or regulations. We'll share any helpful information you find with others. We're always learning and love to hear from others what they've learned.
Car Travel – How to Be Prepared
We've had several families to travel by car over 1000 miles (one direction). Puppies sometimes will get sick during the first hour or two, but by far most adjust fairly quickly. Here are some tips to help keep your puppy happy (and therefore you happy) on your trip.
The best way for your puppy to travel is in a 24-inch wire crate. You can actually buckle these in your car. I'll send you your puppy's blanket with the smell of our home and a bone. You can put these in the crate and that is really all they need.
If you feel comfortable with your puppy out of the crate, I'd probably hold him/her if there is an extra person besides the driver for at least part of your trip. Bring water and a bowl, a collar, a leash, some towels, and if your drive is more than 8 hours, bring some food.
Most puppies traveling long distances do not get car sick but I'd say that about 1/3 of them do. The sickness usually will last for just the first hour or two and then the puppy will settle down for the rest of the ride. If you're traveling a long way, I'd bring towels, paper towel, and plastic bags (like Walmart sacks) to store the dirty towels in case of an accident.
Hotels in Town
If you plan on spending the night in Birmingham, here is some information on where to stay. From most places including coming from the Birmingham Airport, Atlanta, and south Florida, you'll be coming in on Hwy 280 which goes within a mile of my house. Any place in the Eagle Point, Greystone, or Inverness area are within 20 minutes of my house. The Hampton Inn in Eagle Point is probably the closest hotel to me and everyone has said only good things about this hotel. It is also very close to a big variety of restaurants and even a nice dog food and accessory store if you forgot something. Here are a couple of links to hotels that people have stayed in and recommended in these areas:
List of Specific Hotels In Inverness
http://hamptoninn3.hilton.com/en/hotels/alabama/hampton-inn-and-suites-birmingham-280-east-eagle-point-BHMLBHX/index.html
http://www.marriott.com/hotels/travel/bhmmc-birmingham-marriott/
http://homewoodsuites3.hilton.com/en/hotels/alabama/homewood-suites-by-hilton-birmingham-south-inverness-BHMHWHW/index.html
List of Hotels If Coming in on I-65 (From the South)
If you are driving up from the pan-handle of FL or from south Alabama, the most convenient area to stay would be the Alabaster/Pelham area which is right off of I65. Here is one in this area that was recommended:
http://www.ihg.com/candlewood/hotels/us/en/alabaster/bhmqr/hoteldetail
Places to Eat
Chelsea:
Hartley's – meat and vegetable buffet style
Habanera's – Mexican
Golden City – Chinese
China Garden – less expensive Chinese – we like it but not as good as Golden City
Applebee's
Fast food – McDonalds, Sonic, Hamburger Heaven, Bojangles, Wendy's, Taco Bell
Highway 280 Inverness or Graystone areas (about 10-15 minutes from us):
Fish Market
Jim & Nick's Barbeque
Logan's Roadhouse
Outback Steakhouse
Taziki's – Greek
Baumhower's
Surin 280 – Thai food
Panera Bread
The Summit on 280 (about 20 minutes on the way to Birmingham and the airport)
Macaroni Grill
Cheese Cake Factory
California Pizza
Panera Bread
P.F. Changs – Chinese
Birmingham/Southside/close to Hwy 280 in Homewood
Highland Bar and Grill – upscale popular
Bottega's – upscale popular
Hot and Hot Fish Club – upscale popular
Jim & Nick's Barbeque
Surin – Thai food
Zoe's Kitchen – salads, sandwiches, Mediterranean
Scheduling Your Pick Up
I like to schedule everyone so that families don't overlap. We need to spend at least an hour with each family getting an untrained puppy. We schedule 2 hour appointments for everyone. Families getting the training will need every minute of those two hours in order to have time for us to go over everything. During the days for picking up puppies, I make scheduling my day around you my number one priority. We will do everything we can to make it possible for you to pick up your puppy on the day and at the time that you'd prefer. However, it does happen that more than one person wants or needs a particular time slot.
Those flying have the least amount of flexibility with regard to their flights. We will give those flying priority within reason over those driving. However, we will do our very best to accommodate everyone as best as we can.
Appointments Start at 9:00
Because we have so much early morning work needing to be done on an ongoing basis with dogs and puppies, I don't book appointments before 9:00 a.m. Our last appointment time starts at 3:00 and ends at 5:00. If you are flying or driving in one day and want to leave early the next morning, we can have our visit time and you can see our place and meet our dogs on the afternoon you come in. Then you can leave your puppy with me overnight and come back as early as needed for a quick pick up and go the next morning.
As I've mentioned to everyone, please don't book anything until puppies are at least 2 weeks of age. Check with me about the time you'd like to be at my house to make sure that I am available to meet with you during the time frame that you need to meet me before actually making your flight reservations.
Looking forward to meeting you!