Listed below are several options for how to travel with puppies to get them safely from our home to yours.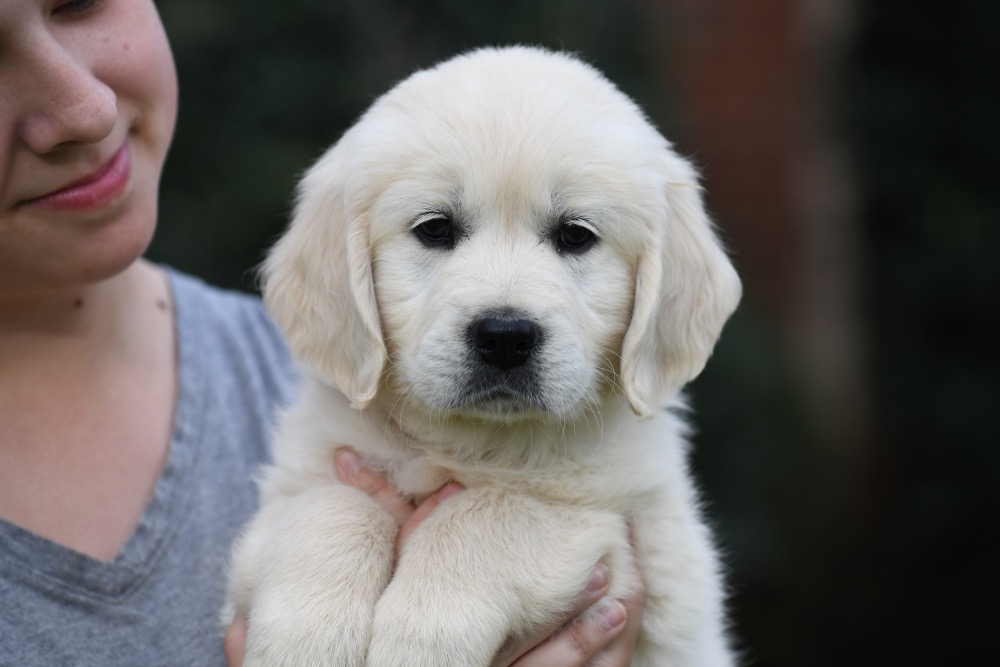 How to Travel With Puppies Option #1 – Drive
1. You or a family member (or a friend) can drive to our home just outside of Birmingham, AL and pick up your puppy. We've had people to drive over a thousand miles one way to get a puppy from us, from as far away as Massachusetts, Maine, and Nebraska.
How to Travel With Puppies Option #2 – Fly, Rent a Car (or Use Uber), Carry Your Puppy in the Cabin with You
2. You or a family member (or a friend) can fly to either the Birmingham airport (BHM) or the Atlanta airport (ATL). Then, you can rent a car to drive to our home to pick up your puppy. If you fly, you can carry your puppy on board with you. Your puppy can ride at your feet in a soft carrier. We have a detailed document on Travel With Puppies to help you navigate the process.
1/2 Hour From BHM and 2 1/2 Hours from ATL
We are about 25 miles from the Birmingham airport and about a 2 1/2 hour drive from the Atlanta airport. Many people choose to fly to Atlanta and rent a car to drive to Alabama. There are direct flights from most anywhere to Atlanta. However, those who've flown directly to Birmingham have had no trouble with making connections when there was no direct flight. Your puppy will stay with you and can be carried through the airport. An 8 week old puppy is still small enough to ride as carry on with at least some airlines. This option is better than being checked in the hold area.
Puppy Can Fly In Cabin With You
We love for families to meet the parents of their puppy and see where he/she has spent his/her first 8 weeks of life. We especially enjoy meeting the people who have usually been talking by phone and email with us for months. Your puppy can fly back with you as carry-on luggage. The cost is about $50-$150 (depending on the airline) above the price of your ticket. People have flown to pick up puppies from as far away as California, Washington State, New York, and Pennsylvania. We are here to help with any questions as you book your flight.
We have been sending puppies home safely in the cabins of airplanes for almost 10 years. We've not had a problem until early 2019. Many airlines are starting to make in-cabin travel more difficult. We are hopeful that these more restrictive changes will be reversed. Still, we are keeping an eye on airline policies. We reserve puppies months before they are born. Therefore, it is impossible for us to predict what those regulations will be when time for puppies to leave us. Currently Alaska Air is remaining very pet friendly and is a good option.
Health Certificates
We do not provide health certificates for puppies under 10 weeks of age. Delta requires puppies to be 10 weeks of age. (The other airlines only require them to be 8 weeks old.) We won't lie about our puppies' ages. Currently no airline (to our knowledge) requires health certificates for in-cabin flights. However, Delta required one for some time in 2017 and 2018. They've now reversed this policy. There is an additional charge for a health certificate. It requires us to make an additional trip to the vet. See our Payments and Policies page for more information.
Travel With Puppies Option #3 – Meeting You at the Birmingham Airport
3. We much prefer people to come all the way to our home. However, we will meet you at the Birmingham airport if you are short on time IF you are picking up your puppy at 7 1/2 weeks. We don't recommend this option. By foregoing the 40 minute drive to our home, you will miss out on meeting the parents of your puppy. You will also miss seeing in person where your puppy has spent the first 2 months of his life. If you choose this option, there will be an extra $100 charge. This is to cover travel expenses and the extra time required by us during our very busy pick up days. We strongly recommend anyone getting the training to come to our home.
For trained puppies, this is not an option. You must come to our home so that we can go over the training with you. We spend considerable time demonstrating the training. This cannot be done in the airport.