The best way to stop leash pulling is to alternate between positive reinforcement for walking politely on leash and stopping forward motion when a dog pulls. Dogs trained by this method will learn to walk politely on leash without risking any of the side effects that punishment based training carries with it. However, the biggest benefit to training this way is that the dogs will learn to WANT to practice loose leash walking.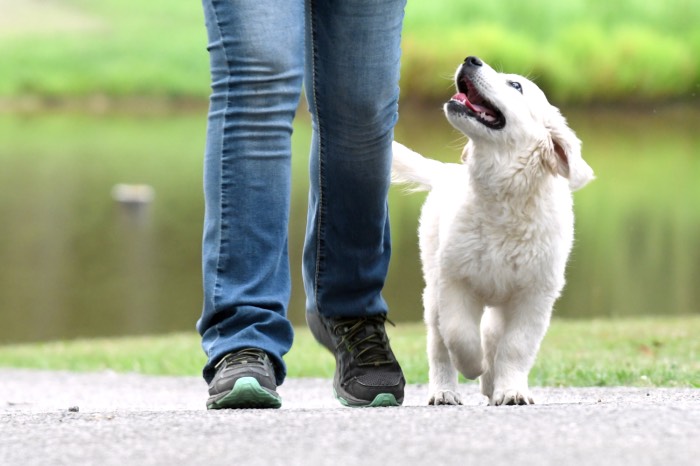 Unlike the apparent quick behavioral changes that occur with punishment based training, this method takes time and consistency. However, the benefits of positive reinforcement to stop leash pulling far outweigh any benefits (or detriments) of punishment based training. The extra time is time well spent and we'll show you in this post the details for how to do it!
It Even Works With Puppies!
The puppies in the video below are 8 1/2 weeks old and have never had a punishment of any kind. They were trained with 100% positive reinforcement. We have trained almost 100 puppies with this method. I've also trained and successfully shown at obedience trials almost a dozen dogs to heel competitively. It works for us. It can work for you!
So where do you start in training your dog to stop leash pulling? This depends on whether or not your dog has already developed a habit of pulling. Ideally, you'll start with positive reinforcement as we have with the puppies above. It is best to start making loose leash walking into a fun game before the first attempt at pulling happens. In other words, stop leash pulling before it ever starts.
However, most families don't start training loose leash walking until leash pulling is already a habit. Further, at some point all puppies and dogs will attempt to pull when the reinforcement level goes down low enough or when the distraction level goes up high enough. Even the puppies in the above video will test the waters eventually.
How to Stop Leash Pulling – Stop Forward Motion
So let's start our discussion on how to stop leash pulling before we discuss how and when to reinforce loose leash walking.
There must be a consequence for leash pulling for it to stop. Stopping forward motion is a great consequence. Dogs don't like it, but it isn't painful. It is easy for the handler. It requires little to no skill. Simply stop moving or take a step (or two or three steps) backward every time your puppy or dog breaks the criteria that you set. Sounds simple, but there are some details that will make your training more successful.
Step Back to Maintain Balance
If maintaining your own balance is difficult or if you can't COMPLETELY stop forward motion (including allowing your dog to pull your arm forward even an inch), step backwards a step or two or three. If you allow your dog to pull forward AT ALL, he will have essentially received a reward or reinforcement for pulling. Don't let him be successful in pulling!
Be Consistent
For dog training (with any behavior) to yield its greatest benefit, you must be consistent. You must stop your dog's forward motion every single time your puppy forges ahead.
Set Criteria
Set a definite criteria for your puppy. Your puppy needs to know exactly what your expectations are. When first teaching loose leash walking (especially with young puppies), our criteria before stopping forward motion is a loose short leash. The puppy can feel the tightness of the leash and he can see his position with relation to yours.
Gradually as your puppy becomes more proficient, you can make your criteria more difficult and require your dog to stay closer to a true heel position. The most important thing is that you consistently stick to your criteria (whatever it is) until your puppy is rarely pulling. Then, you can increase your expectations and change your criteria.
Don't Leave Too Much Slack in Leash
Don't leave too much slack in the leash until your puppy or dog's habit is loose leash walking more often than leash pulling. I like to use a 5 foot leash to give my puppies a chance to sniff and potty. However, I keep my leash tightened to about 3 feet when walking an untrained dog. Either double the leash over in one hand or hold the excess slack in the opposite hand from the one controlling the dog. Either way, don't give your dog more than a foot's extra slack. If your dog is a foot ahead of you, he can still see you with peripheral vision. If you let your dog get more ahead of you than a foot, he will loose sight of you. Once he looses sight of you, he'll loose interest in you.
Use Appropriate Collar
Use an appropriate collar, halter, or harness. I use a buckle or a martingale collar. However, there is a place for other types of collars or harnesses. Soon, we'll be posting an article on the various uses (and abuses) of the different types of collars that are available. Check back (or sign up to receive email notifications of new posts).
Be Matter Of Fact
Do not show any emotion when your puppy pulls on the leash. Simply stop his forward motion. As much as possible, the puppy needs to feel like he himself caused the consequence; not you. Just stand still or take a few steps backwards when your puppy reaches the end of the leash and is more than a foot ahead of you. You don't need to say anything.
Give a Command
When starting a training session or a walk, use a command such as "Let's Go" to signal to your puppy that he is now working and is no longer free to sniff around and pull to anything that interests him.
Walk In Opposite Direction
If you are having trouble realigning your puppy or dog to being beside you after stopping forward motion, turn around and go the other way. This will put your dog behind you. However, be careful not to turn so abruptly that you jerk your dog. Be careful with your leash. The idea is to physically stop forward motion, not to punish your dog by causing him to get a jerk.
How to Stop Leash Pulling – Use Positive Reinforcement
The most powerful tool to stop leash pulling is positive reinforcement. This simply means giving something (or adding something positive to the dog's life) in order to make the desired behavior more likely to be repeated. It is as easy as rewarding your dog when he is walking politely on a leash. Below are some tips that will make your positive reinforcement training easier and faster.
Use Anything Your Dog Likes For a Reward
You can reward your dog with anything that he enjoys. Food is often used as a reward because it is easy to give and most dogs like it. However, there are many other options. Opportunities for play (such as with a tug toy) could be a great reward for some dogs and one of my personal favorite rewards for loose leash walking is an opportunity to sniff and explore.
Reward Often Initially
Reward often when you are first starting this process (and by often, I mean every step or two in the first session). In the beginning, reward your dog occasionally for just looking at you before even taking a step. Reward for simply taking one step. Sometimes reward for two or three steps. On the second or third training session, you can occasionally hold off on rewarding until the dog has taken 5 or 6 steps.
If your dog is pulling often, your rate of reward is probably not high enough. Make sure you reward BEFORE your dog charges forward. You need to build a habit in your dog of walking beside you and good habits are only built when dogs are consistently doing the right things. Reward often enough and your dog will WANT to practice loose leash walking.
As your dog becomes more proficient at loose leash walking, you can gradually extend the amount of time between rewards. Eventually the goal is random rewards. Your dog needs to think that a reward could come at any time until he is classically conditioned to enjoy loose leash walking. Once your dog is to this point, an occasional "good boy" or scratch behind the ear or under the neck is sufficient. However, don't rush the process; it takes time.
Don't Make This Common Mistake
Don't make the mistake of rewarding a puppy immediately after he pulls and then gets back in position and puts slack back in the leash. Your dog, no doubt, needs to be rewarded when he is keeping slack in the leash and yes, he's been good to get back in position. However, dogs can quickly get wise to the fact that you will reward him immediately after he pulls and then reorients himself.
You must reward more often while your dog is walking well. He must learn that consistent good walking is what earns the treat; not the pulling and then walking well routine! Otherwise, he will learn that the reward is for pulling and then getting back in position. Instead, he should be learning that the reward is for STAYING in position.
Keep Training Sessions Short
Your initial leash walking training sessions need to be very short (no longer than 10 minutes). Keep your training sessions short enough to where your puppy is still enjoying the "game" of working for a reward. Gradually increase the length of time you train depending on how interested your dog is in it.
Give Adequate Breaks From Training
Occasionally give your puppy a chance to be free to sniff around. Don't expect an untrained dog to perform loose leash walking for too long in a stretch.
Start with short walks interspersed with free time to sniff around. Five minutes at a stretch is a good starting place.
Gradually build up the length of your walking stretches without free time as your puppy becomes more proficient at loose leash walking without leash pulling.
When you're ready to end your puppy's sniffing time and to move forward with your walk again, reorient your puppy to you by using a command such as "Let's go".
Reward With a Break to Sniff
Once you get to the point of being out in a distracting environment and keeping your dog's attention on you and not pulling, reward with access to the environment. What I mean by this is to release your dog (with a release command such as "okay" or "free" or "yes") when he is practicing loose leash walking. When you release him, run towards and allow your dog to go and sniff and explore whatever it is that he is wanting to get to (unless it is something dangerous of course!).
Gradually Increase Distractions
Start the process in a location with very little distractions. Gradually add distractions as your dog becomes proficient with the current level of distractions. Don't move too fast in adding distractions. Distractions are the primary reason for pulling. You need to train at the level where your dog is successful at least 80% of the time or your dog won't enjoy the process and your training will be undermined. However, your goal eventually should be a dog that is relaxed on a loose leash even in distracting environments.
Don't Start This Training When Your Dog is Full of Energy
If you have a high energy dog, provide your dog with another form of exercise BEFORE your training session. Many dogs pull simply because they have pent up energy and want to go faster than you want to go.
Don't Use Food Rewards With a Dog That Isn't Hungry
If you are using food as a reward, your dog needs to be hungry. The key to positive reinforcement training is that the reward needs to be something that the dog wants. Many people overfeed their dogs (and especially puppies) and then wonder why their dogs don't work for treats.
Have a Consistent Criteria
Just like you need to have a consistent criteria for when you stop forward motion, you need to be consistent with your criteria for rewards. Your criteria for a reward needs to be higher than your criteria before you stop forward motion. For example, if your criteria for stopping forward motion is the dog getting more than a foot ahead of you, then your criteria for reward might be that your dog is not ahead of you at all. Another option is to reward when your dog looks up at you. Gradually increase your criteria.
Reward Effort
Reward effort as well as good behavior. If your dog is focused on you and is obviously trying, reward him even if he isn't exactly where he needs to be. If dogs try repeatedly, without being rewarded for their effort, they loose motivation. Keeping a dog motivated to please you is just as important (if not more) than training your dog to perform a behavior.
Teach Your Dog to Focus on You
Teach your dog to focus on you instead of the treats. I like to keep my treat bag on my hip instead of in the front of me so that I can discretely get the treats out. Another technique for presenting treats is to keep the treat bag on the right side of you (when the dog is on the left side of you) so that you can pull the treats out of the bag with your right hand. Then transfer the treat into your left hand just before giving the treat to your dog.
Use Marker Training
Use a clicker or a marker word to mark the moment that the dog is doing well. We like to use the word "yes". See my daughter's blog post on marker training if you don't know what it is.
DO NOT BRIBE YOUR DOG
For positive reinforcement training to do its work, your reward cannot be a bribe. This is the most important tip I can give you. The difference between an appropriate reward and a bribe is timing of when the reward is presented. A bribe is when you show the dog the treat BEFORE the behavior is performed.
Luring makes heavy use of bribing which is why we rarely use it.
A bribe is the process of showing a dog a treat as if to say, "Here is a treat; is it worth it to you to do what I ask in order to get it?" The correct attitude from the dog's perspective should be, "I MIGHT get rewarded if I do what I'm being asked to do". Dogs that are accustomed to treats being presented before being asked to do something will never be conditioned to work without the treats.
The dog should never KNOW when a reward is coming, but instead be expecting that the reward could come at any time. If a dog is rewarded this way, the dog will eventually become conditioned to enjoy the behavior that brings the reward almost as much as the reward itself. This is a scientific principle known as Classical or Pavlonian Conditioning. Have you ever heard of Pavlov's dogs? Read more about it on our page on Classical Conditioning.
Final Thoughts
The above method works and though it takes more time to teach than punishment based training, the results are much more solid. Dogs trained this way don't need the threat of punishment which is never-ending with dogs trained with punishments.
Positive reinforcement training makes heavy use of classical conditioning as mentioned earlier. THIS is why I love it: dogs will eventually be conditioned to enjoy the behavior that is paired with the reward. A dog correctly trained with positive reinforcement will eventually learn to LIKE loose leash walking. With punishment-based training, the punishments must go on forever. With positive reinforcement, the rewards can be faded and the learning "sticks".
I no longer take treat bags on jogs with any of my dogs. Still, the dogs will periodically look up at me with a big happy smile. I will reward them with a scratch under the chin. Often they will trot along for 20 or 30 steps looking up at me while I keep petting them under their chin. When I get tired of petting, they look back at where they are going. We jog for awhile longer and the dog will look back up at me smiling. It is almost as if the dog is saying, "Look at me. Aren't you proud of me? Isn't this fun?"