Classical conditioning in dog training is one of the two most important principles used in behavior modification and dog training. An understanding of classical conditioning will give you a valuable tool for training any dog.
Classical conditioning is the pairing of two stimuli or reinforcers where one is neutral and the other has value. When paired a sufficient number of times, the neutral stimulus or reinforcer will gain a value of its own. The neutral stimulus can be conditioned to be either positive or negative depending on the value of the primary stimulus.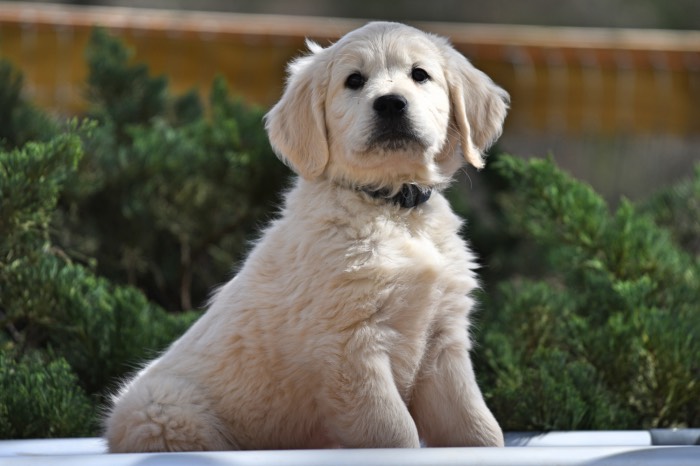 Clicker Training & Marker Training
In particular, marker training and clicker training methods are built on classical conditioning. See my daughter's blog page on marker training for more information on this valuable training tool.
Has Been Studied in Humans as Well as Other Animals
Classical conditioning has been studied in all kinds of animals including humans and dogs. We will limit our discussion here to how it works with dogs. Here is how it works.

The Primary Stimulus
There are various sights or sounds or circumstances that will evoke either a negative or positive response in a dog. For example, presentation of food will elicit a positive response in most dogs. They will get excited and salivate. Food is therefore what is referred to as a primary stimulus or a primary reinforcer. Opportunities for play is another example of a primary stimulus or reinforcer. Dogs respond favorably to such opportunities.

The Secondary Stimulus
There are other sights, sounds, and circumstances that are irrelevant to a dog's world. An example of this would be a clicker. Clickers in and of themselves are neither scary or painful; nor are they exciting. They have no value to a dog and will typically be ignored. However, if you pair a clicker enough times with a positive primary stimulus such as food, the clicker will begin to take on value to the dog. For example, if I click a clicker just before rewarding a dog with food enough times, the dog will begin to associate the clicker with the reward. The dog will begin to have an automatic response to the clicker.
This same response can be conditioned with any particular sound. I like to use a marker word rather than a clicker. However, the secondary reinforcer can be any neutral sound (or even a sight)

Causes an Involuntary Response
A key component of classical conditioning is the fact that the response to it is involuntary. When classical conditioning has taken place, the response is not a decision. The dog does not think it through. It is an automatic, instinctual, response that happens whether the dog wants it to or not. When you pair a positive stimuli or reinforcer with a neutral stimuli or reinforcer enough times, a dog will become classically conditioned to enjoy the neutral stimuli or reinforcer.

The Neutral Stimulus (Marker) Must Occur Before the Primary Stimulus (Reward Such as Food)
In order for classical conditioning to occur, the neutral secondary stimulus (the clicker, for example) that we are wanting to classically condition must occur BEFORE the primary stimulus. In other words, in our example, the sound of the clicker must occur before the food reward is given. Classical conditioning will not occur if the clicker is used simultaneously to the giving of the food reward. Nor will it work if the clicker is used after the giving of food.

Ivan Pavlov and His Dogs
Science gives Ivan Pavlov the credit for discovering the principle of classical conditioning. We refer to this principle as Pavlovian conditioning as well as classical conditioning. Pavlov discovered this principle with an experiment with dogs. Pavlov rang a bell just before feeding every meal. With time, the dogs began to salivate when the bell was rung, whether Pavlov brought food out or not.

Classical conditioning can also work in a negative way. An example of this would be person shocking his dog with a remote collar just after the dog sees a man in a hat. If it happened enough times, the dog would begin to feel the same negative emotional feelings that the shock gives every time he saw a man in a hat.

A Cruel Experiment With Baby Albert
In 1920, Watson and Rayner showed that this principle also held true in creating phobias in children. Watson and Rayner set up a rather cruel experiment with an 11 month old baby named Albert. Prior to the experiment, the baby was unafraid of white rats, rabbits, monkeys, or various masks. However, Albert was afraid of someone loudly banging on a post directly behind him with a hammer. It made him cry every time he heard it.

Watson and Rayner took Albert's fear of the banging post and set up an experiment. They wanted to see if they could condition this same fear in other neutral stimuli by banging on the post. Watson and Rayner showed Albert one of the things that he previously had no fear of. Immediately after they showed Albert the neutral stimuli, someone banged the post. They did this seven times over the course of seven weeks. Each time, the baby burst into tears. By the time the experiment was complete, Albert showed obvious signs of fear immediately after seeing the animals or mask. The banging did not even have to follow.

Classical Conditioning Can Work in A Positive or Negative Way
Classical conditioning can work in a positive way as in the case of Pavlov and his dogs. It can also work in a negative way as was the case with baby Albert. We need to be cognizant of what we might be conditioning with our dogs, especially while they are puppies and even more importantly when they are in one of their fear periods.
Many people have unknowingly conditioned dogs to have irrational fears when certain things in the environment have been inadvertently paired with naturally scary things.

Over the course of the next weeks, Watson and Rayner stopped banging the post behind Albert to see if the new fears would subside. The fears did lessen with time. However, when the banging began again, the irrational fears returned very quickly.

Extinction
The principle of faded responses as happened with Albert is called extinction. Many trainers use the principle of extinction along with positive reinforcement training. This principle is tied very closely to classical conditioning.
Final Thoughts
Classical conditioning is a valuable tool for all dog training. Positive reinforcement trainers in particular will find this tool valuable. Trainers can condition dogs to value a neutral stimuli such as a marker word or a clicker just as much as a naturally valuable reward such as food.