Golden Retrievers are super loving, playful and smart. They love to play, strive to please, and thrive on being with people. The Golden Retriever temperament makes them great family dogs, super hunting companions, compassionate therapy dogs, and competitive obedience partners.
Though all Goldens are similar in temperament, there are a few subtle differences between the three types of Goldens. The imported (or English) lines (sometimes call English Golden Retrievers), the American field bred (or working) lines, and the American conformation show lines have been bred with different goals in mind producing these minor differences. This article discusses these differences along with more details on the lovable temperament of all Golden Retrievers.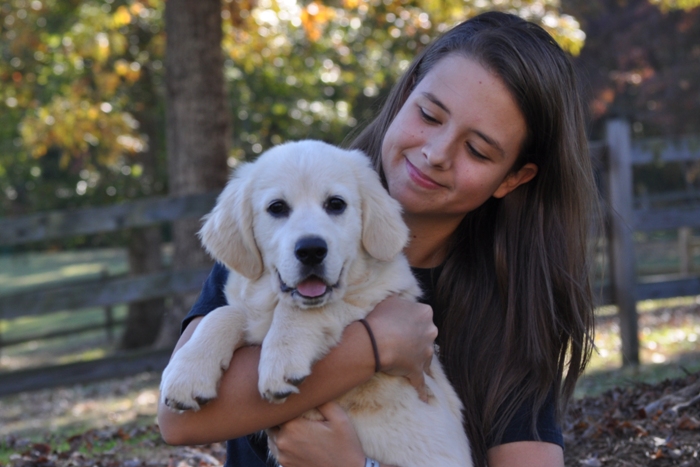 First, we will talk about the pros and the cons of the Golden. Then, we will talk about the subtle differences between the imported lines (English or English Cream or White Golden Retrievers as some might call them), the American show lines, and the American field lines.
Not One-Man Dogs
Golden Retrievers are notorious for loving EVERYONE. If you want a dog to be devoted to you alone, this might not be your breed.
Not Good Guard Dogs
Well-bred Golden Retrievers do not make good guard dogs. They would more likely lick an intruder to death than to bite him.
Good Family Dogs
Golden Retrievers make good family dogs. If they are properly socialized as puppies with well-behaved children that treat them with respect, Goldens can be super companions for children.
Smart
Golden Retrievers make good obedience partners because they are one of the smartest breeds. Most Goldens love to please and if trained with positive reinforcement, they love to work.
Active
Golden Retrievers are active dogs with a playful side. They make super outdoor companions loving to go on hikes and enjoying nature.
Golden Retrievers would not make an ideal dog for sedate families that don't have time to give their dog chances for adequate exercise. English Golden Retrievers, in general, are a little less active than American Goldens. However, they still need more exercise than an indoor lifestyle can provide.
Though Golden Retrievers need considerable exercise, they also have a calm side and a good off switch. If properly socialized, they can make fantastic therapy dogs. They love to be petted and loved on!
Social
Golden Retrievers are very social and will become depressed if left alone for most of the day. They do not make good "outdoor" pets to just stick out in the backyard. They thrive on being with people.
Shed
Golden Retrievers shed and if you are allergic to dogs, Golden hair will certainly do you in.
Moderate Grooming Needs
Golden Retrievers need some grooming, but not an excessive amount. A monthly bath, ear cleaning, and nail trimming, along with bi-weekly brushing is sufficient.
Differences Between English, American Show Lines, and American Field Lines
Field Bred Lines
American field bred lines tend to have the most energy and are the most confident of Golden Retrievers. These dogs are bred primarily to work. They make the best working partners and excel in formal obedience work in addition to other performance sports. They are also especially good at what they were bred for: hunting.
Field lines are typically not bred for good looks. They usually have less coat and often have narrower heads. However, there are a few breeders that produce dogs that excel both in performance sports as well as in the conformation ring.
Golden Retrievers from field lines have hard working temperaments with ample drive, enthusiasm, and desire to please to excel in many competitive venues. They make excellent working dogs.
However, these confident Goldens can be a handful for an inexperienced dog owner. Without a confident owner, some of them will try to "rule the roost". Plus they need a lot of exercise.
American Show Lines
American show lines of Golden Retrievers typically have long straight silky coats. They often have beautiful heads to match their long coats. Their temperaments are usually somewhere in between the calmer imports and the more confident and active field lines.
Imported Lines (English or English Cream Golden Retrievers)
The English lines tend to have softer temperaments than American Goldens. What this means is that they are generally calmer. However, without adequate socialization, they can be less confident. They can be more sensitive than the other lines. English Goldens still love to run and play. However, they have a stronger "off" switch than most American Golden Retrievers. English Golden Retrievers are often seen in hospitals and schools as therapy dogs. They are super loving.
However, I have never seen another English Golden Retriever competing at high levels in AKC obedience other than my own dogs. I don't believe there are any in the southern part of the U.S. This fact is true in spite of the fact that the Golden Retriever overall is the most common breed competing in AKC obedience.
A small reason for this is simply the fact that there aren't as many imports as there are American Goldens. However, I think a bigger reason is that most people competing at high levels find it easier to be successful with dogs that are more active and high drive by nature.
Many tout the English lines as being healthier than American lines. The cancer rate in England (less than 39%) is substantially less than in the U.S. (about 61%) according to studies done by the GRCA in America and the Kennel Club in England. The life-span is also a little over a year longer for the imports.
However, keep in mind that various lines in both countries have varying degrees of cancer. The cancer rate in the U.S. took a sharp increase many years ago when winning in the AKC conformation ring became more important than health. Many dogs were bred to the same stud dog who produced a lot of cancer.
Just because American lines overall are more prone to cancer than those in England does not mean that there aren't specific lines in the U.S. with low cancer rates. There are specific lines in Europe with high cancer rates as well.
Some breeders are also claiming that there is less hip dysplasia in the imports than in the U.S. This is totally untrue. Read our page on Hip Dysplasia in Golden Retrievers in order to understand what some (in fact many) breeders of imports are doing to make their dogs seem to have better hips than they actually have.
We have several other pages on Golden Retrievers that can be a help in making your decision on if a Golden Retriever is the right dog for you. See our main page on English Golden Retriever Information for links.
I love Golden Retrievers from all lines. They are my own personal favorite breed. They aren't for everyone, but we talk to a lot of families who wouldn't have any other breed!