This page is dedicated to Winter/Spring 2020 when we are taking raising newborn puppies to a whole new level. This page will chronicle our raising four litters (The Big Four) within three weeks in age of each other. We will have pictures of the set-up and the logistics. This page will be updated approximately every two weeks as puppies enter new developmental stages.
Raising four litters at once was not our original plan. However, all of our girls came in season at the same time. Two of them had been bred last year without producing litters. We didn't anticipate all four breedings to produce large litters. Breeding is totally unpredictable!
But, we are excited, thrilled, and thankful for every puppy God gives us an opportunity to raise. Further, we are thankful of how God has worked the timing of these litters together with the plans for our daughters. Both of them will be working with our Summer Brook puppies: Elise full time and Jenna full time as needed. Add full time work from husband and wife, part-time help from Jessi, a college student who has worked with Summer Brook for over three years and we are set and ready!
Raising the Big Four: The First Litters are Born
The first picture below shows Molly and Eva's litters at about 1 1/2 weeks of age. This is where they were born and have been raised thus far. This area is open to our kitchen (where the picture is taken from). At this stage, someone is with these young puppies 24/7.
Eva's litter is on the left and Molly's litter is on the right.
There is a pen that goes all the way around both boxes and includes the couch that you can see as well as a leather recliner that is to the left of the couch. The white cheaper looking pen is handy because it is light weight. We can slide it back and forth to open and close different sections of the pen so that we can get from one box to the other or from one side of the room to the other. At the same time, this little piece of plastic fencing keeps our moms from going back and forth between boxes and into the other mom's space outside the box.
The table to the right of the fireplace is where the puppies are weighed daily. The pen to the right of this table is where we put the puppies when we change out the pads in the boxes.
This is our typical set-up for raising two litters at a time which we've done on many occasions.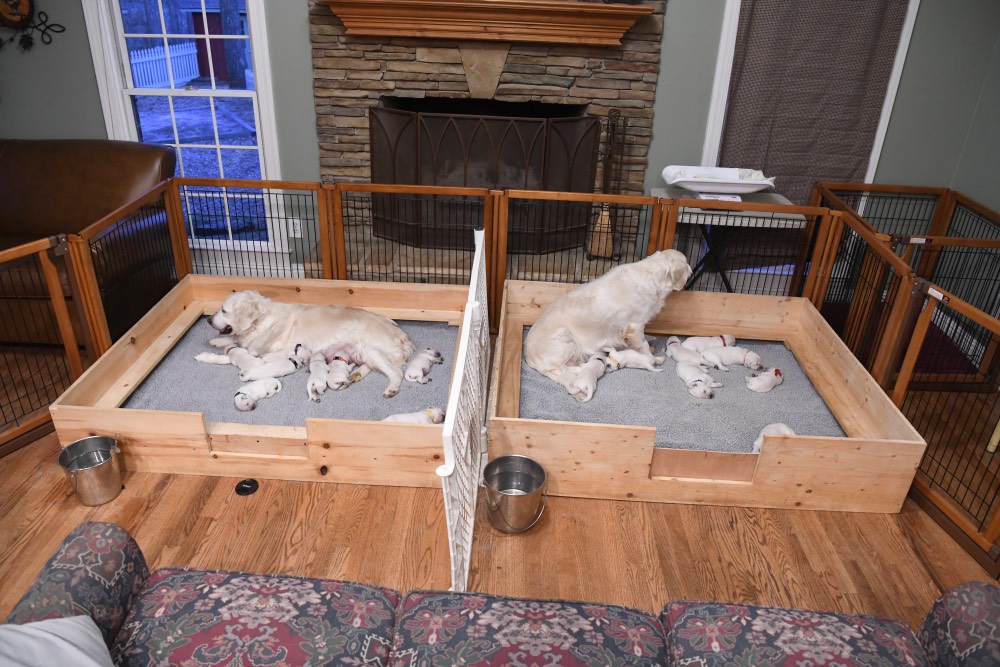 Puppies Moving to a Pen at 2 Weeks
In this next picture we show Molly and Eva's litters after the 2-week re-arrange. Molly's puppies have just turned 2 weeks. Eva's will be 2 weeks in two more days. This is the same room pictured above with a different set-up.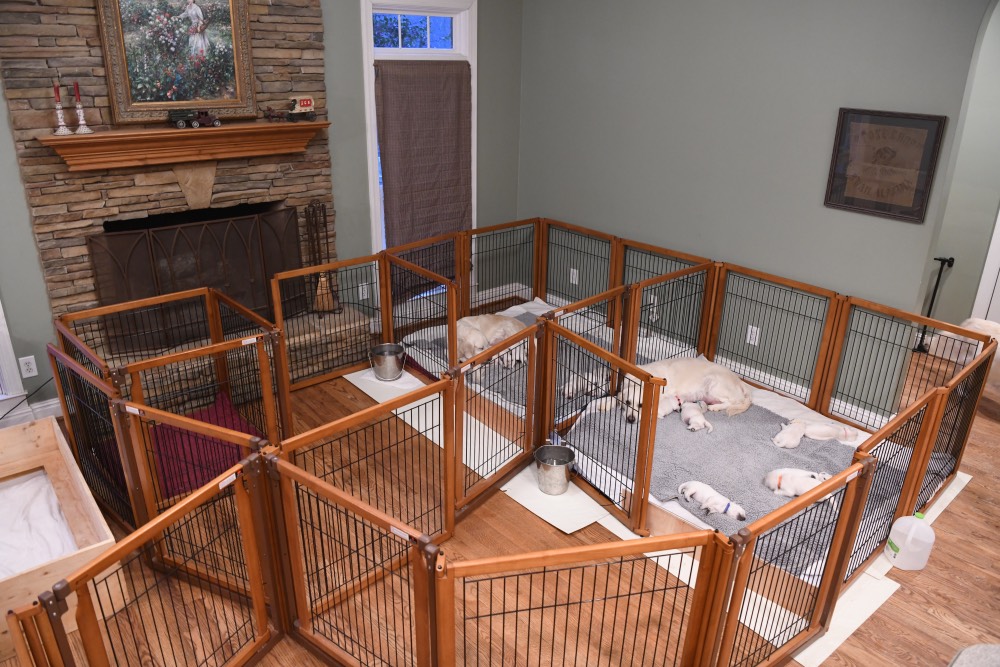 The puppies are confined to the 5 foot by 5 foot pens where you can see the moms with their babies.
There is an opening where the moms can come and go as they please into the pens in front of the puppy pens. The puppies, however, cannot get through these openings. At this stage, our moms need the freedom to have breaks from their babies. In the daytime, we let the moms out of these pens if they choose. However, the pens serve a necessary purpose in keeping our other dogs from visiting these young puppies. The pens give us more control of who goes in and out, while at the same time allowing the moms free access.
At night, the moms will stay in one of the two pens designated for them and their puppies. We keep an eye on them from the area of our home that used to be our breakfast room. This area is just to the right of what you see above. The breakfast room has now been converted to our whelping area and the place to raise our next two litters. You can see a part of one of the whelping boxes in the far left of the picture above. This area will be pictured and discussed next.
Preparing for the Next 2 Litters of the Big Four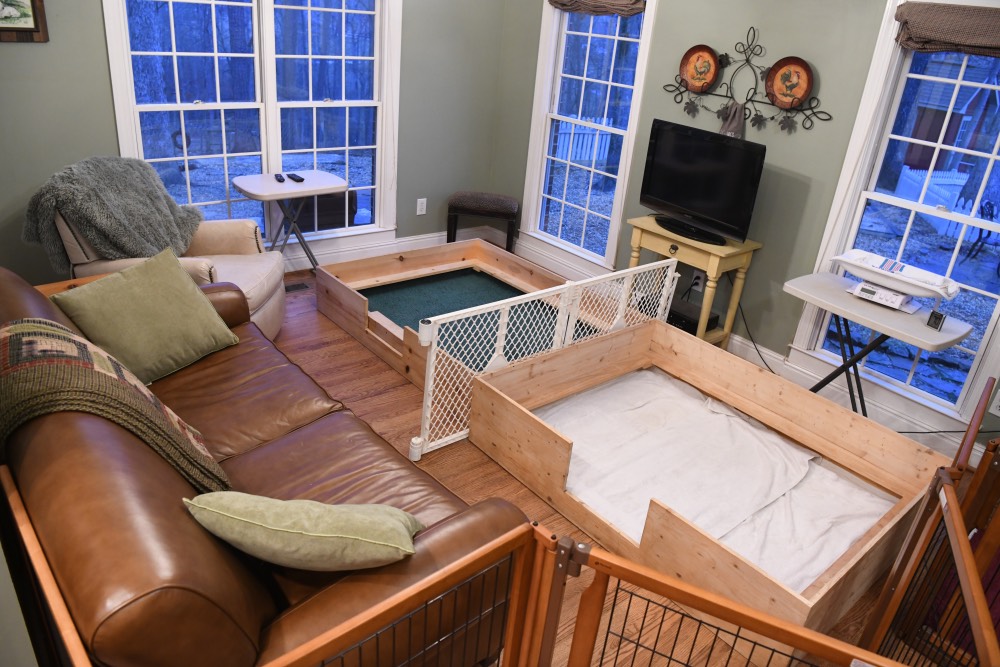 The room pictured above is normally our breakfast room/dining area. It is open to both the keeping room pictured above as well as our kitchen. We've moved the couch, a chair, and the TV from our keeping room into this room and set up two whelping boxes. The box to the right is where we will whelp our puppies.
Tara is already spending time in this box as she prepares for her big day. This box has a whelping pad on the bottom. On top of this pad are a couple of washable bed pads. Then towels are on the top.
Moms waiting to deliver instinctually like to dig. This is Tara's space to dig around with the towels and mess them up as she pleases. When the time comes for delivery, we'll smooth them back out and change them out several times during the delivery process.
Once all puppies are safely delivered, we'll move Tara and her puppies to the box on the left which is already set up for newborn puppies. This box has a foam pad on the bottom, followed by washable bed pads, and then a whelping pad. For the first three or four days, there will also be a blanket on top of the whelping pad.
Preparing for Piper: the Last of the Big Four
After Tara's litter is moved to the box on the left, we'll re-set the box up on the right with clean pads and towels for Piper. Piper will spend a few days acclimating to the box before delivering her litter. Once Piper's puppies are safely born, we'll set Piper's box up in the same way that Tara's box is set up. We'll continue our through-the-night-vigil for at least two more weeks. Tara and Piper's puppies will stay in this area until they are ready to move out of the whelping box.
Molly and Eva's Puppies at Close to 5 Weeks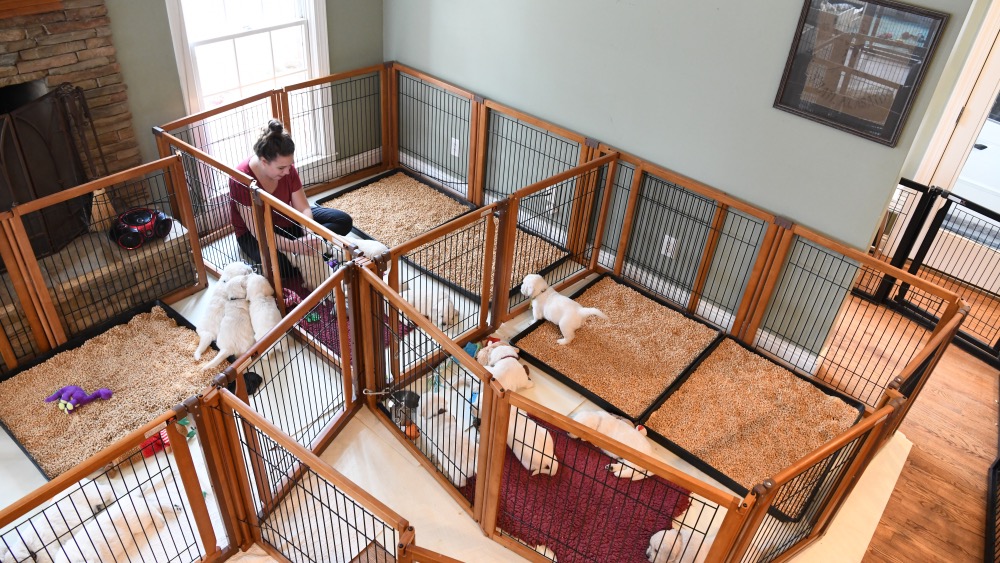 Both Molly and Eva's litters are close to being finished with their potty pan training. The picture above shows where we've been working with them.
As you can see in the picture above, we've set up three pens for Molly and Eva's litters. Molly's puppies are in the pen on the left and Eva's are in the pens on the right. Eva's litter is separated into two smaller groups when Eva is not with them and we are working on potty pan training. Large litters are much more difficult to train because it is more difficult for the puppies to get around each other to get to the pans. At these young ages, you must make the process as easy as possible. Four week old puppies are unable to hold it for a long time and if they have to struggle to get to the right place, they'll have an accident.
The pens are relatively small until puppies are close to 100% perfect in doing their business in the pans. Molly and Eva's puppies are almost there! At 5 weeks 0 days, there was only one pee accident overnight out of all 18 puppies! They are even more consistent in the daytime. We will start making the pen larger in the next few days.
Hallway to Side Foyer
At the bottom right of the above picture, you can see a make-shift hallway made of pens. This is so we can walk puppies around the corner into our side foyer. This is where they go outside. From 4 weeks 5 days until 5 weeks 2 days, we do intensive doggy door training. At this age, we are starting to transition the puppies from peeing and pooping in the pans to learning to take themselves outside to potty. I'll post a picture of our side-foyer area soon.
Puppies, Puppies, and More Puppies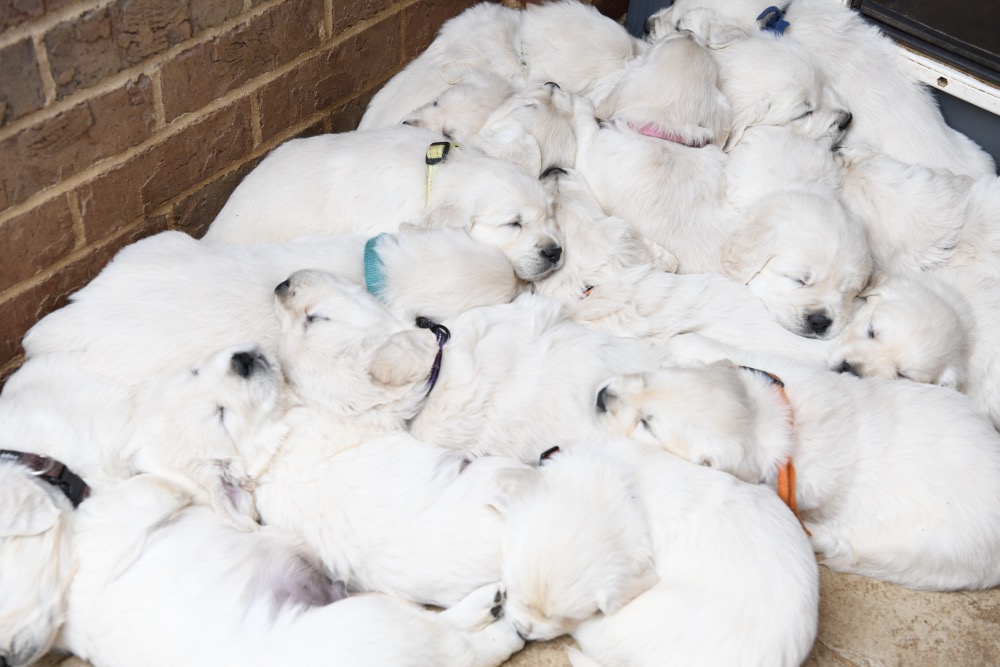 The picture above is of all 18 puppies from Molly's and Eva's litter. Molly's puppies are right at 5 weeks of age. Eva's are 4 weeks 5 days. They are exhausted from doggy door and step training! The training itself is done in three smaller groups (Eva's litter is halved). However, after all 18 puppies had mastered the two steps up to our side-foyer, I couldn't resist putting them together and getting this picture!
Tara's and Piper's Puppies at Almost 2 and 3 Weeks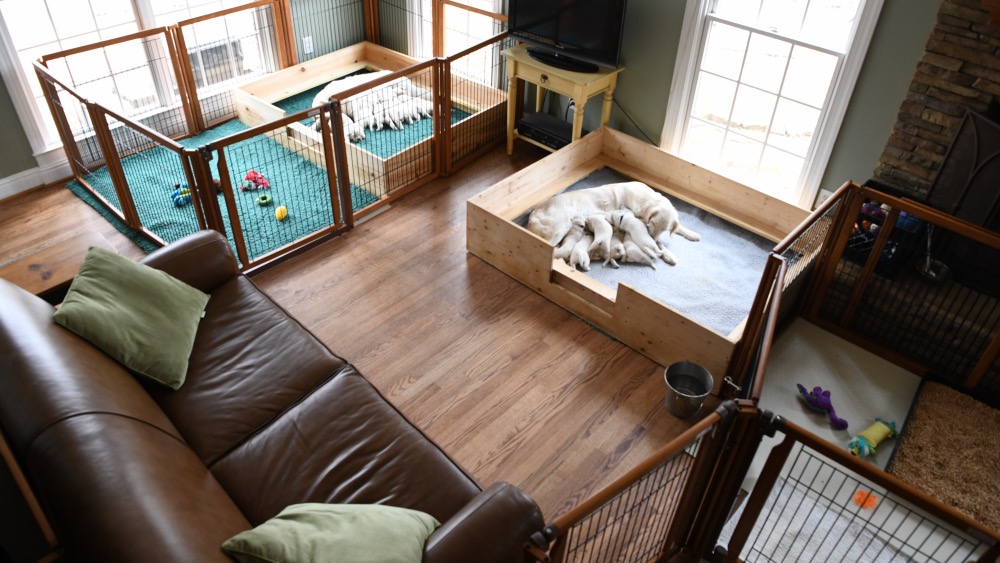 Tara's puppies are on the left and Piper's on the right. This area is what used to be our dining area. It is adjacent to Molly and Eva's litters. Molly's puppies' pen is to the right of Piper's.
Tara's puppies are 2 weeks 5 days old in the picture above. They are at the stage of needing more room than a whelping box provides. We've added a pen and toys. These puppies are starting to get up on their feet and just starting to show an interest in toys.
Piper's puppies are only 1 week 6 days. They are just now starting to get their eyes and ears open. Piper's puppies are still too young to crawl out of the box and play with toys. But, it won't be long. We'll be moving both litters to a new set-up within a week.
What Comes Next?
Check back in a couple of weeks! We'll update this page as the puppies grow. See our Golden Retriever Puppies page for more information on these puppies. From this page you can get to weekly pages with pictures of the individual litter.