See our 10 Week Old Trained English Cream Golden Retriever Puppies page to see what will have already been taught through 10 weeks of age. See our page on Puppy Expectations for to see what will have already been taught through 11 weeks of age. The 10 days from 11 weeks to 12 1/2 weeks build on those skills for our 12 1/2 week old trained puppies.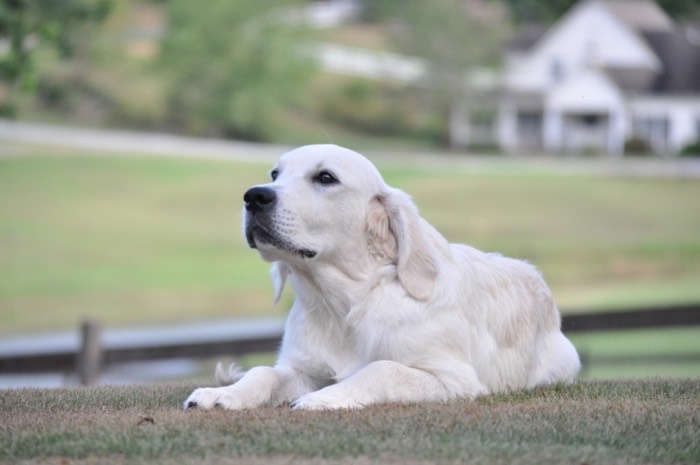 Overnight Crate Training
The biggest reason that most families choose to leave puppies until they are over 12 1/2 weeks is for the night time crate training that starts right at 12 weeks.
Our night is about 6-7 hours long. Almost all of our puppies sleep quietly during these 6-7 hours. Most, if not all of our puppies could probably go longer. They rarely complain about being in the crates when I get up in the mornings. They are used to sitting in crates for up to an hour before I let them out. (I don't walk into the kitchen to find them chomping at the bit to get out of their crates.)
At 12 1/2 weeks, puppies have small bladders. They will have accidents if you aren't consistent to get them outside frequently. There is still a lot of work to be done at this age. However, we've done the necessary work during the hardest 5 weeks.
See our page on Puppy Expectations for full details on the benefits of leaving puppies until older ages.
Please also read our section on our 8-10 Week Training Program for what our training DOES NOT include.
See our Trained English Golden Retriever Puppies page for more details on our overall program.
Our goal is not simply offering "Trained English Cream Golden Retriever puppies for sale". We provide companions for people who want to spend time with a dog. Our training program builds on the good genetics and strong early foundation given prior to 8 weeks to further that goal.
Air Travel with 12 1/2 Week Old Trained Puppies
Some of our 12 1/2 week old puppies are officially too big to fly in the cabin with airlines that have weight restrictions, especially the boys. However, as of the end of 2019, we've only had one person to EVER have their puppy and/or carrier weighed (out of well over a 100 and maybe over 200 going home in the cabin of an airplane). We've even had several puppies fly out at 12-16 weeks of age in a medium Sherpa carrier. These puppies were several pounds over the official weight limit. It was tight but the puppies just curled up and went to sleep. Noone questioned their size. See our Travel With Puppies page for more information on travel.
Also, many airlines are no longer putting weight restrictions on pets flying in-cabin. Further, there are many new carrier companies that are producing larger carriers with more capacity for smushing down from the top. These newer carriers fit better under the seats for take-off and landing. We are hopeful that in-cabin flying will get easier over time.
We are here to help people as much as we are able with regard to flying with puppies. However, starting in 2018, the airlines are making so many changes that we are unable to keep up with them all. Ultimately, you are responsible for getting your own puppy home, but we will help you with what we know.
We Do Not Ship Our Puppies
No matter the weight of your puppy, you still must come to our home to pick up your puppy. We do not ship. If your puppy is too big for you to feel comfortable taking him in the cabin and you need to fly, the only choice will be for the puppy to ride below. So far, no one has chosen this option. If you should choose for your puppy to fly with you as cargo, please book only a direct flight. The Birmingham airport is limited with regard to direct flights. However, we are about a 2 1/2 hour drive from the Atlanta airport. Atlanta has direct flights to most (if not all) major airports in the country.